Clarksville, TN – Matt Figger was coming in off a Final Four run as an assistant at South Carolina in 2017 when became the Austin Peay State University (APSU) men's basketball head coach.
To round out his staff for the 2019-20 Governors, Figger is turning to a man who was a graduate assistant for the 2019 NCAA Tournament runners-up at Texas Tech in Darryl Dora, who joined the Govs last week following Dalonte Hill's departure.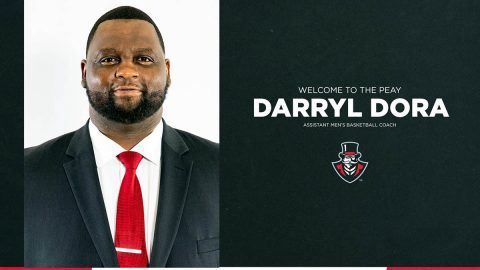 Dora spent the last three seasons as a graduate assistant with the Red Raiders, culminating in their National Championship appearance in 2019. A confidence-boosting presence on the sidelines, Dora was instrumental in working with Texas Tech's post players and aided in the skill development that saw both Zhaire Smith (2018) and Jarrett Culver (2019) taken in the first round of the NBA Draft.
A four-year letterman for the Red Raiders from 2003-07, Dora helped lead Texas Tech to a Sweet Sixteen appearance in 2005 and is best remembered for a game-winning three-pointer that toppled second-ranked Kansas in a double-overtime thriller in 2005—earning him the nickname, "Kansas Killer."
Dora played overseas for seven seasons following his collegiate career, last in Japan, before returning to his alma mater.
"Darryl joins our staff after three years at Texas Tech being an instrumental part of their skill development," Figger said. "They had a lottery pick this year in Jarrett Culver and a mid-first last year in Zhaire Smith."
"From a coaching standpoint, it brings a guy who has been part of winning at the elite level into our program. As a player, he's done some of the same things our kids are striving to do and can benefit them both now as a player and down the road as a professional. With that experience and knowledge, it's a home run hire for me and our staff," stated Figger.