Written by Kendyl Weinzapfel
APSU Softball

Clarksville, TN – My name is Kendyl Weinzapfel and I am a freshman outfielder from Evansville, Indiana. I'm starting my fifth week and have loved every second of it.
Of course, it has been difficult coming from a small private school back home to a Division I school, having workouts and practice on top of class every day, but it's so rewarding.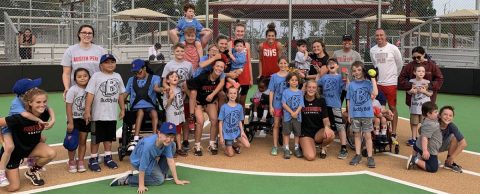 This past Friday before our first games, we took time to give back to our community. We were so happy to get to play ball with our friends at Buddy Ball. Nothing feels better than knowing the smile on the kids' face is partially just from us being there.
All our hard work we have been putting in these past four weeks were so worth it this past weekend. We had a two-win sweep over Trevecca, with the first game being a walk off victory.
There isn't really a way to describe the feeling of stepping out on the field and seeing your family and all your teammates' families supporting you from the jump. We were all very proud to leave the fans with two victories.
We celebrate the wins, but now it's back to business. We are looking forward to putting in the time and work needed to come away with an undefeated fall season, and eventually an Ohio Valley Conference title.
Our next big event is our next games at home on October 4th and we're looking forward to having our fans come on campus and support us.
About APSU Softball Dugout Dish
Fresh off back-to-back 30-plus win seasons for the first time in program history, the Austin Peay State University (APSU) softball team heads into the 2020 season with high expectations and a work ethic to match.
This is 'Dugout Dish' blog where each student-athlete on the team will take an opportunity to write a post highlighting the goings on of the squad, beginning with fall training and continuing all the way through the 2020 season.