Clarksville, TN – The Austin Peay Peay State University softball's Red Team rallied from behind to score three seven-inning runs, then held off the APSU Black Team in the bottom of the inning, Wednesday afternoon at Cathi Maynard Park-Cheryl Holt Field, as they won the finale of the Austin Peay Softball Fall World Series, 4-3.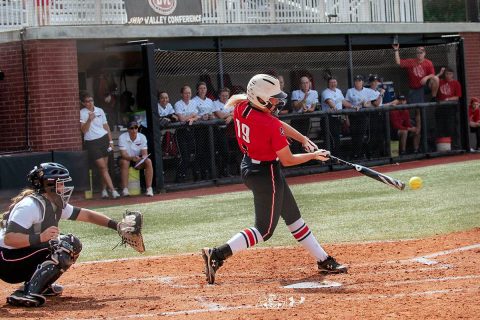 With the win by the Red Team, the overall series ends in a tie, with both teams earning, a victory in the world series while one game ended in a 1-1 tie.
Trailing 2-1 heading into its final at bat, the Red Team sandwiched a pair of walks to Emily Moore and Kelsey Gray in between two outs to get the potential tying and go-ahead runs on base and down to their final out.
But Red Team pitcher Shelby Harp helped herself out at the plate driving in Moore with the tying run to knot the game up, 2-2, with a single.
That hit was followed by Lexi Osowski, who blasted a ball off the wall in left field scoring Gray and Harpe to give the Red Team a 4-2 lead.
But the Black Team wouldn't go down without a fight, with Harley Mullins opening the bottom of the seventh by drawing a walk and moving into scoring position on a sacrifice by Katie Keen.
After the Red Team recorded the second out of the inning, Bailey Shorter reached on an infield hit, with Keen – who came in to run of Mullins – moving around to third base.
Shorter would steal second base with Keen coming in to score on the throw to second to cut the Red Team's lead to 4-3, but couldn't get any closer, as Victoria Eccleston's deep drive to center field was caught just in front of the wall for the game's final out.
After trailing for most of the game, the Black Team scored its first two run of the game in the bottom of the sixth inning, to take a 2-1 lead, as Shorter opened the inning by drawing a walk and score to tie the game up at 1-1 two batters last on a double down the third-base line by Eccleston.
The Black team would then take its only lead of the game, 2-1, on a sacrifice fly by Kelsey Gross to deep left field, scoring Eccleston.
The Red Team had taken an early 1-0 lead in the top of the second inning, with Ali King driving in Osowski with a two-out single.
Harpe would get the complete-game victory for the Red Team, taking a no-hitter into the sixth inning before finishing the contest by giving up three runs on two hits, while walking four and striking out four.
Mullins took the loss for Black Team, going seven inning and giving up four runs on seven hits, while walking four and striking out two.
Inside the Boxscore
Shelby Harpe and Lexi Osowski (Red Team) would be the only players to finish with multiple hits in the contest, finishing with two hits each.
Katelyn Smith and Alex Grubbs (Red Team) also had hits.
Brooke Pfefferle (Black Team) and Emily Moore (Red Team) had a stolen base.
Shelby Harpe (Red Team) took a no-hitter into the sixth inning.
On both team's play to wrap up the Red and Black World Series
"We were very proud of how we finished on Day 3. Both teams came out and competed well and played with energy throughout all seven innings and that's what we talked about when we finished up on Tuesday after Game 2. We said 'hey tomorrow we finish the series and we want big hacks (at the plate) and have fun playing ball' and both teams came out and they did exactly that and it was one of the better ball games that we were able to see and there were a lot of good things that came from it."
About getting the new players acclimated to the college game this Fall
"We came into the fall with a lot of new faces that were needing to learn about each other and that's what the fall is about in figuring out who Team 35 is and what our identity is. I believe with our wrap-up we see that.
"Yes, we still have things to work on and in our individual meetings with the girls they are aware of there we're at and were we're trying to go, but for the most part I think the new athletes have been able to jump in and have a chance to show who they are, compete, and have shown to be good assists to the team."
Looking continuing to get ready for the spring schedule
"We're going to continue to get strong in the weight room, use our individual time with the players to kind of fine tune things on offense and defense and really just hone in and make sure they know what we're expecting from them, because right after Christmas Break the next thing you know we're playing ball, so I think Team 35 will be ready. We have an exciting season coming up with a lot of home games and nothing but good things that we're looking for."
Next Up For APSU Softball
With the APSU Governors wrapping up their fall play, their next on the field action will come on February 8th, 2020, as they open their regular season with a doubleheader at Chattanooga.