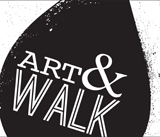 Clarksville, TN – Produced by The Downtown Clarksville Association, First Thursday Art Walk is a free, self-guided tour spanning a 5-block radius that combines visual art, live music, engaging events and more in the heart of Downtown Clarksville.
With 10+ venues, bars and businesses participating each month, the First Thursday Art Walk in Clarksville is the ultimate opportunity to savor and support local creative talent.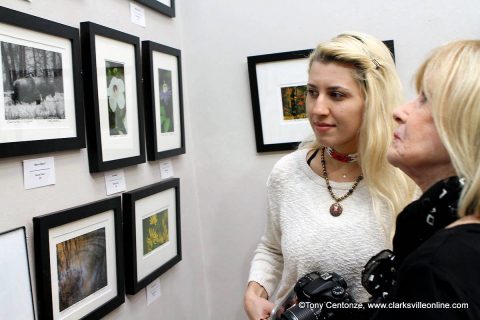 The November Art Walk will be held November 7th, 2019 from 5:00pm to 8:00pm at the shops and galleries on Public Square, Franklin Street, and Strawberry Alley.
The participating businesses are listed below as well as a description of the work they will be exhibiting and services they will be offering during the event.
The Framemaker (705 North Second Street)
For over two decades, The Framemaker has offered a unique selection of frames and art services to the Middle Tennessee area.
Artist Information
New Work: Tracy Bettencourt
The Framemaker proudly presents works by Clarksville, Tennessee artist Tracy Bettencourt. This exhibit is part of Clarksville's First Thursday Art Walk on November 7th, 2019. An opening reception will be held from 5:00pm to 8:00pm. The exhibit will remain on display at the Framemaker throughout the month of November during normal business hours (Monday through Friday 10:00am to 5:00pm).
Bettencourt states: I am blind. I lost my eyesight over twelve years ago and within the past five years began painting using my hands. The paints I use are textured acrylic and forms of puffy paint. My hands are my eyes and the puffy paint allows me to convey my thoughts and feelings onto canvas using tactile lines. Every day I wake and live in darkness yet with my newfound skill of painting, I am able to share my unique perception of the world around me as well as convey the unseen beauty of life.
Tracy Bettencourt, owner/artist of Bettencourt Originals, advocate for persons with disabilities, former fitness competitor, motivational speaker and APSU alumni, began to lose her eyesight in her early 30s from an eye disease called Retinitis Pigmentosa. Although the disease has left her blind, the hardships she experienced have not prevented her from living her life to the best of her abilities. She brings new insight to how art is viewed.
The Framemaker is located at the corner of North Second Street and Georgia Avenue, across from the Clarksville Academy.
The Roxy Regional Theatre – (100 Franklin Street)
Peg Harvill Gallery
For those who enjoy the visual arts, the Peg Harvill Gallery, located just beyond the lobby, hosts twelve shows annually featuring locally and nationally known artisans. Shows generally open the first Thursday of each month for our First Thursday Art Walk.
Artist Information
During the month of November, the Roxy Regional Theatre's Peg Harvill Gallery will feature the work of D.C. Thomas in a show entitled "Misunderstood" to complement the theatre's production of "Romeo & Juliet", playing November 8th through November 16th.
Born and raised in Romania, D.C. Thomas studied in Bucharest and moved to the USA in 2013. "My artwork is an attempt to investigate and explore the patterns of our existence. Its development in and out of this world – its real and surreal aspects; to ponder over its singularities, which can encourage the viewer's mind to leave the comfort zone and reach for absolutes, and meanings other than the ones portrayed by society.
"I feel very grateful for the opportunity of gathering portraits which could tell a story similar to the one Romeo and Juliet lived together. Even more so, this production at the Roxy Regional Theatre has encouraged me to create new paintings and render the portraits of souls I have dreamed about after reading this Shakespearean tragedy again.
"I chose to title this collection – for Peg Harvill Gallery – as 'Misunderstood' because it seems to me that this gathering of paintings visually reiterates the very well known feelings and the notorious outcome of these two souls' love story. As much emphasis is being put on the ephemerality of human lives and the material aspects of it, I believe that even much more meaning can be subtracted from the actions and words of Shakespeare's characters. They succeed to reverberate beyond fiction and beyond the cynicism with which this story is sometimes received by an audience that misunderstands what love is and what love could be."
For tickets to and information about our current production of "Romeo and Juliet", please visit www.roxyregionaltheatre.org or call the box office at 931.645.7699.
Additional gallery hours are Monday through Friday, 9:00am – 2:00pm.
Downtown Artists Co-op – (96 Franklin Street)
Artist Information
The DAC Art Gallery is proud to announce our Annual Holiday Exhibit and Bazaar!
This is a DAC annual tradition. The show features affordable, smaller works of fine art and one-of-a-kind crafts, all made by our local talented artists.
Just in time for the Thanksgiving & Christmas season, the DAC Bazaar offers great gifts and fantastic deals on original artworks by our local artist members. The Bazaar includes a diversity of amazing gifts: holiday-inspired cards, ornaments, handmade decorations, small works like beautiful jewelry, colorful oil/acrylic/watercolor paintings, original drawings, pastels & mixed media items, hand-painted silk scarves, diverse 3D artwork, spectacular photography prints, fabric art and much, much more.
Come see us and #shoplocal and #GiveTheGiftOfArt this season.
The Holiday Art Bazaar will be on display during the entire months of November & December at the DAC Art Gallery – located at 96 Franklin Street, Clarksville, TN.
See our website at www.downtownartistsco-op.com or visit us on Facebook for more information.
You can also find us on Instagram – @clarksville.artists.coop
Thursday, November 2nd, 5:00pm-8:00pm
Music by John & Sally Doubler
The Holiday Exhibit and Bazaar is generously sponsored by the following:
Ken Killebrew
F&M Bank
Glenn Edgin, The Framemaker
Sango Fine Wines and Spirits.
Journey's Eye Studio (131 Franklin Street)
Artist Information
Journey's Eye Studio will host local artist, Larry Phelps, during the November 2019 First Thursday Art Walk.
Larry Phelps is a self-taught wood-worker who enjoys putting the pieces together to create wall art. He creates wooden mosaics which are made using recycled, scrap, leftovers, and interesting wood found in old, all wood, desks and pallets.
Larry is a combat veteran from Operation Desert Storm, and retired from the U.S. Army.
The Customs House Museum (200 S. 2nd Street)
The Customs House Museum and Cultural Center is Tennessee's second largest general interest museum. It features fine art, history, and children's exhibits.
Artist Information
The Museum will be having a Fall Exhibition Reception which happens to fall on the same date as Downtown Clarksville's First Thursday Artwalk (Thursday, Novemeber 7th). Please be sure to join us in celebrating new exhibits from artists Hunt Slonem, Belgin Yucelen, Jennifer Bowman, and more. We also have fun programs for little ones, including a Thanksgiving "experience" and a paper airplane activity.
Fall is the perfect time for a visit to the Customs House Museum & Cultural Center!
Belgin Yucelen: Semblance
Nov 1st–Jan 12th | Jostens Gallery
Belgin Yucelen studied sculpture at the Florence Accademia D'Arte, University of Colorado Boulder, Art Students League of Denver, and Scottsdale Art School. Semblance is an installation of sculptural garments that redefine the sophistication of cultures of the past in contemporary forms.
Hunt Slonem: Both Sides of the Brush
Nov 1st–Jan 5th | Orgain & Bruner Galleries
Neo-Expressionist artist Hunt Slonem's playful paintings often depict multiples of the same subject in a loosely composed grid, and are rendered with gestural brush strokes. This exhibit contains works from the Museum collection, the Tennessee State Museum collection, as well as new pieces from Hunt's studio.
Christmas Storefront: From the Museum Collection
Through January 5th | Memory Lane
This holiday exhibit in Memory Lane showcases a festive street of shops featuring items from the Museum collection.
The Recent Works of Leah Foote
November 5th–December 31st | Harvill Gallery
Clarksville artist Leah Foote works in watercolors and mixed media. She is a member of the 2 Rivers Painters, Downtown Artists Co op, and the Tennessee Watercolor Society.
Organic Abstract: The Art of Jennifer Bowman
October 25th–January 13th | Crouch Gallery
Kentucky native, Jennifer Bowman is a self-taught contemporary non-objective abstract artist. Her work continues to develop a strong following and has been shown on HGTV, as well as being included in the collections of Taylor York (Paramore), Billy Ray and Tish Cyrus, Holly Williams (musician/daughter of Hank Williams, Jr.), other music legends, and professional athletes.
Dr. Stanton's Art of the Gun
Through December 31st | Kimbrough Gallery
An exhibition of Dr. John Stanton's artisan rifles and pistols is featured in the Museum's Kimbrough Gallery. Clarksville's own Dr. Stanton not only builds each gun, he designs themed engravings and bone inlays within each piece.
Landy R. Hales: American Master of The Layer Poster & Fashions of the Time
Through December 31st | Kimbrough Gallery
Landy R. Hales was a well-known designer in New York City in the 1920s and 1930s. Later in life, from age 60 to 82, he used his design experience and patented techniques to create an extensive, colorful body of work based on personal themes. Mr. Hales made each poster by hand using coping saws, chisels and wood files. Supplementing the art are fashions from the Museum collection.
Scouts
Through November 24th | Lobby Gallery
For over 100 years, scouting organizations have shaped our youth through engaging experiences to build character and develop skills. This exhibit explores the evolution of scouting in Montgomery County through items in the Museum's Collections. Featured items include an edition of the first Girl Scouts of America Handbook and a quilt from the 1986 Tennessee Homecoming celebration.
Horsefeathers Pottery & Art Studio (94 Franklin Street)
Horsefeathers is a paint your own Pottery and Canvas Studio — Come discover the artist in you!
Artist Information
Horsefeathers is a Pottery and Art studio located on Franklin Street. Discover the art of pottery, canvas and wood with Horsefeathers!
The artist for Horsefeathers the month of November will be Elena Hadjiandreou. Elena is an employee at Horsefeathers and a recent addition to the Clarksville community.
"My main focus is on painting animals and pet portraits. I use acrylic paint for all my work and most people while painting. I do not underpants nor do I mix the colors on the pallet, I mix the colors on the painting itself.
Ive always been passionate about art and started painting acrylics from a young age.
Ive graduated from an art school in Germany and went on to university a LeCordon Blue in London and got my patisserie diploma."
Edward's Steakhouse (107 Franklin Street)
Come enjoy the best steaks in Clarksville in a relaxed atmosphere with live piano on Friday and Saturday night. We also offer Clarksville's largest wine selection in town from around the world. 10% Military and APSU discount daily
Artist Information
Edward's Steakhouse is proud host various High School art students, during the November 2019 First Thursday Art Walk.
For the month of November, Ayanna Gonzalez, Jessica Trull, and Jalissa Nichols will be representing Northeast High School.
Stop in, see the art, listen to Jackson Miller on the piano and enjoy the Thursday night special, 1/2 priced $7.00 appetizers and 2 for 1 draft drink specials.
Clarksville Parks & Recreation (102 Public Square)
Artist Information
Parks and Recreation will be hosting Symphony Medley for the November Art Walk. Her bio is below.
Symphony Medley born 1991 in Landstuhl, Germany, is a Jamaican-American Regional artist living and working in Clarksville, Tennessee. She focuses on large scale work and prefers painting and printmaking about Jamaican Culture, Fantasy,Beauty and Social issues.
She received her BFA from Austin Peay State University (APSU) in Clarksville, Tennessee in 2018. Her solo shows include I Am Not A Walking Stereotype at the Beach Gallery at APSU in Clarksville, TN (2018), Color with a Z at the Wilbur N. Daniel African American Cultural Center at APSU (2017), and Let's Get It at the Living Gallery at APSU in (2017).
Symphony was awarded the Bruce Child's Printmaking award from the 50th Annual Student Juried Exhibition at APSU (2018). She was also awarded First place in 2D mixed media and Second best in show professional category at the River Fest Art Show(2019).
Facebook website: www.facebook.com/SymphonyMedley/
Instagram @artbysymphony
Roux Americajun Restaurant (125 Franklin Street)
Roux is proud to support the November 2019 First Thursday Art Walk, but will not feature an artist this month.
Stop in and grab something to eat as you check out the other galleries located in Historic Downtown Clarksville.
Mildred & Mable's (109 Franklin Street)
Mildred and Mable's is proud to support the November 2019 First Thursday Art Walk.
Stop in and check out a new look and all of the great gift and clothing options!
Couture Crush (101 Franklin Street)
Couture Crush is proud to support the November 2019 First Thursday Art Walk.
Stop in and find the perfect piece to spice up your Fall wardrobe, during the November First Thursday Art Walk!
Yada on Franklin (111 Franklin Street)
Yada on Franklin is proud to support the November 2019 First Thursday Art Walk, but will not feature an artist this month!
Hot Pita (136 Franklin Street Suite 100)
Hot Pita is proud to support the November 2019 First Thursday Art Walk, but will not feature an artist this month.
Rogate's Boutique (115 Franklin Street)
Rogate's Boutique will be open late and is proud to support the November 2019 First Thursday Art Walk, but will not feature an artist this month.
But, stop in and find something for your Fall wardrobe!
Downtown Commons (215 Legion Street)
The Downtown Commons will not feature an artist this month, but is proud to support the November First Thursday Art Walk.