Clarksville, TN – It was a victorious day indeed at Austin Peay State University (APSU). Inside the Dunn Center, Austin Peay State University men's basketball team roared back to defeat Southeastern Louisiana, 81-60, giving up just 12 second-half points in standout defensive performance.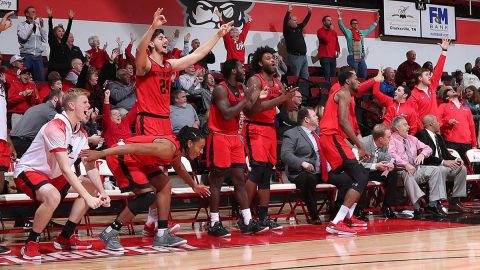 It was a slow start indeed for the Govs, who were trailing by 10 at the midway point of the first half when Nick Caldwell and Laquan Butler hit back-to-back threes to make it 30-20, Lions.
To that point, the Govs were just 6-of-18 from the floor and in need of a serious spark on the offensive end.
By the 8:43 mark, the Lions' lead had swelled to 14 points, and that's when Terry Taylor began to take over. From that moment until the end of the half, the Govs cut nine points off the Southeastern Louisiana lead, with Taylor scoring 10 points during the 20-11 run.
The first 10 minutes of the second half were a war of attrition, as both teams battled for the upper hand. But a quick 8-0 run gave Austin Peay State University its first lead since early in the first half, punctuated by a Taylor floater for the lead. A Brandon Gonzalez jumper finally appeared to stop the tide for Southeastern Louisiana, setting up a second-half showdown.
Or… not. Because after Gonzalez's jumper with 8:37 to play, the Lions never scored again.
Over the final 8:37 in the game, the Govs mounted a 22-0 run to take a tight game and turn it into something resembling a blowout. The Lions missed 18 straight shots to close the game, while the Govs got another 11 points out of Taylor during this stretch to put the game away.
Taylor finished with a game-high 37 points and 16 rebounds, one of the more monstrous performances in a career full of them. Freshman Jordyn Adams scored 16 points, while Reginald Gee added a dozen off the bench.
The Difference
Sometimes it's as simple as holding an opponent to 5-of-36 shooting in the second half. Tonight was one of those times.
APSU Notably
The win is Austin Peay State University's first against a Southland Conference opponent since December 30th, 1997 (Nicholls at the Cowboy Shootout in Casper, Wyoming). It's Austin Peay State University's first home win against a Southland opponent.
Taylor's 16-board performance is the most by a APSU Gov since Jabari McGhee had 16 to open OVC Tournament play against Morehead State last year.
Sixty is the fewest points for an Austin Peay State University opponent since SIU Edwardsville scored 45 in the February 7th, 2019 contest. That was the same night the Cougars shot 32.0 percent from the floor, which was the last time a Division I opponent hit one-third of their shots or fewer against the Govs prior to Southeastern Louisiana's 33.3 percent night from the floor.
Eli Abaev secured 10 rebounds, his first time with double-digit boards for the Govs.
For the first time this season, Austin Peay State University erased a halftime deficit in a win.
Adams is averaging 18.7 points on 50.0 percent shooting (17-of-34) the last three games.
Over the last three games, the Govs are averaging 9.0 three-pointers per night, after combining for just nine threes in the first two games.
Through the first five games of his Austin Peay State University career, Gee is averaging 10.8 points on 42.9 percent (18-of-42) from the floor, including 1.8 threes per game on 47.4 percent (9-of-19) shooting.
APSU committed a season-low 16 fouls, which resulted in just three free-throws on six attempts—fewest of the Matt Figger Era at Austin Peay State University and fewest by an APSU opponent since February 16th, 2017.
Taylor has recorded multiple blocked shots or multiple steals in every game this season after a two-block night against Southeastern Louisiana. Fifteen made field goals equaled a career-high for the Bowling Green native.
APSU has now won four straight at home dating back to last season.
Carlos Paez set a career-high with six assists.
Taylor is now eighth among Ohio Valley Conference players in offensive rebounds since 2009-10, passing Murray State's Jarvis Williams.
Milestone Watch
Taylor didn't just pass Donald Tivis in career scoring; with his performance, he also passed Greg Franklin and equaled Maurice Hampton with 1,320 points, tied for 16th all-time. He also joined an exclusive group, becoming just the 14th player in program history with 500 career made field goals.
Coaching Quotables with APSU Head Coach Matt Figger
On the second half
"As unhappy as I was after the first half, the script has flipped. I couldn't be more proud and happy of we competed and fought."
On Taylor
"He finally said, 'You know what, I'm the best player on the floor,' and he took the game over. He had a monster game."
On getting knocked down in the first half
"We got the standing-eight count a couple of times but I've watched enough Rocky movies to know that somehow, Rocky always puts his mouthpiece back in and is the last man standing. We fought like Rocky in the second half."
Up Next for APSU Men's Basketball
Austin Peay State University Basketball can't celebrate this one too long—the Govs have a quick turnaround, with South Carolina State looming in a 7:00pm, Monday, showdown in the Dunn Center.