Clarksville, TN – Terry Taylor, Terry Taylor, Terry Taylor.
You could be forgiven for thinking the junior from Bowling Green Kentucky was everywhere at once on Tuesday night. Public address voice Steve Williard went whole minutes without saying another name. Stats piled up next to No. 21 from Austin Peay State University (APSU) as Taylor scored 39 points in an 80-61 win against McKendree to close out the non-conference home slate.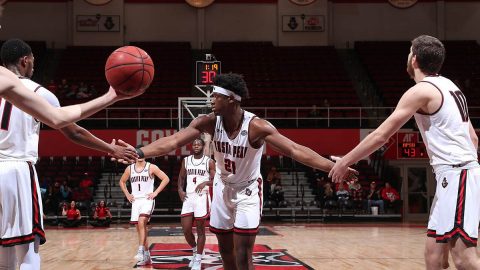 The points came in waves—like 18 of the Govs first 19, over the course of the game's first 10 minutes.
From winning the opening tip to scoring nine seconds later, Taylor scored in a variety of ways both near and far from the basket as he single-handedly staked the Govs an early lead.
Strangely, it was on one of Taylor's brief offensive hiatuses that the Govs pushed the lead into double-digits and never looked back. Freshman Jordyn Adams to the ball to the rack for two and followed that one possession later with a three, with Sita Conteh following that two minutes later with a three of his own before Taylor ended the 12-4 run with another bucket at the 6:15 mark in the half.
That kicked off another round of Taylormania, with Terry scoring 11 of Austin Peay's final 21 points in the half. Conteh added the final five points himself to send the Govs into halftime with a 50-26 lead.
Taylor had 29 points in the first half, outscoring McKendree by himself. To the best of the collective knowledge of the Austin Peay Athletic Communications staff, no Gov has ever scored 30 in one half.
As can occasionally be the case with a large halftime lead, the second half had its frustrating moments for Governor fans. To McKendree's credit, the Bobcats hit shots from all over; shooting 54.5 percent from the floor and 44.4 percent from three against a Division I program has to count for something for a tiny Division II program with an enrollment of just 2,300.
Knowing that the athletic advantages would certainly swing the Governors way, McKendree took advantage of any crack in the defense and were unafraid to fire away from deep.
But it all came back to one thing for the Govs: Terry Taylor. Terry Taylor. Terry Taylor. When the Bobcats started throwing double and triple teams at Taylor, the door was opened for Antwuan Butler (nine assists), Carlos Paez (10 points), Conteh (nine points in a career-high 31 minutes) and others to cash in. The Bobcats chipped away at the deficit, but at no point did the Govs feel truly threatened over the final 20 minutes.
The Difference
Terry Taylor. Terry Taylor. Terry Taylor.
APSU Notably
The win is Austin Peay State University's eighth straight at home dating back to last season; it's the longest home winning streak by the Govs since an 11-game home streak during the 2007-08 season.
In five wins, Austin Peay State University is now shooting 52.5 percent (165-of-314) from the floor; in losses, that mark is just 39.1 percent.
Butler's nine assists were the most by a Gov this season and equaled his career high set last season against Eastern Kentucky (January 3rd). He's now averaging 10.0 points, 3.3 rebounds, 2.0 steals and 3.8 assists over his last four outings.
The Govs are averaging a 21.0-to-10.0 advantage in points off turnover over the last three games, outscoring McKendree 28-12 on miscues. Austin Peay State University's average turnover margin over the last seven games now stands at plus-2.3 after forcing McKendree into 26 turnovers, most by an APSU opponent in 2019-20.
Conteh's season-long outing also led to a career-high three steals.
Freshman Jordyn Adams equaled his career high with three steals.
The APSU Govs are 5-0 to start the home schedule in back-to-back seasons for the first time since 2002-03 and 2003-04.
Paez is now averaging 11.2 points on 53.6 percent (15-for-28) from the field, 90.9 percent (20-for-22) from the line and 61.1 percent (11-for-18) from three over his last five games.
Eighty appears to be the magic number; APSU is now 5-0 when scoring 80 this season and 0-5 when falling below that threshold.
Taylor's videogame-esque numbers over the last six games: 26.7 points and 9.5 rebounds on 65.3 percent (66-for-101) from the floor and 67.7 percent (21-for-31) from the free-throw line, with 1.7 blocks and 1.2 steals per contest.
Milestone Watch
Taylor blew past Lenny Manning to take control of the No. 11 spot in all-time scoring with 1,448 points; he's now less than 100 points from Chris Horton (1,537) and a top-10 spot. He's also now one of only 16 APSU Govs with 1,000 career shot attempts and one of just 23 with 100 career three-pointers.
Coaching Quotables with APSU Head Coach Matt Figger
On Taylor
"If we don't have his 39 points, I don't know where we're at. I'd never lie about that and if we didn't have him I don't know where we'd be."
On the team overall
"I'm not happy with where we're at as a basketball team. It's a privilege to wear this uniform, it's a privilege to earn a scholarship. Right now, I'm not earning my paycheck and those guys aren't earning their scholarships and that's the bottom line."
Up Next for APSU Men's Basketball
After a gauntlet of a road schedule, the Austin Peay State University men's basketball team closes the pre-Christmas portion of the schedule with a Florida excursion, with APSU set to take on unbeaten Duquesne, 1:30pm CT, December 21st, on the first day of play at the St. Pete Shootout, hosted by Eckerd College.