St. Petersburg, FL – Down to eight dressed players, the Austin Peay State University (APSU) men's basketball team willed its way to an 80-69 win against Alabama State to close out the 2019 St. Pete Shootout on a high note.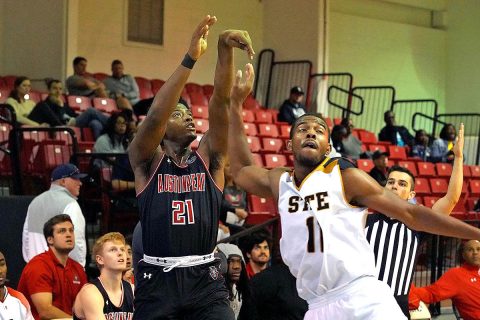 The Govs are back to .500 at 6-6 with one nonconference contest remaining.
Perhaps more importantly, they'll get a well-earned eight day break to recuperate, which hopefully will serve to allow the healthy players to get their legs back and those ailing to get back to full health.
From the get-go, it was obvious this was going to be the Jordyn Adams and Terry Taylor; the Austin Peay duo scored 23 of the Governors first 25 points, with Adams slashing the lane and Taylor shedding defenders left and right on the block or rising to take lob passes from Austin Peay's guards.
Offensively, the Governors were in fine shape; however, Alabama State was uncharacteristically hot from three to open the contest, hitting 7-of-12 from deep and matching the Govs bucket for bucket in the first half to head into halftime tied at 35.
The tide finally turned the Govs way thanks to an early 10-0 second half run featuring seven points from Adams and a three from Alec Woodard in his first career start. Although the Govs would never trail again, the contest was far from over—the Hornets would tie the game up with under 10 minutes to play after an 8-0 run.
With the rotation short, the Govs dug deep over the final 10 minutes and got a contribution from everyone. Evan Hinson attacked the basket for a pair of buckets. Time and again, Taylor skied above everyone to snatch entry passes and lay them in before the defense could react.
Adams continued to get in the lane and absorb contact; he and Taylor both finished with 30 points in a showcase for what Ohio Valley Conference foes have in store come January.
The Difference
Despite being the team that would be the obvious choice to have dead legs on the second day of a back-to-back, the APSU Govs powered through and outrebounded Alabama State 33-21, which represented a season-low in opponent rebounds; Taylor, Adams and Sita Conteh led the way with seven each. The Hornets got just six second-chance opportunities in the entire game.
APSU Notably
Pick any high-scoring duo from recent Austin Peay State University memory—Drake Reed and Wesley Channels, Chris Horton and Josh Robinson, Nick Stapleton and Trenton Hassell. In recorded digital archives dating back to 1999-00, no Austin Peay State Unversity teammates had scored 30 points in the same game until Taylor and Adams each reached the mark against Alabama State.
The Govs have now had six different lineup combinations through 12 games, including each of the last three. They had just five different starter combinations in 33 games last season.
Adams' 30 points were a career-high and marked the first time in his Austin Peay State University career in which he posted back-to-back 20-point efforts. He also tied his career high with five assists and went 10-for-10 at the free-throw line, the first Gov to post a perfect night from the charity stripe with at least 10 attempts since 2015 (Robinson vs. Wofford, December 22nd, 2015).
Austin Peay State University is now 3-1 all-time at the St. Pete Shootout.
Conteh set career-highs in blocked shots (two), steals (three), rebounds (seven) and minutes played (36).
The Govs are now 5-0 this season when outshooting their opponent.
Austin Peay's 58.3 percent mark from the floor is a season-high for 2019-20.
Six Govs (Adams, Taylor, Conteh, Hinson, Woodard and Carlos Paez) played 198 of the possible 200 minutes in this game.
The Govs are hitting 83.3 percent (55-for-66) at the free-throw line the last three games.
Austin Peay State University held Alabama State to 45.3 percent shooting from the floor, snapping a four-game streak where the Governors opponent hit better than 50 percent from the field.
The APSU Govs are now hitting 54.3 percent (165-for-304) from the floor in wins and 40.2 percent (136-for-338) in losses.
Taylor scored 30 points for the second time in three games and 10th time in his Austin Peay State University career. He's now averaging 25.5 points, 9.4 rebounds, 1.5 blocks and 1.3 steals over the last eight games, hitting 64.4 percent (85-for-132) from the floor.
Coaching Quotables with APSU Head Coach Matt Figger
On players stepping up
"It's tremendous. It shows how different guys can help the team win and it gives me confidence to play those guys. I'm not worried about points, and I told them I wasn't worried about points. I'm worried about how they contribute, and they contributed to the win today."
On the break
"These guys need downtime. They've got to get away from basketball, recharge, get healthy. We've got to be able to run a practice with 10 guys again."
Next Up For Austin Peay State University Men's Basketball
Rest. Then, Georgia. The Austin Peay State University men's basketball team closed out the nonconference slate December 30th with a visit to Athens to take on the Bulldogs.