Clarksville, TN – The Austin Peay State University (APSU) men's tennis is set to kick off its spring season with a 3:30pm, Saturday, January 18th, 2020 match against Louisville at the Bass-Rudd Tennis Center.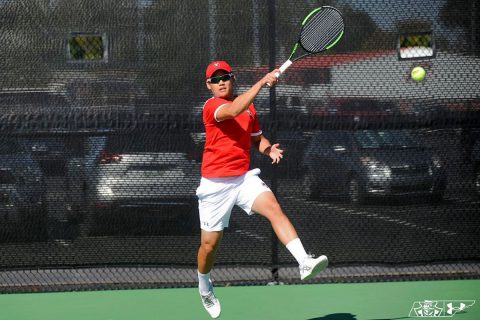 Coming off of a challenging fall slate, the Governors will start their spring season on familiar courts, as they competed in the Louisville Fall Invitational at the Bass Rudd Tennis Center from October 11th to 13th.
At the Louisville Fall Invitational, junior Christian Edison advanced to the consolation singles finals, where he defeated Butler's Ryan Roegner, 6-0 7-6.
In doubles play, the duo of Anton Damberg and Julius Gold advanced to the finals, where they fell to a pair from Eastern Illinois, 7-5.
The Governors look to build off of a fall campaign that saw the squad go 12-9 in doubles play. The European duo of Damberg and Gold led the way for the Govs in doubles action, going 6-3 during the fall season. The junior duo of Edison and Jacob Lorino also added three wins during the fall.
In singles action, four-of-five Governors to take the court in the fall picked up at least four wins. Edison led the way, playing to a 6-3 record during the fall of his junior campaign. Lorino, Damberg, and Gold all picked up four singles wins for the Govs, while freshman Thiago Nogueira also chipped in two more wins.
Thursday, the Ohio Valley Conference announced the 2020 Men's Tennis Predicted Order of Finish, as voted on by the league's head coaches. After finishing in fourth place a season ago, the Governors were tabbed to finish in fifth place for the 2020 season.
About the Lousiville Cardinals
All-time series: APSU trails 11-1
Last Meeting: UL won 7-0 at the Bass-Rudd Tennis Center, February 17th, 2019.
Louisville (2-0) has started their season in impressive fashion, posting 7-0 sweeps of Dayton and Bellarmine, January 12th. Before the Cardinals take on the Governors, they will take the court to open ACC play at 11:00am (CST), Saturday, against No. 10 Virginia. After the matchup with the Virginia, the Cardinals will turn around and play the Governors just a few hours later.
Next Up For Austin Peay State University

The Govs will stay on the road when they play a 5:00pm, Monday, match against Middle Tennessee at the Adams Tennis Complex. After the match against the Blue Raiders, the Governors will stay on the road for a 6:00pm, January 24th, match at Lipscomb.