Clarksville, TN – An Austin Peay State University (APSU) art history professor is spending part of the spring semester as a visiting artist scholar at the American Academy in Rome.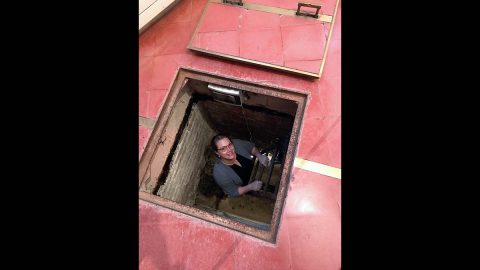 While in Rome, Dr. Tamara Smithers will conduct research at the Arthur and Janet C. Ross Library, which contains 167,000 volumes on classical studies and art, for her upcoming book The Cults of Raphael and Michelangelo: Memorials for Artists as a Second Life. She'll be at the academy through March 7th, 2020.
"The best part about staying at the American Academy in Rome, aside from the wonderful community of artists and scholars, is 24-hour access to the library!" she said.
Smithers' four-week trip comes during a special anniversary.
"2020 is 'The Year of Raphael,' the 500th anniversary of the artist's death in Rome," she said. "I'll attend the largest Raphael exhibition to date at the Scuderie del Quirinale, which opens March 6th."
During the Visiting Artist and Scholars Program, Smithers will traverse central Italy, photographing monuments in Rome and artist tombs in Florence, Venice and Mantua for her book.
"I am very excited to have an appointment to enter the burial chapel of the Renaissance painter Andrea Mantegna at Sant' Andrea in Mantua," Smithers said.
'Cult of the artist'
Smithers' book will explore "the phenomenon of the 'cult of the artist' in relation to the death, burial and posthumous fame – or second life – of both Raphael and Michelangelo from their own times through the 19th century.
The book "weaves together otherwise disparate sources" to reveal a better understanding of artist camaraderie at that time in central Italy, Smithers added.
"Honoring the artist through burial rites and the creation of memorials was the principal way to publicly pay tribute to those in the trade," she said.
Establishing ties to Raphael and Michelangelo was essential for establishing an artistic pedigree, Smithers said.
"The cult-like immortalization of both Raphael and Michelangelo can be defined by the affective nature that each deceased artist had on those touched by the potency of the physical presence of his body or work – or even touched by the power of creative legacy – from their own lifetimes to today."
Smithers' book follows her work as editor and contributor to Michelangelo in the New Millennium: Conversations About Artistic Practice, Patronage and Christianity in 2016.
"I am grateful to APSU for providing a semester of research assignment to conduct research and photography for my book," Smithers said.
Bringing her work to students, scholars
Smithers will chair the session "Raphael and Women" at April's Renaissance Society of America Conference in Philadelphia, one of five sessions on "Reconsidering Raphael." In the fall, she will return to Rome to give a paper titled "Raphael's Fame: 1520–2020" at the Early Modern Rome 4 conference.
On April 15th, Benna Books/Applewood Books will release her Short Biography of Michelangelo geared toward anyone interested in art and culture, young adults and museum goers. The book is available for preorder from Barnes & Noble and Target.
And this fall, she'll integrate what she's learned into the course curriculum of her History of Italian Renaissance Art class.
Smithers also leads an Austin Peay State University study abroad trip called "Art in Rome" every two years. Students travel to Rome and earn six credit hours in art history and studio art. The trip will be offered in May/June 2021.
"Rome is a walking museum with thousands of years of layered history, which is why I love bringing my students here to experience it," she said.
To learn more