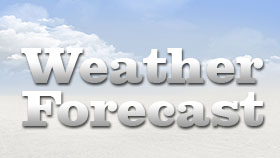 Clarksville, TN – The weather this week for Clarksville-Montgomery County has rain in the forecast before becoming sunny on Thursday. Late Monday afternoon, the is an 80 percent chance of showers with 15 mph winds out of the south. Gusts can be as high as 20 mph.
Tonight, there will be an 80 percent chance of showers and thunderstorms until around 3:00am and then mainly rain until 5:00am. The low will be around 54 degrees.
For Tuesday, there will be decreasing cloud cover becoming slightly sunny by the afternoon with a high near 66 degrees. Tuesday night, clouds will increase and the low will be 58 degrees.
Come Wednesday, rain is back in the forecast with a 70 percent chance of showers in the afternoon. The high will reach 67 degrees. Rain continues Wednesday night with a 100 percent chance of precipitation. The low will be near 52 degrees. Winds will increase after midnight to between 10 mph and 15 mph. Gusts up to 20 mph are possible.
Rain leaves the area on Thursday. It will be sunny with a high of 59 degrees. Winds will be 10 mph to 15 mph from the west and southwest. Winds might gust to as high as 30 mph.