Topic: 101st Airborne Division Road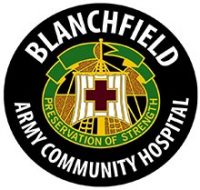 Fort Campbell, KY – On September 27th, 2019, wounded, ill and injured Soldiers will participate in a 101-mile bike ride, "Where Heroes Rendezvous," on Fort Campbell and in the surrounding communities.
More than 70 riders, including wounded, ill or injured Soldiers assigned to the Fort Campbell, Fort Stewart, Georgia, and Fort Benning, Georgia Warrior Transition Battalions, as well as cadre, veterans and volunteers will ride, sharing their support of WTB Soldiers along the route. The community can help cheer for riders as they ride past along the route.
«Read the rest of this article»
Fort Campbell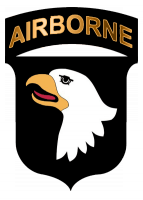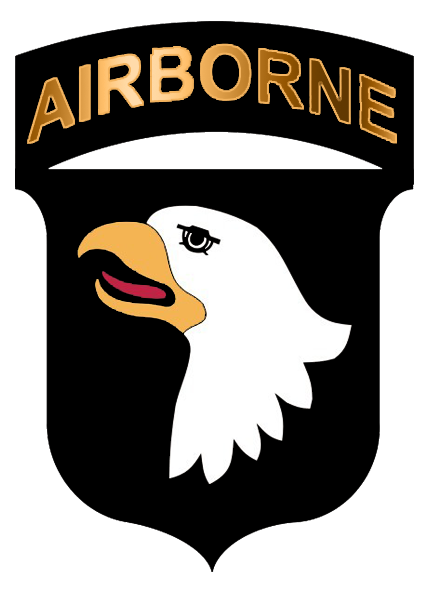 Fort Campbell, KY – The Fort Campbell Training Area will be closed and off-limits to all through traffic and recreational use from 7:00pm November 28th, 2018 through 5:00am December 14th for military training. The closure is needed to ensure public safety.
The access gates to the training area, located at U.S. Highway 79 and Palmyra Road in Tennessee and Lafayette Road near Patton Road in Kentucky, will be closed and locked for the duration of the training. All roads west of 101st Airborne Division Road will be barricaded by law enforcement to prevent vehicles from entering the training area.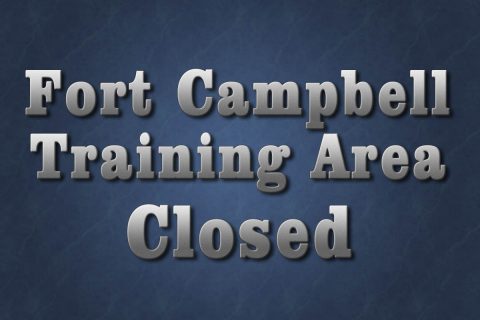 «Read the rest of this article»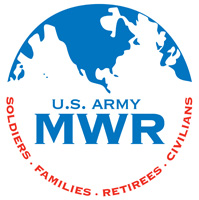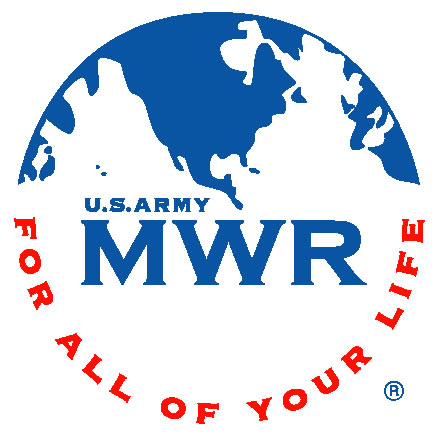 Fort Campbell, KY – Fort Campbell's Soldier for Life-Transition Assistance Program and Army Community Service's Employment Readiness Program will host its spring job fairs March 22nd-23rd at Cole Park Commons from 9:00am until 3:00pm.
The job fairs will feature 73 employers each day, representing a wide range of industries that are recruiting for international, national and regional job opportunities.
International and national employers will be featured on March 22nd, and local employers on March 23rd.
«Read the rest of this article»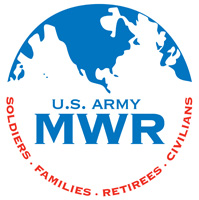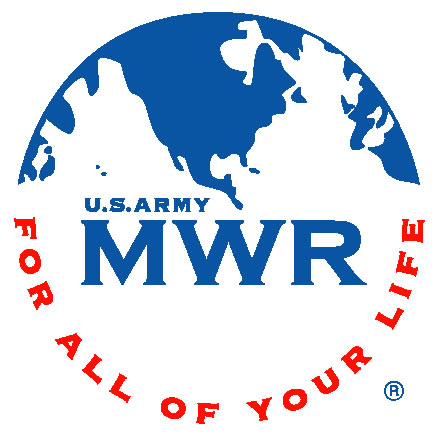 Fort Campbell, KY – On March 22nd and 23rd, Fort Campbell Soldier For Life – Transition Assistance Program (SFL-TAP) and Army Community Service (ACS) Employment Readiness Program (ERP) will host the Spring Job Fair featuring at least 150 prospective employers including both International/National and Local/Regional employers.
Come dressed for success and bring your resume. Open to the public.
«Read the rest of this article»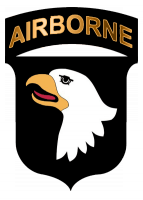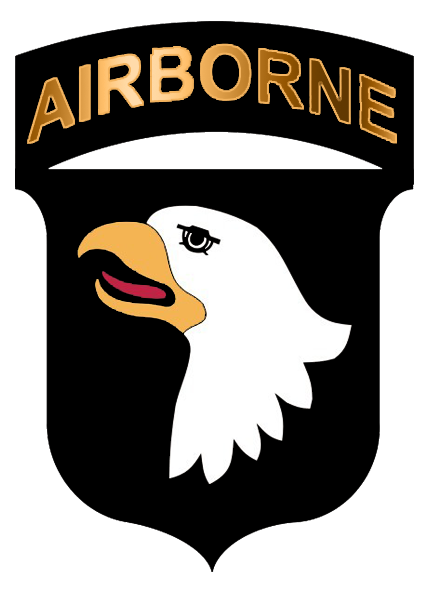 Fort Campbell, KY – On Thursday, August 18th, 2016 Fort Campbell Army Community Service and U.S. Chamber of Commerce will host Hiring Heroes – Fort Campbell, a jobs and opportunity fair for spouses of all active duty military, guard, reserve, Veterans, Retirees and Gold Star spouses.
The job fair will be held at Cole Park Commons from 10:00am until 1:00pm.
«Read the rest of this article»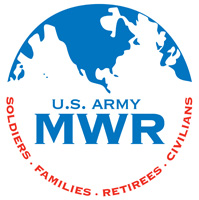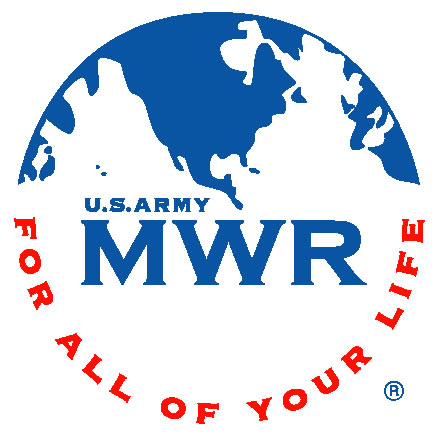 Fort Campbell, KY – Can you "bear" the cold? Prove it by playing in the Commanding General "Polar Bear" 4-person Golf Scramble on Friday, February 12th, 2016 at the Cole Park Golf Course.
It will be a shotgun start at 11:00am. The cost is $30.00 per person.
Flights are broken and winners will be announced immediately following the conclusion of play.
«Read the rest of this article»
Hiring Our Heroes – Military Spouse Program Offered by ACS Employment Readiness Program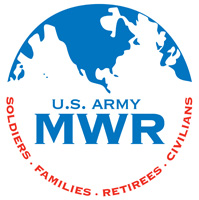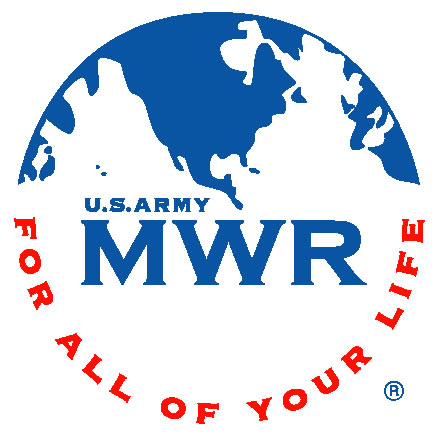 Fort Campbell, KY – Army Community Service (ACS) Employment Readiness Program (ERP) is happy to announce a Hiring Our Heroes Military Spouse Program two day career development event on January 30th and 21st.
You are invited to join us for a special catered networking reception on January 20th and a hiring fair on January 21st. This free event is open to all military Spouses, military members, employers, and service organizations.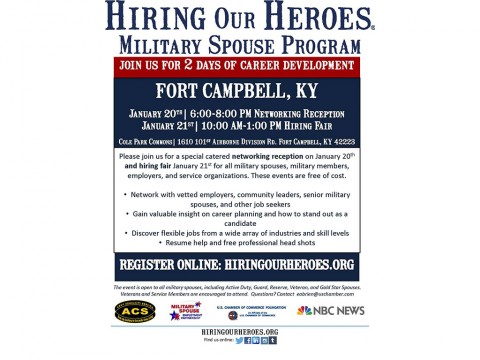 «Read the rest of this article»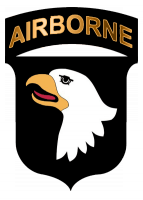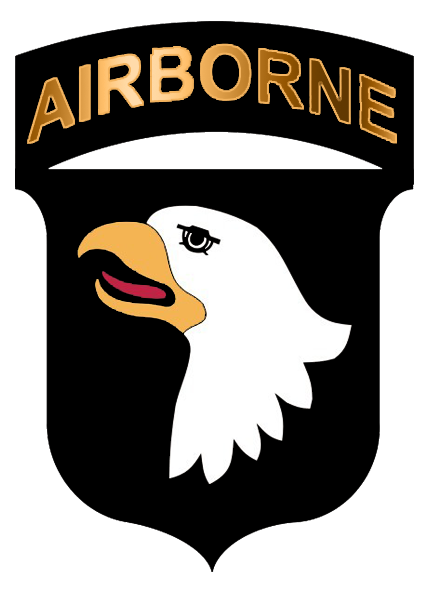 Fort Campbell, KY – On October 24th, thousands of athletes and fitness enthusiasts will converge on the Cassidy Combined Arms Collective Training Facility/Bastogne Landing Zone at Fort Campbell. KY when the installation and the 101st Airborne Division play host to The Spartan Race. Spartan Race, voted Outside magazine's Best Obstacle Race, is obstacle racing's ultimate test of endurance and strength.
The three-plus mile foot race features more than 20 different obstacles including a barbed wire crawl, water pit, wall climb and fire jump.
"Fort Campbell is a world-class venue on scenic and challenging terrain that will offer our athletes an exciting new opportunity to test themselves," says Joe De Sena, Spartan Race Founder and CEO. "We are excited that Fort Campbell is supporting the explosive growth of the sport of obstacle racing as we challenge participants to test their limits and see what they're capable of achieving." «Read the rest of this article»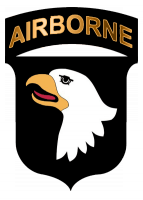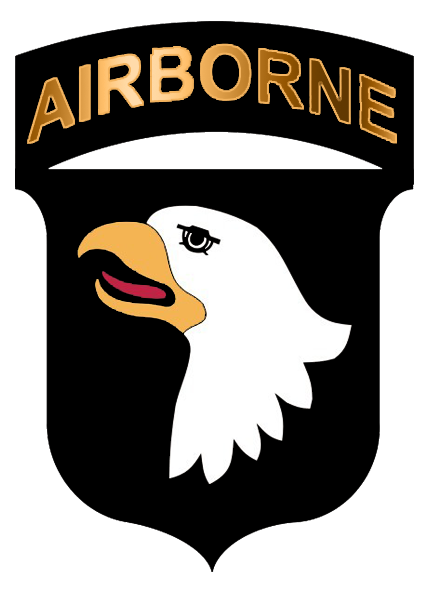 Fort Campbell, KY – On September 28th, Fort Campbell Gate 1 and Lee Road area will be closed due to lane-widening and other construction activities. The Fort Campbell Directorate of Public Works anticipates a 60-day temporary closure of Gate 1 to facilitate a timely execution of roadway improvements.
Included in the construction project are improvements on Gate 1, widening of Lee Road from Bastogne Avenue to 101st Airborne Division Road, improvements to the Family Resource Center overflow parking lot and the addition of a roundabout. «Read the rest of this article»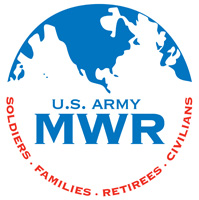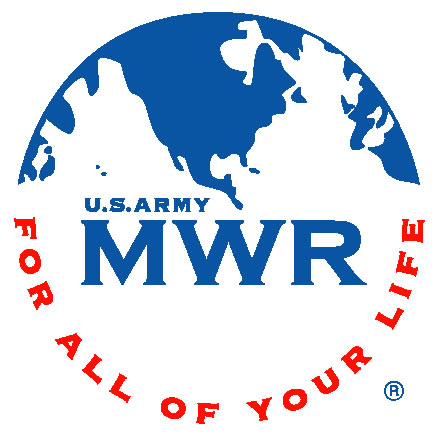 Fort Campbell, KY – Join MWR on Friday, April 11th, for a Father and Daughter dance featuring a photo booth, a professional photo set, DJ music, non-alcoholic beverages and a dessert bar.
Dress is semi-formal. This event is recommended for age 5 and older.
The dance starts at 7:00pm and runs through 10:00pm at Cole Park Commons Conference Center.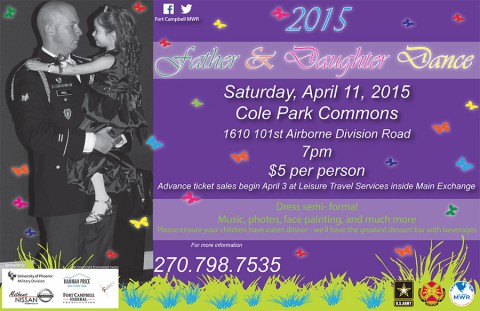 «Read the rest of this article»