Topic: Atty. Tim Barnes
As I was campaigning for Senator Kurita to educate people about how to vote for a write-in candidate yesterday, it was clear to me that the Democratic party is wasting a lot of time, money, and energy of some of their very best people.  All those loyal Tim Barnes supporters (including many good friends of mine) and all those loyal Rosalind Kurita supporters (including myself) would probably be out campaigning for Barack Obama if this controversial Democrat AGAINST Democrat race had not been instigated by the leadership of the Tennessee Democratic Party.
I believe the PRIMARY job of the Tennessee Democratic Party Leadership is to win seats against REPUBLICANS, not their own party.  They are the ones that need to be scrutinized here.  Who exactly hatched the plot to run a Democrat against another sure-fire winning Democratic incumbent in Senate District 22?  I know about the Wilder vote; this has to run much deeper than that. «Read the rest of this article»
Democratic Party executive committee member Rickey Wallace has accused state Sen. Rosalind Kurita  of misusing thousands of dollars in political action monies,a charge which which Kurita reportedly acknowledged with the addendum that the errors had be corrected.
This information comes on the heels of the dismissal and subsequent appeal of incumbent Kurita's lawsuit and in tandem with a write-in campaign for her Senate District 22 seat.
Kurita maintains she won the tri-county (Montgomery, Cheatham and Houston) primary race with a 19-vote margin, though the state Democratic Executive Committee overturned that election and place the decision on a Senate nominee in the hands of the counties' executive committees. They in turn voted 61-4 for challenger Atty. Tim Barnes. «Read the rest of this article»
The 6th U.S. Circuit Court of Appeals today rejected Rosalind Kurita's claim that the Democratic nomination for the state Senate is her own "Property" — "Property" that belongs to her. Instead, the high court vindicated Tim Barnes' position that the state Senate seat is a public trust — a trust he "reveres and will honor — and will not take for granted."
The Appeals Court is the second Federal Court in the last 10 days to reject Ms. Kurita's claim.
Barnes called Ms. Kurita's assertion that she owns a position on the ballot "an insult to voters and all constituents" in the 22nd District, which includes Cheatham, Houston and Montgomery counties. «Read the rest of this article»
Veteran's Plaza looked a bit like Times Square in New York City Wednesday as voters poured into Election Commission quarters to cast the first votes in Election 2008. The parking zones were a gauntlet of hundreds of cars, a sea of political signs, and a gathering of waving campaigners eager to make one last pitch for their candidate of choice. The stakes, both local and national, are high.
The Obama/Biden McCain/Palin bout is the headliners, presidential tickets that read like a history-making vote for change with a man who could be the country's first African American president or what some fear will be a Bush redux, same old same old, in the top slot and America's first potential female in one of the top two federal slots. «Read the rest of this article»
** National Rifle Association, a Key 2nd Amendment group, endorses Kurita in Write-In campaign
**Gray Sasser says the Dems "decided they were not going to let Lt. Gov. Ron Ramsey and his partisan allies hijack the Democratic Party's primary process."
Senator Rosalind Kurita recently annouced she would run a write-in campaign for the state Senate District 22 seat, launching a campaign from new headquarters at 1817 Madison Street.
Kurita won the primary race with a 19-vote edge over challenger Tim Barnes, who successfully challenged that election result and had the victory overturned by the state Democratic Executive Committee. The state body then ruled that the executive committees of the three counties (Montgomery, Stewart and Houston) that comprised Senate District 22 meet and vote on the two candidates. That vote, 61-4, gave Barnes a Democratic slot on the November ballot.
Gray Sasser, chairman of the Tennessee Democratic Party, in a statement released today, said:
After all the talk of mythical smoke-filled rooms, the time has come to clear the air. As readers of (this newspaper) already know, the Democratic State Executive Committee, after almost eight hours of testimony at an open meeting attended by the public and press, decided that the District 22 state Senate primary election between Sen. Rosalind Kurita and Tim Barnes was "incurably uncertain. «Read the rest of this article»
Recent reports from Democratic Party officials describing the vote at the Democratic Party Executive Committee Hearing that overturned the election of Rosalind Kurita in the Democratic primary vote have been rife with "spin," omissions, and outright lies.  Party officials claim they voted to overturn the election because it was "Incurably Uncertain."  This means, in their opinion, too many Republicans crossed party lines to vote for Senator Kurita.  They assert there was a grand Republican Party conspiracy to reelect Senator Kurita.  Presumably this was a secret conspiracy, which is convenient, since one can hardly be expected to produce actual evidence if it is "secret."
What angers democratic voters such as myself, is not that Republicans would choose to vote for a Democrat, but that leaders of my own party would overturn an election on the basis of such flimsy evidence because they did not agree with the results.  However, if the public examines the record of the proceedings recorded by the court recorder at the hearing, they will see for themselves how weak and inconsistent the evidence for such a conclusion is.  Given how incredibly weak the evidence presented to justify overturning the election is, the only other rational conclusion is that the executive committee was not interested in the evidence and had other motives.  This is why I am pleased that Senator Kurita has chosen to sue the Democratic Party Executive Committee's action as unconstitutional.  If the court agrees to hear the case, the Democratic Party Executive Committee's evidence will have to meet the standards of a fair and impartial court, not one which clearly was not interested in the facts. «Read the rest of this article»
Governor Phil Bredesen, Senators Thelma Harper and Beverly Marrero, Senate candidate Bob Tuke and a who's who of state and local legislators gathered in Nashville Monday to endorse Senate District 22 candidate Tim Barnes in his election bid. Barnes will be opposed by write-in candidate and incumbent, Senator Rosalind Kurita.
Barnes lost the primary by 19 votes but that election race was voided after a hearing on election law violations by the State Democratic Executive Committee, which then ruled that the decision between both candidates would be placed in the hands of the Houston, Stewart and Montgomery County Democratic executive committees, which chose Barnes 61-4. «Read the rest of this article»
Tim Barnes, candidate for State Senate District 22, set the pace for his campaign with a press conference held today at his Franklin Street office, discussing several of the issues of concern to "the people of Clarksville."
Barnes, whose candidacy seemingly ended with his primary election 19-vote loss to incumbent Senator Rosalind Kurita, challenged that vote, citing alleged improprieties in the election process; the Tennessee Democratic Executive Committee subsequently overturned that primary  election race and turned the Kurita/Barnes race over to the executive committees in the three District 22 counties: Montgomery, Houston and Cheatham.
On Friday, September 19, Barnes briefly reviewed the process that led to his reclaiming the Democratic nod, and said that the healing of the party rift had begun. In his statement, Barnes pledged to develop a "cooperative" spirit with other legislators, to work at attracting quality high paying jobs to the area, to work at expanding health care options for the people of Tennessee, and to work at managing the state budget with an intent to keep taxes low while "providing necessary services." «Read the rest of this article»
"Brother against Brother. Democrat against Democrat. The Republicans don't need to defeat the Democrats – they're doing that all by themselves." ~~ Beth Robinson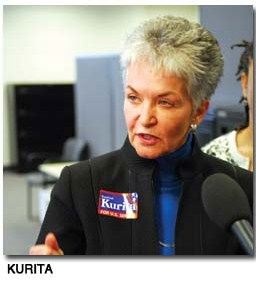 Some long-time Democrats become "Incurably Uncertain" about remaining in their own party after Kurita's election win was discredited on September 13. The eight hour session which seemed to most observers to be a sure win for Kurita ended with a 33-11 vote to null and void Kurita's Senate election win.
When this decision was announced, APSU Associate Professor of Biology, Dr. Joe Schiller, told the officials in the room that "they had been instructed to vote based on the evidence and facts, not on retribution and revenge". He was asked to leave the room. Feeling disenfranchised, he told me that the whole event was a miscarriage of justice and he is seriously reconsidering his party affiliation. "If it is a Republican conspiracy when Republicans vote for Democrats, that's a conspiracy I'd like to have."
"There was no proof. It was a Scopes monkey trial. It was embarrassing", said Beth Robinson, a Clarksville computer systems analyst and member of The Climate Project. "This reminds me of the Supreme Court ignoring the voting public and handing Bush the White House despite the fact that Gore received more votes." Beth said she'd like Senator Kurita to explore a write-in campaign and possibly run as an Independent.
R. Neal wrote his view on the case in the Tenn Views web site. He includes a link to Kurita's attorney's response to the Barnes challenge, which you can read here or at http://www.tennviews.com/files/kuritachallengeresponse.pdf Neal writes that Barnes filed a challenge, citing a litany of alleged irregularities. Kurita filed a response refuting them point by point. Read the rest of Neal's article at http://www.tennviews.com/node/3882. «Read the rest of this article»
It's not over 'til it's over. And the controversial Kurita/Barnes campaign for a seat in the Tennessee Senate is definitely not over.
Incumbent Senator Rosalind Kurita defeated challenger Atty. Tim Barnes by a mere 19 votes in the August primary, a win that was almost immediately contested by Barnes and his supporters. That win came on the heels of a controversial eleventh hour campaign play that put bold over-sized color postcards depicting Barnes, whose practice focuses on family law and adoption, as an attorney who defends drunk drivers and abusers.
The eleventh hour negative ad campaign incurred the wrath of 38 area attorneys who countered with their own election day ad and strong statement in defense of Barnes and of the right of every American to a defense, and about the "true" nature of Barnes' legal practice. «Read the rest of this article»