Topic: Mark Haynes
Memorial Day Special

Washington, D.C. – On Monday, May 28th at 9:00pm, the National Geographic Channel will air "Witness: G.I. Homecoming" Memorial Day Special. The show takes you behind the scenes of some the most famous soldier homecomings found on YouTube.
The opening of the show will feature some footage from a Fort Campbell Homecoming.
«Read the rest of this article»
Clarksville, TN – The Third Annual Hilltop Barbecue Cook-off featured 12 teams competing in four categories for top prize of $250.00 plus a trophy. Second prize was $75.00 with a trophy and third prize was a plaque. Each judge rated the chicken, pulled pork, ribs or beef brisket for taste, appearance, and texture on a scale from one to ten.
«Read the rest of this article»
Clarksville, TN – Driving up Hwy 149 from Clarksville, one could smell the sweet aroma of something good cooking as you topped the hill. The 2nd Annual BBQ Cookoff was well underway at Hilltop Supermarket.  Turning into the parking lot, tents, grills, barrels and other means of cooking barbecue came into view.
Some of the contestants arrived as early as 5:00am to setup and begin preparing their barbecue. This year's contest consisted of two categories: Chicken and Ribs. There was plenty barbecue to sample, as most of the contestants were also selling what they cooked.
«Read the rest of this article»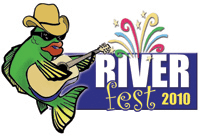 It's been several days after the end of the 2010 Riverfest Celebration, and for those who worked the two day festival, life is returning to normal. The hard working folks with the Clarksville Department of Parks & Recreation along the entertainers, and hundreds of volunteers ensured that the visitors could simply enjoy some good wholesome family fun.
This was the first year that Clarksville Online and Discover Clarksville was selected to document the festival as much as was humanly possible. Roland Woodworth, Ashley and Meghan Hamilton, and Bill Larson were given the job of photographing everything in the tiniest of detail, while Mark Haynes shot hours and hours of raw video footage, and Sue Culverhouse took it all in to get material for her wonderful articles!
«Read the rest of this article»
With the turnout at the August 2010 election just a measly 19.04% of registered voters, voters have sent a message. It seems that they do not feel that their vote, their voice really makes a difference.  This is a trend that we as a nation need to work on changing.
The roots of the current apathy towards voting can likely be traced to the current economic uncertainty; along with concerns about job security, such as seen in the recent announcement that 700 people in Clarksville will be losing their jobs at the Quad/Graphics printing plant in North Clarksville.
«Read the rest of this article»