Topic: organizing for america

Clarksville, TN – Clarksville for Obama held a 2012 State of the Union watch party at the New South Coffee Company where supporters gathered to listen as President Barack Obama delivered the 2012 State of the Union Address to the Nation, the Senate, and Congress.
The President laid out his plan for an economy built on American manufacturing, American energy, new skills for American workers, and a renewal of American values. During the State of the Union Address the 40 plus supporters in attendance clapped more than 2 dozen times in agreement with the President and some even cried tears of joy and pride when the President touched upon issues and legislation that would put money back into the hands of middle class Americans.
«Read the rest of this article»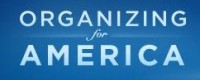 Clarksville, TN – On August 3rd, 2011 at G's Pancake House Restaurant 803 Riverside Drive Clarksville, TN beginning at 6:00pm until 9:00pm.  The community will gather to celebrate the 50th Birthday of the President of the United States of America, Barack Obama.
Organizing for America (OFA) the organization, website, social network and voter empowerment machine used by Obama during the 2008 election is once again organizing thousands of grass roots organizations across the nation on this day in hosting house parties in honor of President Obama's Birthday!
«Read the rest of this article»
Clarksville Community organizers will meet with Marsha Blackburn on August 28th 2009. The meeting will coincide with a healthcare reform rally from 2:00 p.m. till 4:00 p.m outside her "Clarksville District Office" (1850 Memorial Drive).
Clarksville Community Organizers is local grassroots group, and is part of the "Organizing for America" movement.
The group sent a letter to Congresswoman Blackburn expressing the importance of her representing the diverse local viewpoints on healthcare reform. Spokesperson Terry McMoore told Clarksville Online, "Clarksville Community Organizers looks forward to meeting with Congresswoman Blackburn, and educating her on this very important public health issue" He also wanted to encourage the public to attend the rally and show Congresswoman Blackburn that the community supports  the enactment of a healthcare reform plan.
Clarksville Community Organizers will host a "Rally for Health Insurance Reform NOW" at the "Clarksville District Office of Congressman Marsha Blackburn"
When: August 28, 2009
Address: 1850 Memorial Drive Clarksville, TN
Time: 2:00 p.m. – 4:00 p.m.
Come Support Quality Affordable Health Care For All! Bring your signs, comments and let's do our part to help get this bill past!
We are the change that we seek – President Barack Obama
For more information contact Terry McMoore at 931-378-1999
Clarksville Community Organizers is part of Organizing For America.
Back in January of this year President Barack Obama announced the formation of a new group known as "Organizing for America" that aims to continue the grassroots advocacy that began during his presidential campaign.
"As President, I will need the help of all Americans to meet the challenges that lie ahead," Obama said in a video message e-mailed to supporters. "That's why I'm asking people like you who fought for change during the campaign to continue fighting for change in your communities."
Since we currently are not in the campaign mode where we will operate under the name Clarksville for Obama we have been tasked to join the rest of the grass roots organizations across the nation in organizing in our communities under our new advocacy organizational name "Clarksville Community Organizers" (CCO). «Read the rest of this article»