Topic: Support Our Troops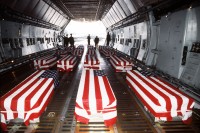 Lately, I have received several versions of an email. The email tells of a soldier that has fallen, and being brought back home. After an emotional story, the writer then asks you to show your support by wearing a red T-shirt this Friday. If you like poorly written prose, the latest email I received, is at the bottom of the article.
I truly do not wish to offend anyone that has sent me the emails. But I find these emails offensive. On some level, the emails represent people's need to feel like they are doing something. But is it appropriate to show your support for fallen troops via the equivalent of 'Hawaiian shirt fridays' at work?
Instead of reading the email, forwarding it to dozen people, and then forgetting to wear red on Friday (its unlikely anyone would even know why I was wearing red)… I thought I would do something productive… put pen to paper. «Read the rest of this article»
This past Saturday I had the honor of participating in Soldier Ride Nashville 2009. After a week that saw flooding of many areas in the Southeast including Nashville, approximately 20 Night Stalkers linked up at the Park and Ride just off Exit 11 ready to participate as part of "Team Tre" in honor of our Fallen Comrade MSG Tre Ponder.  It was an early morning, not an uncommon time for the men of that group (I can't speak for the young lady in attendance).  It was also a wet morning, but nothing like what awaited us as we departed for Nashville.
As our convoy departed Clarksville heading East down I-24, the rain slowly intensified.  By the time we reached Edwin Warner Park, we were met with a steady rain that showed no signs of stopping.  My first thought was that our participation in the Soldier Ride was going to be cut short due to the rain,  which would be disappointing to say the least.  As we staged our bikes and gear in a dry spot under a nearby pavilion, the vehicles just kept coming.  Walking to the registration area I quickly realized that we were not alone;  the rain had not dampened the spirits of the hundreds who turned out to ride with some of our Wounded Heroes. «Read the rest of this article»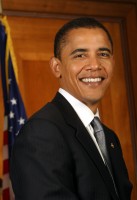 ??This weekend, our family will join millions of others in celebrating America. We will enjoy the glow of fireworks, the taste of barbeque, and the company of good friends. As we all celebrate this weekend, let's also remember the remarkable story that led to this day.
Two hundred and thirty-three years ago, our nation was born when a courageous group of patriots pledged their lives, fortunes, and sacred honor to the proposition that all of us were created equal.
Our country began as a unique experiment in liberty — a bold, evolving quest to achieve a more perfect union. And in every generation, another courageous group of patriots has taken us one step closer to fully realizing the dream our founders enshrined on that great day.
Today, all Americans have a hard-fought birthright to a freedom which enables each of us, no matter our views or background, to help set our nation's course. America's greatness has always depended on her citizens embracing that freedom — and fulfilling the duty that comes with it. «Read the rest of this article»
When you stop by the Downtown Market on July 4 and 11, you can help a good cause.  Boy Scouts of America will be at the market collecting donations for The Fisher House of Fort Campbell.  The Fisher House is place where families of wounded service members can stay while their loved one is undergoing prolonged treatment and recovery at the Veteran Affairs Hospital.
The Boy Scouts will be accepting donations in the form of canned goods, boxed food and monetary donations.  They will be at the market from 8:00a.m.-1:00p.m. on both Saturdays.  This is an excellent way to show your patriotism around the Independence Day holiday and thank the soldiers who have worked hard to defend our freedom.
As always, the Downtown Market will offer a variety of locally produced items.  Nursery stock, fresh produce, homemade crafts and baked goods are just a few of the things you will find at the market this weekend.
After watching his roommate fatally wounded in a roadside bombing, an Army Specialist wonders why the lives of good men are being lost when the Iraqis pose no threat to us and don't want us there.
BAGHDAD, May 12 — My name is Donald Hudson Jr. I have been serving our country's military actively for the last three years. I am currently deployed to Baghdad on Forward Operating Base Loyalty, where I have been for the last four and a half months.
I came here as part of the first wave of this so called "troop surge", but so far it has effectively done nothing to quell insurgent violence. I have seen the rise in violence between the Sunni and Shiite. This country is in the middle of a civil war that has been on going since the seventh century.
Why are we here when this country still to date does not want us here? Why does our president's personal agenda consume him so much, that he can not pay attention to what is really going on here? «Read the rest of this article»
It is past time for us to support the troops. We have allowed our "leaders" to sacrifice them for far too long in this endless occupation of Iraq. There remain a few that still claim that we can "win" in Iraq, but I think that they, too, deep in their hearts know that that will never happen. We have allowed that nation to devolve into a civil war that we are powerless to prevent.
We told them to overthrow Sadaam Hussein, which they did. They won the war that Bush decided to wage. But then we left them there. As the years dragged on, we sent them back again and again — into a situation that got worse with each passing year. And they went back, again, and again, tempting fate each time. Some did not return to us and those who did were wounded in body or soul or both. «Read the rest of this article»
The Ground Truth is probably the best documentary I have seen on the costs borne by our troops due to their service in Iraq and Afghanistan. I recommend that everyone buy a copy of this movie as it helps to reward the filmmaker, supports Operation Helmet, and helps to spread the word that it takes more to support the troops than mouthing a slogan, and displaying a yellow ribbon. Take some time to think about that as you spend time with your family this Easter Sunday!
A video used to be embedded here but the service that it was hosted on has shut down.
Director's statement
This film is not about the right or the left, or about blue or red states. It is about the hundreds of thousands of U.S. soldiers who have been released by the military after serving in Iraq – and the truth they hope to share with their fellow citizens.
I produced and directed THE GROUND TRUTH because I felt it was time to stop hiding behind the politics. No one was writing or talking about thousands of invisible injured soldiers, for the most part young men returning to young wives who must now be their caregivers. «Read the rest of this article»

It's not just the liberals or Democrats folks! All "sane" people are calling for the same thing. Get our troops out from harms way now! Don't wait do it now! It is simply not possible for us to win in Iraq. Our presence will make the coming civil war there much worse than it would be if we left now.
It would be beyond foolish for us to even consider going into Iran as the President and his administration are currently setting us up for. Their play book is same one they used to trick the public into supporting a war in Iraq, but we can put a stop to this one before it even gets started. Say no more to the lies, half truths, and distortions! Oppose further conflicts which are intended to enrich the military industrial corporate complex at the cost of American soldier's lives. The drum beat to war is sounding again and we havn't been able to win any of the other wars President Bush has foolishly gotten our nation into yet.
https://www.youtube.com/watch?v=YKUHsNXbxHQ
«Read the rest of this article»

It's the yearly day of thanks. Not that I don't give my personal thanks every day of the year, but on this special day we do it as a nation. We gather with family and friends and feast on turkey and other delicacies. There are always those who are unable to gather with their loved ones as much as they would like to be there. We should take a moment out of our day and remember them, pray for all of them all.
A video used to be embedded here but the service that it was hosted on has shut down.
This is a classic butterball turkey commercial from way back in 1959, just a bit of turkey history to share with you all today.
Our soldiers were sent to the nation of Iraq, on the orders of their commander in chief. They had no part in creating the false and misleading justification for this war, which was sold to the Congress and a trusting public by the Bush administration. For doing that, both he and his administration deserve our scorn.
Our soldiers deserve only our respect and our support. «Read the rest of this article»