Topic: Two Rivers Mall
Clarksville, TN – The Clarksville Transit System (CTS) continues to drive forward in its efforts to update or replace bus shelters throughout Clarksville.
"We understand the need for updating or replacing current shelters and continue to make that a priority for the community," said Paul Nelson, CTS Interim Director.
«Read the rest of this article»
Clarksville Police Department

Clarksville, TN – Clarksville Police say an 89 year old woman, driving a 2008 Kia Sorrento was traveling south on Providence Boulevard when an unidentified driver in a pickup pulled out of Two Rivers Mall to go northbound on Providence Boulevard.
The pickup driver did not yield to the oncoming Kia and a collision occurred between the two vehicles. The driver of the pickup fled the scene before officers arrived.
«Read the rest of this article»

Clarksville, TN – Today, Wednesday, May 25th, around 1:30pm the Clarksville Police Department received a complaint and request to conduct a Welfare Check on a person considering doing harm to himself.
Officers were able to locate the individual in the Two Rivers Mall parking lot near the Electric Cowboy and the River Walk. The individual was armed and as Officer attempted to approach and talk with the individual he took his own life.
«Read the rest of this article»
"No Good Deed Goes Unpunished"
Clarksville, TN –

A homeless woman in a rental vehicle decided to help a one leg man in a wheel chair because he looked tired, was rewarded for her good deed by having the rental vehicle stolen by the very man that she endeavored to help.
On March 12, 2013, around 5:45 pm, a 42 year old woman with her 18 year old son were in a 2012 Chevrolet Impala and saw a one leg man in a wheelchair in the parking lot of Two Rivers Mall at 670 N. Riverside Drive.  He appeared tired to the woman so she offered the man a ride, something she would soon come to regret. «Read the rest of this article»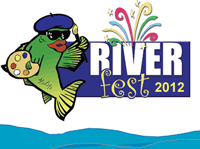 Clarksville, TN – The third annual Riverfest Cornhole tournament is excited to offer cash prizes for Riverfest's 25th Anniversary! This event is intended to bring a little family friendly competition to Riverfest. Registration is limited to 30 teams.
Registration ends September 5th, 2012 so register today! «Read the rest of this article»

Clarksville, TN – The weekly Clarksville Parks and Recreation Department Recreation Report provides Clarksvillians with a glimpse at the activities and events that are available from the Parks and Recreation Department for them to enjoy together as a family.
This weeks highlights include:
Archery is back!
Riverfest Cornhole Tournament
Riverfest Recycles
Recycled Fashion Show
«Read the rest of this article»


Clarksville, TN – Linemen for the Clarksville Department of Electricity were making preparations for the scheduled electrical outage on Sunday morning from 12:01am until 4:00am when an unexpected outage occurred.
CDE Linemen were working to route power around the substation on Paradise Hill Road to limit the number of customers who would be affected a  planned early morning maintenance outage, when jumpers connecting two different power lines burned out causing unplanned outages in the southern portions of Clarksville served by the District Substation.
CDE Linemen located the burned out jumpers behind Two Rivers Mall and expect to have power fully restored in just a few minutes. The District Substation provides electrical services to 6747 customers.
«Read the rest of this article»

Clarksville, TN – On November 11th, 2010, around 7:16pm, officers responded to a Robbery at a Buchanon Drive residence.  According to the victims, two men entered the house through an unlocked front door, displayed handguns, and ordered the victims to the floor. 
They took over $2,000 worth of items from the residence and fled from the scene in a white van. The vehicle was located and stopped about 20 minutes later by Officer David Johnson on the parking lot of Two Rivers Mall.
«Read the rest of this article»
City of Clarksville plans to launch new web site in a few weeks to offer full details on the new master plan.
Aiming to set the course for our city for the next twenty years, Clarksville Leaders laid out a far reaching master plan for the future of our city. The plan development was coordinated by Frank Lott's  and Jeff Bibb's  BLF Marketing  with assistance from RKG Associates, Betsch Associates, and Wilbur Smith Associates along with a Master Plan Committee  chaired by Mark Holleman, Jim Durrett (Mayor Piper's former chief of staff), and Col. Perry Clark from Fort Campbell.
The City of Clarksville budgeted $230,000 for the development of this plan.
«Read the rest of this article»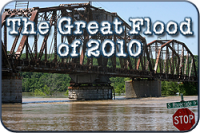 With the high water in Clarksville Tennessee,  some thrill seekers saw it as an opportunity to engage in a little daredevilry. This included driving through high water, wading in flood waters, going out on the RJ Corman Railroad bridge, and boating on the swiftly moving river.
Consider these all examples of things that you don't want to do!
«Read the rest of this article»