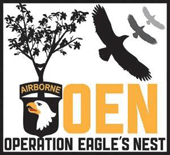 Clarksville TN – November 11th was Veteran's Day.  November 22nd is Thanksgiving Day.  It is rare that only eleven days separate these two days of thankfulness. With that in mind, Operations Eagle's Nest would like to remind past and future supporters to think of those eleven days as a special time to financially support our troops and their families who give so unselfishly for us.

The war on terror continues and, in Afghanistan, that effort has been made more complicated and assumed new dimensions by the ever-changing tactics of the Taliban and al Qaeda.

What hasn't changed – except in scope – and what remains ever demanding is the need to provide family members of Fort Campbell 101st Airborne Division (Air Assault) during these difficult times.

As the 101st Airborne Division (Air Assault) and other troops from Fort Campbell redeploy to Afghanistan, the families of our brave soldiers are again experiencing an ever-expanding dimension of self-sacrifice and need.

Operations Eagle's Nest – with your continuing help — has been engaged in the forefront for the past ten years in providing financial and morale encouragement and appreciative support to the families of these unique protectors of our freedom.

Today…now…in this time and place, your further financial support is especially needed.

The dimensions of Operation Eagle's Nest has become more complex and substantial in correlation to the ever-growing requests from the families of our active and fallen soldiers.

These families and their children…these wives and husbands – many of whom have paid the ultimate price to preserve our way of life – need our assistance.

It's that simple. They are the ones in the vanguard of America's prolong war of terror. They know no rest. Their lives are full of apprehension for the safety of their love ones. They are burdened with the knowledge that their loved ones, on ongoing rotational tours in foreign lands are, in effect, on "passports" perilously related to having to return home early not by choice but by wounds or death.

All Americans should be deeply affected by this. For those of us who "reside" close to the war on terror, we know firsthand the realities our military families confront daily. That's why Operation Eagles Nest exists – to remind Americans in general and our local constituency in particular – that our valiant soldiers and their families need financial support to maintain support of their efforts and, particularly, to instill in these families that they are not alone, that where there is need, there will be financial help. And that help will come from fellow Americans who fully appreciate and support the families of American soldiers on the forefront on Americans war on terror.

Operation Eagles Nest is here to help with those extraordinary needs during these difficult times. Our message to the soldiers has been crystal clear: You can feel relieved because we will care for your families until you return from helping America fight terrorism. Operation Eagles Nest was created in '03 to help the evolving needs of military families of soldiers assigned to the 101st Airborne Division and all units at Fort Campbell being deployed for combat duty.

Your generosity and compassion ensures our mission's success. Make donations online @ www.operationeaglesnest.org or by mail to:

Operation Eagles Nest
P.O. Box 203
Fort Campbell KY, 42223

A good deed is a great happiness. Be lavish with your kindness and you will be rewarded. Be merciful and you will be blessed.

OEN is associated with The Community Foundation of Middle Tennessee and linked to www.GivingMatters.com and member of Fort Campbell's area Combined Federal Campaign, CFC #19965.

Please keep our service men, women, and families in your thoughts and prayers.  And please keep and special place in your heart for our Fallen Heroes.



Sections
News
Topics
101st Airborne Division, Afghanistan, Air Assault, Al Qaeda, Americans, Clarksville TN, Fallen Heroes, Fort Campbell Area combined Federal Campaign, Fort Campbell KY, Operation Eagle's Nest, Soldiers, Taliban, Thanksgiving Day, The Community Foundation of Middle Tennessee, Veterans Day, War on Terror