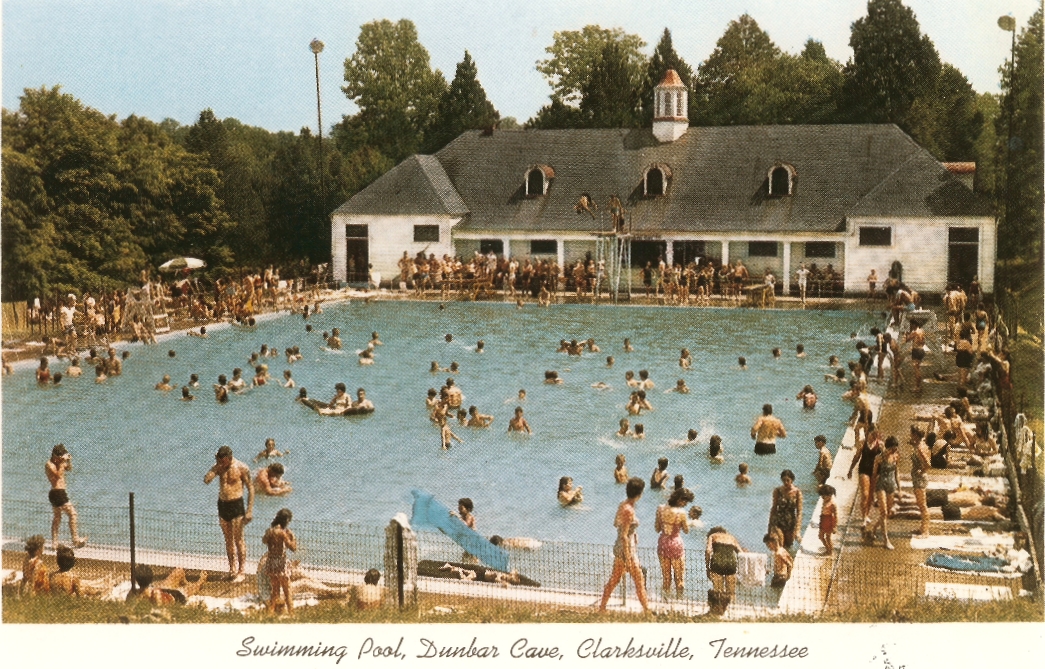 Since September 8, 1936, when Papa Dunn ran up the path to Dunbar Cave yelling, "It's a boy, it's a boy!", Jimmy Dunn's history coincides with that of Dunbar Cave's.  As a youth, Jimmy's first job was to operate the popcorn machine by the cave entrance.  Later he operated a concession stand by the pool. 
Tonight he is giving a presentation, "Memories of Dunbar Cave".  He has pictures and stories to share.  This presentation is free and open to the public.  It starts at 7:00 p.m. at the Dunbar Cave Visitor Center. 

On Saturday June 23, 2007, starting 5:00 p.m., we will be having an Community Appreciation Dinner for Leaf-Chronicle Reporter, Amy Ritchart.
Amy will be leaving the Leaf-Chronicle to pursue other endeavors, so we will be throwing her an appreciation dinner at:
Sakura Japanese Steakhouse 1345 Fort Campbell Blvd Clarksville, (Next to Best Motors)
Saturday June 23, 2007, starting 5:00 p.m., «Read the rest of this article»

Clarksville, TN – This 110-acre natural area in Montgomery County is honeycombed by caves and sinkholes, the most prominent being Dunbar Cave. This 8.1 mile cave has historical, natural, archaeological and geological significance. Excavations revealed that this cave has been occupied by man for thousands of years, drawn by its constant stream flow and natural air conditioning.
Dunbar Cave is located 60 minutes northwest of Nashville and about one and a half miles northeast of downtown Clarksville, TN in Montgomery County. Dunbar Cave is the most prominent of several caves located in this designated natural area. In the roomy mouth of the cave, square dances, radio shows, and big band era concerts were once held.
June Programs
All Programs are free unless noted otherwise, and require reservations by the deadline listed.  Program with no reservations by the deadline are canceled.  All programs begin at the Visitor Center unless another site is listed. «Read the rest of this article»
The FreeThinkers for Peace and Civil Liberties gathered at the Eternal Flame in downtown Clarksville Thursday evening to acknowledge the escalating number of US soldiers killed in Iraq. On Wednesday, the number of casualties in Iraq reached 3,504, including nearly 200 soldiers from Kentucky and Tennessee.
FreeThinkers founder Debbie Boen and co-organizer Christine Piesyk circled a tree with candles for a solemn, non-political memorial at which the names of the Kentucky and Tennessee soldiers were read. The group stood in silence to honor the fallen. «Read the rest of this article»
The UU fellowship Clarksville recently purchased a license to show movies at our facility. So they can now pick from several movie distributors, including Universal Studios Home Entertainment, the distributor for The Ground Truth.

Join us as we watch The Meatrix, and "The Ground Truth" which was produced by Patricia Foulkrod on Friday June 8th at 7:00PM. Admission is free and bring a snack to share if you wish.
The movie will be showed at the Unitarian Universalist Fellowship located at 3053 Highway 41A South in Clarksville, TN «Read the rest of this article»
Saturday, June 2, in Hohenwald TN, the second annual Sonnenschein Festival will have music, nature, alternative energy and art! This years festival will be the biggest Green Power Festival in Middle Tennessee. This notice was sent out by Jennifer Dauksha-English.
It will include 25 green power speakers, an alternative vehicle and fuel exposition, two music stages powered by solar energy, a tour of alternative homes, an energy play shop for kids, an eco-film fest, the debut of Middle Tennessee's Green Living Journal and much more!! The festival opens June 1 with an Ecovillage Experience Weekend at the Ecovillage Training Center on the Farm Community in Summertown, TN and a Cumberland Greens Bioregional Council Gathering. «Read the rest of this article»

The FreeThinkers for Peace and Civil Liberties will sponsor a Peace Vigil on Sunday, May 27, from noon to 4 p.m. at Patriot's Park on Fort Campbell Bvld. in Clarksville.
This peaceful event will include a prayer service, spiritual readings, music, guest speakers, and a reading of the names of Kentucky and Tennessee soldiers killed in the Iraq conflict. The public is welcome to attend.
While many of us oppose the War in Iraq, we join with Americans on both sides of the debate in sharing the same concerns for the men and women on the front lines, our soldiers serving overseas and those about to be deployed. We support our troops (that message seems universal) but not the flawed policies and politicians that have immersed them in this escalating conflict.
As this Memorial Day approaches, fatalities in Iraq are escalating rapidly and another landmark number, 3500, is quickly approaching. That number does not include fatalities in Afghanistan, or the civilian death toll in either country. At home, many returning troops and their families face both physical and psychological difficulties from extended (and multiple) deployments. «Read the rest of this article»

The Clarksville Amateur Video Editors Club will hold its first meeting on April 23, 2007.
If you record, produce, edited or write your own videos and would like to be a part of this networking group you are welcome to attend and join our club. No experience required, just people who want to have fun exchanging video editing tips and ideals.
Everyone is welcome!
PLACE: G's Pancake House 2018 Fort Campbell Blvd Clarksville, TN 37042.
TIME: 7:00 p.m.
For more information please contact Terry McMoore, Club President
Phone: (931) 552-9076 or (931) 378-1999
Email: terrymcmoore@hotmail.com

The American Civil Liberties Union of Tennessee (ACLU-TN) is holding a Right To Vote Conference entitled Breaking the Chains: From Jail Cell to Voting Booth on Thursday, May 3, from 8:30 to 4:30 at the United Steelworkers Union Hall (3340 Perimeter Hill Drive).
Conference highlights include:
Marc Mauer addressing The US Record on Punishment (The Sentencing Project, Washington, DC);
Jeff Manza discussing key findings published in his book Locked Out, Felon Disenfranchisement and American Democracy (Northwestern University, Evanston, IL);
Rachel Bloom contrasting international disenfranchisement practices with the US record (National ACLU, Washington, DC); and
Nancy Abudu highlighting pending challenges to the child support and restitution provisions of the current Tennessee law (ACLU Southern Voting Rights Project, Atlanta, GA).
Workshops are designed to:
Answer attorney and paralegal questions about the new law and share methods for addressing voter restoration issues (CLE credits available);
 Offer agencies, organizations and churches strategies to help former felons register to vote (CEU credits available);
Help former felons and their family members to improve their public speaking skills to better persuade the public to support voter re-enfranchisement.
For further information or to register contact the ACLU-TN Right to Vote Campaign at 615-320-7143 or rtv@aclu-tn.org, or visit the website at www.aclu-tn.org.

The Dunbar Cave Spring Fling will be held on Saturday, April 28, 2007 at the Dunbar Cave State Natural Area in Clarksville, Tennessee. Bring your family and come attend a day of exciting and informative activities. All of the activities are free of charge and will begin at the Visitors center. Some programs may have start times which will overlap others. These events will be held rain or shine. All children must be supervised by a responsible adult.
This event is sponsored by the Friends of Dunbar Cave, the Warioto Chapter of the National Audubon Society, the Tennessee Trails Association, and the Tennessee Wildlife Resources Agency.
«Read the rest of this article»