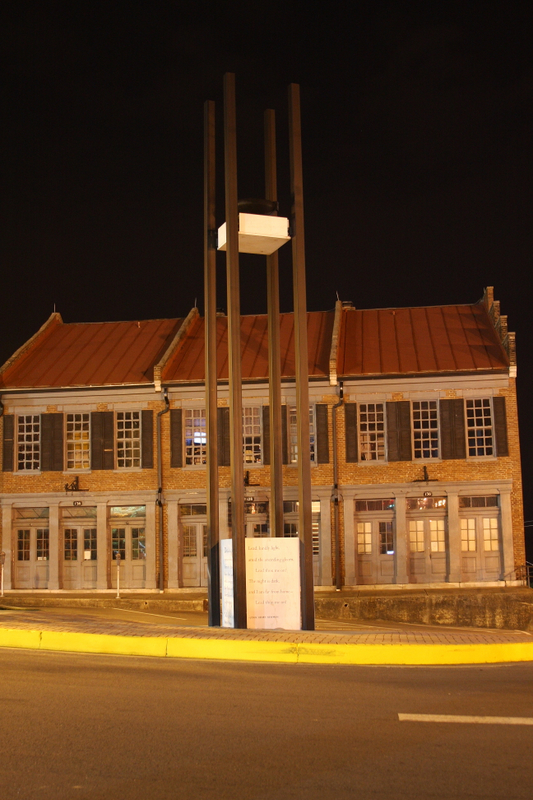 Lighting a flame is just too much to ask. Even during Memorial Day Weekend, the flame is out. Yet "We support the troops!" claims and stickers are everywhere. Who's foolin' who?
Yet another national observance dedicated to honoring the nation's debt to its military forces, past and present, is upon us. Flags are flapping in the wind. Boy Scout Troops are preparing to descend upon various cemeteries to place small flags at veterans graves. Politicians gear up to make patriotic oratory praising America's military forces and the noble sacrifices made by them and their families, past and present. Even the president has reminded us to remember the veterans as we celebrate this weekend. All of these annual gestures of reverence are expected and applauded
But there is an affront to all this staged posturing in our community. For quite some time now, Clarksville has been playing footloose and cheap with its symbolic gesture to military honor and sacrifice- the eternal flame on Public Square. The flame has been unlit for most of this year. Citizen inquiries have resulted in a myriad of replies, to include being told that, "Surely, the wind must have just blown it out!"
«Read the rest of this article»
Interest Group Meets with Children's Defense Fund Staffers. See meeting as a call to end adult hypocrisy, neglect and abandonment of children and America's Cradle to Prison Pipeline Crisis.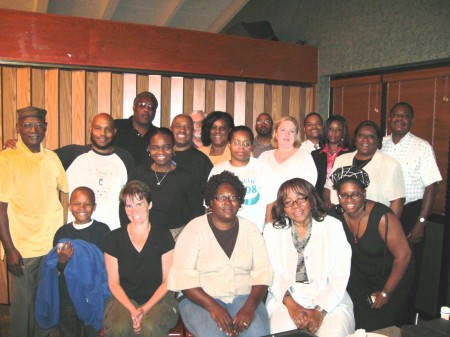 A lively group discussion among Clarksville citizens marked a meeting with organizational training representatives of the Children's Defense Fund. Lissa McCloud, CDF Tennessee Organizing Director, led the gathering. She and Elandria Williams of the Highlander Research and Education Center are crossing the state to meet with local groups. Their mission: to gauge communities' perception of and desire to address the glaring disparity in minority male youth who fail to complete high school and are subsequently being fed into the prison and judicial system. «Read the rest of this article»
Sponsors sought for Drum and Bugle Corps Ensemble internship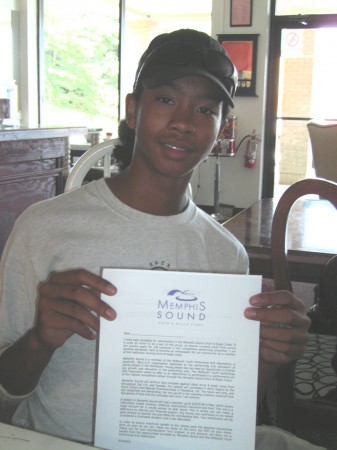 Jason Van Hodge is feeling pretty good about himself. The Kenwood High School student has been accepted for membership in the Memphis Sound Drum and Bugle Corps 2008 Summer Internship. He was selected from several hundred youth across the country for one of only 100 positions in this competitive performing ensemble. As a member of the Memphis Sound Drum and Bugle Corps he will serve as an ambassador for our community in this nationally touring ensemble.
The Memphis Sound Drum and Bugle Corps is a member of the Mid-South Youth Performing Arts Association, a 501(C)3 non-profit organization dedicated to the performing arts education of young people in the Mid-South. The mission of the Memphis Sound Drum & Bugle Corps is to release the full potential of today's youth by promoting self-awareness, acceptance, respect, dedication, and teamwork through the participation in the competitive marching arts. «Read the rest of this article»
The citizens of Clarksville were treated to a wealth of information at a recent community forum hosted by the Disproportionate Minority Contact (DMC) Task Force. The program was held at the Clarksville – Montgomery County Public Library and included a reception for speakers and guests. Ms. Debrah Stafford, Juvenile Justice Director for the Tennessee Commission on Children and Youth, opened the forum with a strong power point presentation titled What About the Children?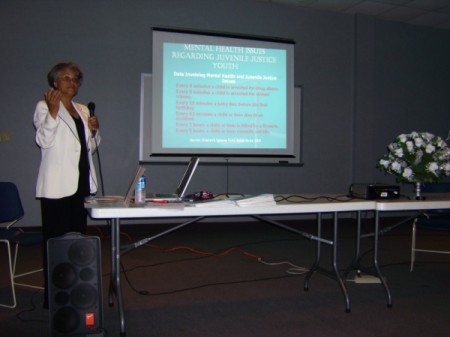 Every day in America, 540 children are arrested for various crimes, though in many cases there are mitigating situations that cause these children to come in contact with the system. Ms. Stafford suggests that we must not be "in such a hurry" to just lock up a child.
One major finding by juvenile justice professionals is that more attention should be paid to the mental heath of the child. Children in juvenile justice often have mental health and substance abuse problems, have a higher percentage of learning disabilities, have frequent histories of trauma abuse/neglect, violence in the home, and/or have parents with substance abuse problems. «Read the rest of this article»
GOP Week In Review: General Assembly adjourns "Sine Die"

The 105th General Assembly adjourned "Sine Die" this week, concluding a contentious session in which lawmakers were forced to make difficult decisions regarding the lottery scholarship program and the budget. Ultimately, legislators came together to form compromise legislation that will greatly benefit Tennesseans by allowing more students access to college, passing a budget with no new taxes, and providing seniors with more healthcare options.
Budget passes both chambers at eleventh hour
The 2008-2009 budget was passed late Wednesday night, and is lauded by Republicans as a fiscally responsible one in which reasonable cuts in growth were made. The total budget, which includes federal dollars, for 2008-2009 is $27.5 billion, $245 million less than originally proposed in January. The 2007-2008 total budget was $27.75 billion, $250 million more than this year's. The state portion of this year's budget was $13.6 billion, a $200 million decrease from 2007-2008.
April 2008 was the worst month on record for revenue growth in Tennessee, and the third quarter of this fiscal year was the second worst quarter on record. Projections show that the fourth quarter—of which the state is halfway through—could be even worse. «Read the rest of this article»
In real estate, they say location is everything. In placement of fuel storage terminals, no truer words were ever spoken!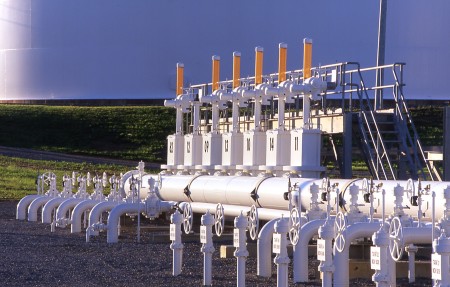 TEPPCO Partners, LP announced plans to construct a new refined product terminal in Clarksville along the Cumberland River. Two local businessmen apparently are engaged in this development. Normally one is inclined to celebrate such high dollar economic investment in the community.
This project is part of a three terminal initiative which will cost approximately $75 million. However, it must be noted that the given location is just several brief miles above the city's water intake facility, our only water intake point on the Cumberland. As such, it poses a serious potential hazard to our drinking water supply.
«Read the rest of this article»
H.O.P.E. eligibility drops to 2.75

Helping Heroes Act helps Tennessee vets return to school

Longterm Care Act helps elderly stay at home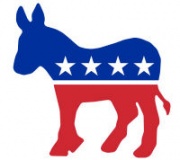 NASHVILLE – Citing expansion of lottery scholarship programs and passage of sweeping reforms of Tennessee's long-term health care system, among other accomplishments, Democratic Leader Senator Jim Kyle, D-Memphis, and Democratic Caucus Chairman Sen. Joe Haynes, D-Goodlettsville, today said the Senate Democratic Caucus had successfully weathered difficult times during the second session of the 105th General Assembly and had "continued to stand up for Tennessee families."
"The national economic downturn had a major impact on the state's finances, but Senate Democrats did what Tennesseans elected us to do, we balanced the budget without new taxes," Kyle said. "We handled the budget in a business-like fashion, and we did this while addressing our priorities. We pressed on to expanded opportunity for college students, and we prevailed." «Read the rest of this article»
Tennessee's "Top Spot" hit bottom on Best Life Magazine's "Best Place to Raise a Family" list, coming in at #257 (out of 257) based in part on the listed amount of per-child school spending. Yet even as the city and the School Department challenged that placement and the numbers it was based on, the fact remains that Clarksville has both a lot more and a lot less to offer than many comparable cities across the country.
In leading up to the list for this monthly magazine aimed at male readers [with the survey actually targeting fathers in search of family friendly communities, researcher Sara Vigneri wrote:
"…fathers face reality when they're not in prime time. They want to raise their children somewhere safe [ed. note: read "low crime"], where they can attend good schools with favorable student-teacher ratios, above-average test scores, and respectable budgets. Plenty of museums, parks, and pediatricians also contribute to a good quality of life, whereas multihour commutes, expensive houses, and divorcing friends and neighbors do not." «Read the rest of this article»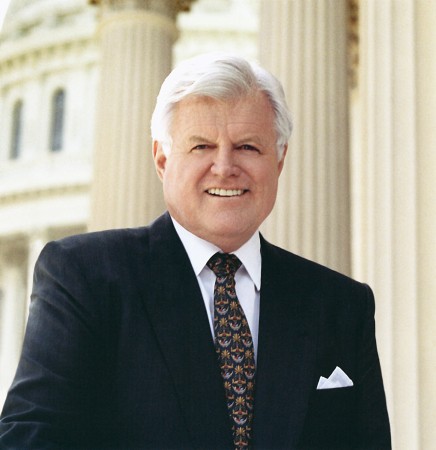 Senator Edward "Ted" Kennedy remains hospitalized today as doctors evaluate a brain tumor discovered after the senator was hospitalized for a seizure suffered over the weekend.
Doctors at Massachusetts General Hospital today confirmed 76-year-old Senator Ted Kennedy's seizure were the result of a malignant brain tumor Kennedy, who was hospitalized after suffering a seizure at his family's compound on Saturday, has not had a repeat incident and is reportedly in good spirits.
According to statements made by the Senator's doctors, preliminary results indicate, "the cause of the seizure as a malignant glioma in the left parietal lobe," the area of brain linked to sensation, movement and language.Malignant glioma is the most common type of primary brain tumor in the United States accounting for more than half of all new diagnosis of a brain tumor condition. «Read the rest of this article»
Serenity lies within a tucked away park on Needmore Road between 101st Parkway and Tiny Town Road. Billy Dunlop Park brings us a manicured, lush green lawn bordered with old growth trees and the gentle rolling West Fork of the Red River. Every time we've been here we see how well this park is maintained, including a new addition to the park: a walking bridge across the river.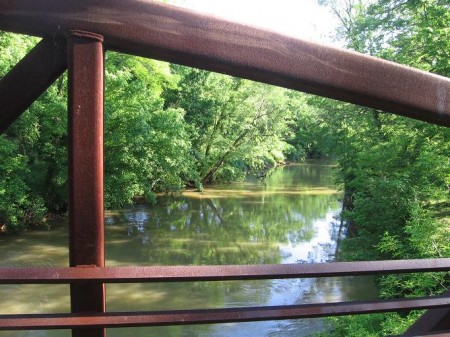 «Read the rest of this article»