Nashville, TN – Pam McDonald has been named the Tennessee Wildlife Resources Agency 2011 Boating Officer of the Year while Allen Herald is the Part-Time Boating Officer of the Year for the second time in as many years.
The winners of the two awards were announced by Darren Rider, TWRA Boating and Law Enforcement Division Chief. The officers were presented their awards at the April meeting of the Tennessee Wildlife Resources Commission.
McDonald is an officer assigned to Wayne County in TWRA's District 22 in southern Middle Tennessee and was selected among other TWRA Law Enforcement officers to become the state recipient. Herald works part-time in TWRA's District 21 and has the honor of being presented the award each time since it was established last year.
Honored as TWRA district selections were Ray McMillen (District 11), Brad Bagwell (District 21), Nick Luper (District 31), Christy Twilla (District 32), and Matt Cameron (District 42). These officers were selected for their efforts in law enforcement, education; outreach, accident investigation and training.
Also honored as TWRA Part-Time Boating Officer district selections were Terry Moore (District 11), Trey Clanton (District 22), Tommy Stockling (District 31), Matt Price (District 32), and Hugh Moore (District 42).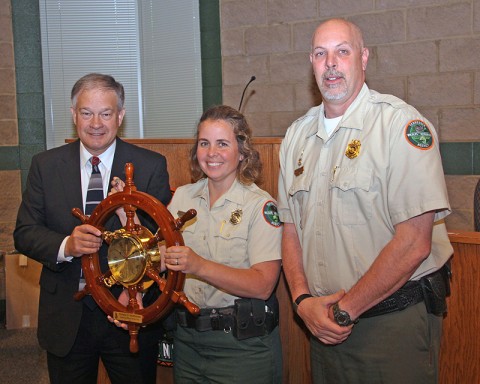 Portions of the Buffalo River and a busy stretch of the Tennessee River flow through portions of Wayne County. McDonald was instrumental in leading an effort to provide a safe boating environment on the Buffalo River, a designated "state scenic river" and popular location for paddle sports activities.
Acting on complaints from the boating public and landowners on the Buffalo River in Wayne County, McDonald established boating enforcement details to alleviate accidents and injuries resulting from alcohol and drug abuse of paddle craft on the Buffalo River.
She encouraged cooperation from the 22nd Judicial Drug Task Force on their boating enforcement details in the area and they made dozens of drug and under-aged alcohol cases each day making it safer for families and groups to enjoy boating on the river.
In addition, she launched an idea to provide information to boaters on safety requirements for paddling on the river.
She inspected more than 1,600 boats, issued 24 citations, and five warnings for safety violations in 2011. She was the lead investigator on six boat accidents in Wayne County.
In the area of education and outreach, McDonald certified 14 students in boating safety, worked public events such as the Clifton Riverbend Festival on the Tennessee River and a fishing rodeo with 300 participants.
Herald is a member of the agency's part-time boating officer program and works in a 12 county district that contains five major reservoirs.
He inspected close to 450 boats for compliance and issued 41 citations for safety violations and arrested one individual for boating under the influence (BUI).  He also assisted 26 boaters with various mechanical problems.
Herald's education efforts included teaching eight boating safety classes to more than 160 students and assisted with new officer training. He has worked as a boating officer for 21 years and often acts as the TWRA representative in meetings with various government agencies during planning sessions on upcoming boating related issues and annual events. He participated in the Nashville Boat Show, a safety event at the Charlie Daniels Band Park, Middle Tennessee Boy Scout Jamboree, and made a presentation to the Tennessee Air National Guard.