I hope this article finds you ready for the holidays. If you're like myself, between the presents, the dinners, the family, the friends, and the endless to do lists you don't have lots money for decorating for the holidays. If you've got a little free time and some creativity you can have a very memorable season.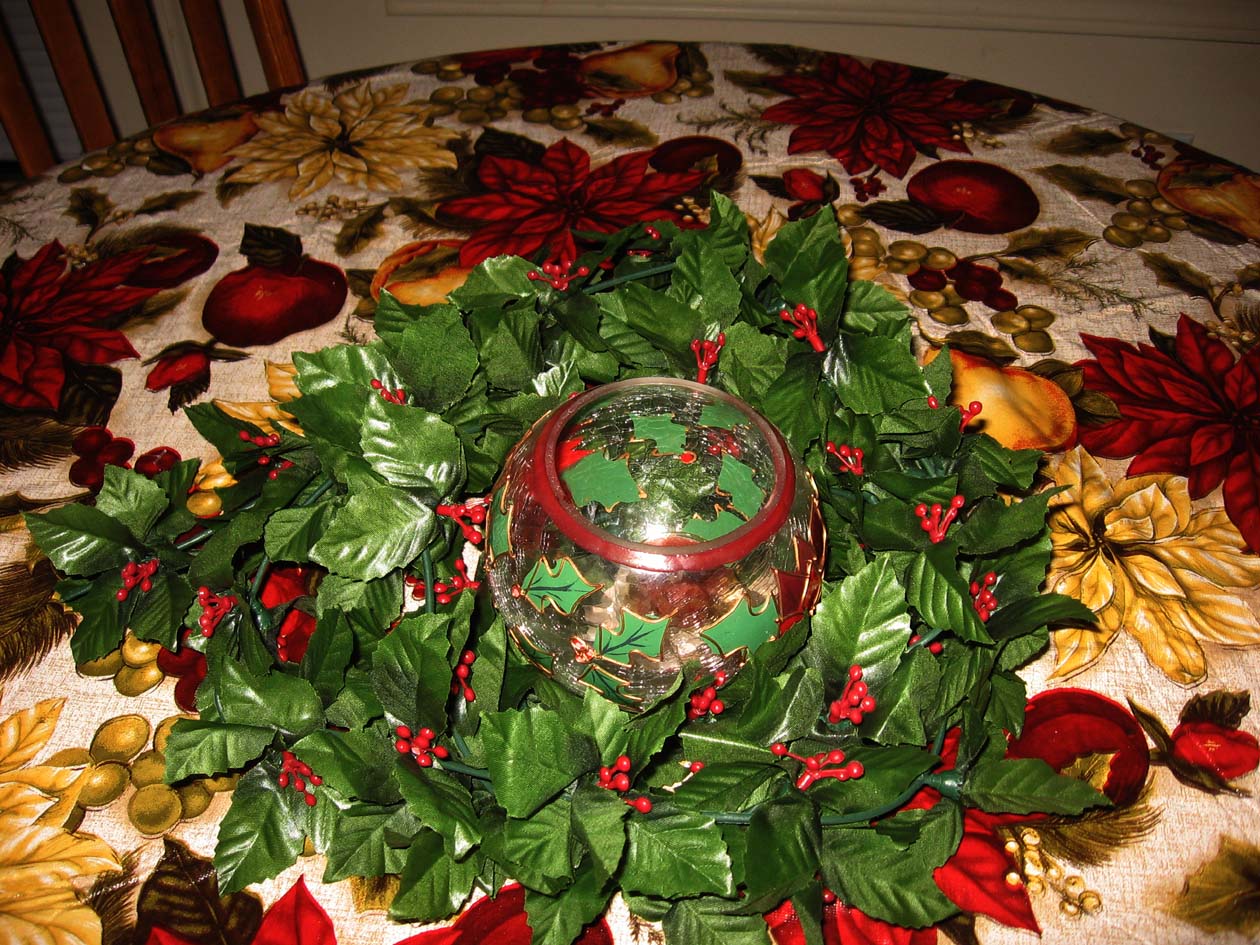 First, let's talk about the all-important meal table. You're probably planning on having some friends and family at a table together for the holidays, so why not give them something good to look at besides your cooking. For this project, a little bit can go a long way. First, consider a tablecloth. Nothing dresses up a dull table like a tablecloth. Even a cheap one from Wal-Mart can help spruce the kitchen up. And, don't even think about forgetting the centerpiece. What else will guests have to talk about when the awkward silences and family feuds set in? This is where some creativity comes in play.
For my centerpiece this year, I used a simple glass candleholder with some festive poinsettias on it. I also had some holiday garland laying around, so I opted to wrap it around. Then, I added a pumpkin spice tea light. Presto! Instant centerpiece. You can get as creative as you like with this. You could also make a gingerbread house or even take a simple basket and fill it with fresh fruit and add in some greenery from your local arts and crafts store.
Next, let's discuss stockings. Of course, you could go out and purchase beautifully hand crafted stockings or you could make your own and personalize them with glitter, fabric paint, feathers, ribbons, or whatever else you like. This is an excellent project for little ones because they get to create something that they will be able to enjoy for years to come. One day when they look back at what they created, they'll think back to the excitement and joy of creating their own individualized stockings throughout the years. Be prepared to get messy, and give plenty of time for any glue or paint to dry. This year, we took new white tube socks that we didn't need and fabric painted them to create some very unique holiday stockings.

Perhaps the crowning glory of your holiday decorations is the Christmas tree. This year, since our Christmas tree is only four feet tall, we wrapped a large box in Christmas wrapping paper and dressed it up as a present to place our tree on to give it more height. Next, we placed items on the branches that had special meaning to it. We have ornaments we've had since we were youngsters; I added a breast cancer awareness bracelet, a key chain that I liked, and we added items from trees of family and friends.

We strung popcorn to give it some more decoration, added lights, and even put some Halloween garland that was leftover on there. We topped it with a witch's hat from Halloween and a pair of 3D glasses from my first 3D movie I ever saw. Some might call it tacky, they can even call it ugly, but there's not a single decoration on that tree that doesn't mean something special to us.
Now that your home is decorated for the season, don't spend all your time there. Go out and enjoy the holiday season. Take a stroll through Christmas on the Cumberland. The light display is on Riverside Drive and is open from 5:00 PM to 10:00 PM Sunday through Thursday. Friday and Saturday, it stays open until 11:00 PM. Or, you could go out and enjoy a live theatre production at our local Roxy Regional Theatre. They offer a "pay what you can" night to make live Theatre available to everyone. Go out and have a cup of coffee at one of Clarksville's many local cafés. I enjoy Mugsy's on Fort Campbell Boulevard. They've got a reward program where after ten drinks your eleventh is free.
So after you've managed to decorate and enjoy your holiday season on a budget, sit back and relax. Spend time with family and friends and let them know how much you enjoy having them in your life.
Don't forget to leave milk and cookies out for Santa and carrots for the reindeer. Remember to wish for peace on earth, goodwill towards men, and money leftover to pay January's bills!
Best Wishes,