A Chinese proverb defines "waste" as a resource in the wrong place. With that in mind, the creators of the Montgomery County Habitat (for Humanity) ReStore are seeking donations of new and used residential building supplies and home furnishings from individuals, contractors, remodelers, retailers and wholesalers. The ReStore, which will be located at 408 Madison St. near the Dollar General and ARC Thrift Store, will hold its Grand Opening on March 1, with business hours Wednesday through Saturday from 9-5.
According to Joe Davidson, manager of the ReStore, some of the materials are available through the store will be used directly in the construction of Habitat for Humanity homes, but most are displayed for the general public to purchase in our ReStore. The profits are used to fund future Habitat homes in Montgomery County .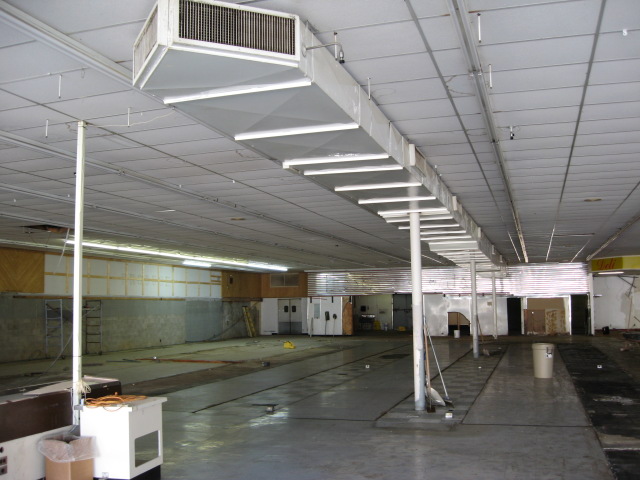 The ReStore ready and waiting to be filled
Self delivery of items donated is encouraged, but the pick-up of your donation can be arranged by calling us at 645-4242. The store is currently open for donations on Tuesdays and Saturdays from 9-3. Tuesdays will remain a "donation" day.
The ReStore is seeking the following items:
Appliances: clean & working.
Brick and Block: no broken pieces.
Cabinets: up-to-date, not damaged, wood and metal.
Carpet: up-to-date, no stains or odors.
Doors: all types, no broken glass or rotten wood.
Electrical: usable fixtures, parts and supplies.
Furniture: good usable condition.
Hardware: knobs, hinges, locks, nails, cabinet pulls, nuts, bolts, screws, and assorted misc.
Lumber: dimensional – 6ft or longer, sheets – 1/2 or larger, no nails or scraps.
Paint: full cans, residential use.
Plumbing: usable fixtures, parts and supplies, clean and drained.
Roofing: bundled, no scraps.
Tile: wall and floor, boxed and clean.
Tools: Hand, garden, working power.
Windows: all types, no broken glass or rotten wood.
The store will not accept damaged materials, toys, clothing of any kind, small household appliances (toasters, blenders, etc.), or mattresses.
The ReStore is also seeking volunteers for positions that include cashiers and office staff, to greet customers, answer phones and handles sales. Also needed are product preparation people to check and clean incoming donations and move products from receiving area to the store; and drivers and assistants to take the Habitat truck to pick up donations of materials and appliances.
Habitat for Humanity is a nonprofit, nondenominational Christian housing organization with the goal of eliminating substandard housing and homelessness from the face of the earth by working in partnership with Clarksville's people. Habitat for Humanity of
Montgomery County, TN became a recognize affiliate by Habitat For Humanity International in January of 1992. Since then have built 60 homes for Montgomery County residents.
For more information or to make a donation, call Davidson at 931-645-4242.