Not far from Clarksville are walking trails in parks and at nearby Land Between the Lakes. A great way to walk them is with the Tennessee Trails Association.
This last weekend our local Tennessee Trails Association did a litter pickup and debris removal in Rotary Park and on a north-south trail at Land Between the Lakes (LBL). The group removed several bag fulls of trash and moved many wind blown tree limbs off the trail. They left tired, but with a feeling of pride in knowing that they had left the trails in better shape than they found it.
James Arthur Neblett participated in the litter pickup hike this year and last year. He said that it beat staying inside no matter what the weather was, and he is anxious to participate in this endeavor in the future.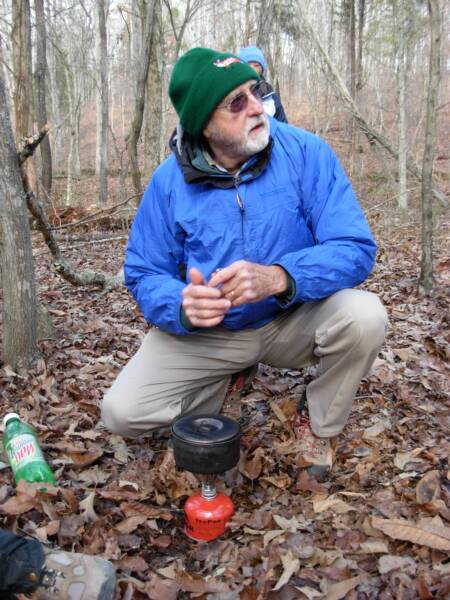 One of the local Tennessee Trails members is J. R. Tate (at left). Among other trails, he has walked the Appalachian Trail four times. It took him six months each time. During his 2006 walk, we got a glimpse of his adventure through diary passages he sent to the Leaf Chronicle. When I asked him his secret to success he said, "Hiking is a matter of moving your right foot, then your left foot. Repeat until you get from where you started to where you end up". He found that the mental part of hiking is a lot more important than the physical part. He kept himself going sometimes on the simple thought of a warm sleeping bag or a great meal ahead.
J. R. has published two books, Walkin' with the Ghost Whisperers-Lore and Legend of the Appalachian Trail, and Walkin' On The Happy Side of Misery. You can find these books on J. R. Tate's web site: http://modelt.homestead.com/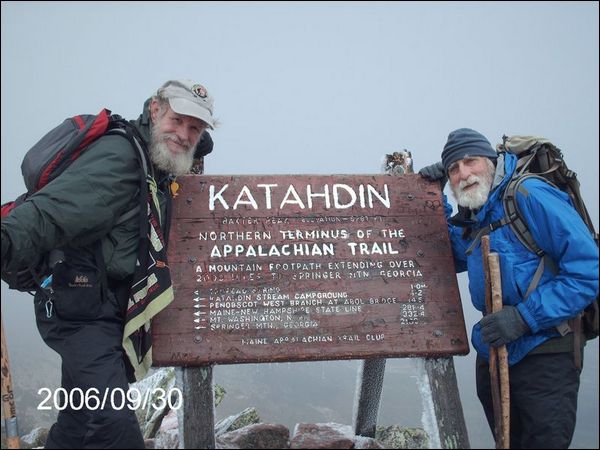 Ranger Dawg and Model T (J. R. Tate) on the Appalachian Trail
I asked J. R. how can I, an out-of-shape, inexperienced walker, go along on a walk with him and not feel intimidated? What is the pace? He said that there are fast walkers and slower walkers and there is always a leader and a sweeper-a person at the end who makes sure that no one gets left behind. When the fast walkers get too far ahead, they stop and wait for all to catch up. In reality, the group walks as fast as their slowest walker. J. R. has shared his hiking tips at the annual Spring Fling at Dunbar Cave, among other places. J. R. suggests for a "first" time, you might want to start with a 5-mile walk rather than a 12-mile.
Find out about hikes from the Tennessee Trail web site: http://www.tennesseetrails.org/ Call the person running the hike to find out the time, directions, if there's a car pool and difficulty of the walk. Things that I've learned are you want to have shoes that are worn in and won't give you blisters. You always, always bring your own water(s) and whatever snack you will need.
Twice my husband and I have done an eight-mile hike with Tennessee Trails on New Year's Day. The first one was difficult for me but the second one seemed to go much easier. Near the end of the hike, the experienced hikers brought stoves out of their backpacks and heated up mashed potatoes, black-eyed peas, and plenty more that served all of us. Corn bread, sweet treats and gallons of water that became lemonade appeared out of someone's backpack. At the end of the walk, our bodies felt good. Tired but really good. That's a feeling we don't get very often.
Some of the people in Tennessee Trails like the idea that they can walk within the safety of a group. Lilly is one of those folks. Lilly is in her 70's, as are quite a few people in the group. Lilly is a bit nervous about walking any trail alone, so this group is just right for her. There are all ages in this group, from retired folks to babies in backpacks. Toddlers and younger children would probably have a hard time with these walks. Don't make the mistake of thinking that people in their 70's and 80's walk slow!
Neblett recommends Tennessee Trails to people because it is a great way to enjoy the outdoors and his kids have grown up being involved with groups like this. Upcoming hikes this month are on February 16 at the Fort Henry Trail led by J.R. Tate. February 19 is a Monthly Program Meeting run by J. R. Tate. February 23 is an Indian Town Bluff hike run by John Sneed. See these and other Tennessee hikes posted at: http://www.tennesseetrails.org/
Shots by James Neblett of the litter pick-up at LBL