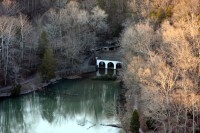 On March 29th, Friends of Dunbar Cave and other volunteers spread Christmas tree mulch to areas around the dam, parking lot and picnic tables at Dunbar Cave State Natural Area. They started this job at 9 am and were done by noon. The 39 volunteers included members of Den 11, Pack 509, Tiger Den, Pack 565, and many other lovers of the park.
The rain held off in the cool weather. The young worked with the old, all sharing pride in their hard work and accomplishment. The Friends of Dunbar Cave send out a hearty thanks to all who volunteered.
Aerial photographs by Bill Larson, all other images taken by Debbie Boen.