Austin Peay State University's Center of Excellence for the Creative Arts will participate in National Small Press Month, a celebration that will highlight the work of many poets and writers who are published in both independent and university-based presses.
Poets published in "Zone 3," APSU's literary journal, will read from their poetry collections beginning at 6 p.m., Tuesday, April 15 at Davis-Kidd Books in Green Hills. A book signing will follow the reading. The event is free and open to the public.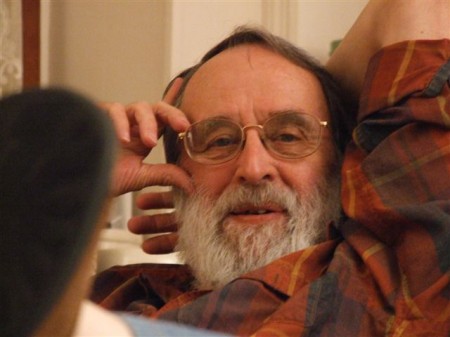 David Till, emeritus professor of English at APSU and the co-founder of "Zone 3," will read from his debut collection "Oval."
"The poems are irregular and sensual, concerned with distinct times and places, and he uses natural imagery to capture lived moments," said Maria Browning in a review of "Oval" published in The Nashville Scene.
"It's remarkable that he has waited until now to see a collection of his own work made available, but that long wait has given 'Oval' a breadth that no one would expect to find in a literary debut. Till has offered a completed journey in a first step," Browning said. «Read the rest of this article»
With the onset of spring, they're back! I'm speaking of the hungry travelers, the Ruby-throated Hummingbird. They are migratory, spending most of the winter in southern Mexico, Central America as far south as South America, and the West Indies. No wonder they're hungry.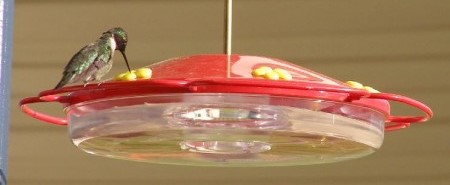 «Read the rest of this article»
Dr. Bert Randall will present his book, Holy Scriptures as Justification for War on Tuesday, April 15 at 2 pm in APSU's Woodward Library (third floor). Interested parties will have a chance to order the book for almost 50% of the retail price. The cover art work by APSU senior art student Kim Balevre shows the dove still flying although it has several swords in it.
Holy Scriptures as Justification for War focuses a lens on the relation between Holy Books (Scriptures) and war. Throughout their histories, Jews, Christians and Muslims have used their Holy Books to justify external violence against the "enemies of God" and internal purges to purify the faith from heresy. This study explores the beliefs in literalism and inerrancy that are the interpretative principles necessary for such justifications. Randall begins with ten representative passages from the TANAKH, New Testament, and Qur'an that are used to justify divine violence and critiques their misuse by literalists. He goes on to explore the origins and histories of these great scriptures,examining the factual and logical flaws in literalism and inerrancy that result in perverting scripture to justify Divine violence. «Read the rest of this article»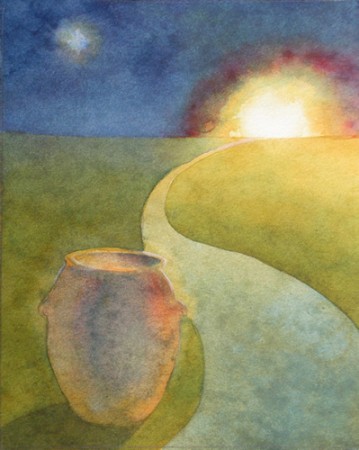 As a junior in high school, at the age of 16, I made a commitment to God. I find that I desire daily literature that gives me a spiritual direction. I continue to read the Bible for spiritual illumination, and recognize it as one source of information and understanding.
A few days ago during my "quiet time", I had an epiphany as I read Luke 24:13-35. Epiphany is used in two ways: it is an annual festival of Christianity that starts on January 6, and commemorates the revealing of Jesus to the Gentiles as personified by the Magi, and the baptism of Jesus. It is also much more personal: Epiphany is also a moment of sudden intuitive understanding, a "flash of insight."
I have read this scripture annually on my spiritual pilgrimage. Today it revealed a new thought, that of home. I have never over the years understood this scintillating story in the framework of "Home." The two saddened disciples in this story were going to their hometown, on a path towards a home-cooked meal and a welcome to the their family. «Read the rest of this article»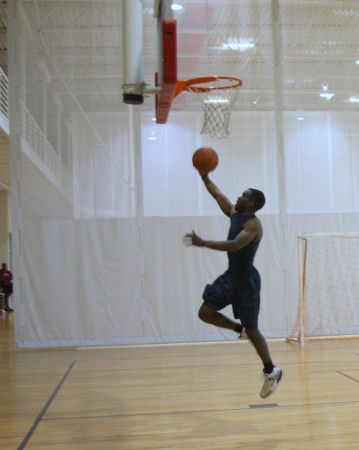 Photograph by Bill Larson
An APSU student does a layup shot with perfect form in the campus fitness center.
«Read the rest of this article»