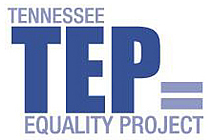 Tennessee Equality Project (TEP), a statewide organization dedicated to promoting and sustaining the equality of gay, lesbian, bisexual, and transgender persons in Tennessee, is paying careful attention to several bills that the State Legislature is presently considering. As part of this process, TEP is asking residents of Montgomery and the surrounding counties to become involved in advancing equality in this region. The local committee, TEP Montgomery County, will meet on April 21 at 7:00 PM at Borders Bookstore coffee shop at 2801 Wilma Rudolph Blvd., Clarksville.
Adoption Bill
Tennessee *HB3713 / SB3910, prohibits "any individual who is co-habitating in a sexual relationship outside of a marriage that is valid under the constitution and laws of this state from adopting a minor." At present, both bills are stalled in Senate and House committees. The passing of the adoption bill would negatively affect the GLBT community in Montgomery County, as per constitutional law, the State does not permit the marriage of same-sex couples. At the present time, a fiscal note of more than 7.4 million dollars is attached to this legislation. This means that the State estimates that more than 4.5 million dollars of additional expenditures will mount, as a result of the passing of this legislation. In addition to the State expenditures, an increase in Federal expenditures of almost 3 million dollars is estimated. Passage of this legislation would have a negative impact on the State of Tennessee and the federal government.
Amendment of Birth Certificates
Tennessee SB4052/*HB3907 "authorizes certain persons to change the sex designation on their birth certificate." At present, both bills are under consideration in Senate and House committees. The passing of these bills would positively affect the transgender community in Montgomery County and the surrounding area. It would provide the opportunity for a citizen who changes his or her gender to change their sex to apply for an amendment to their birth certificate to indicate choice of sex.
TEP invites you to become involved in promoting equality in your local community. Please join us at our meeting on Monday, April 21. If you have any questions about our organization, please contact us at . To R.S.V.P. for the meeting, please send a message to .
The Tennessee Equality Project is a 501c4 organization incorporated in Tennessee. Gifts to TEP are not deductible for purposes of federal income tax.