The citizens of Clarksville were treated to a wealth of information at a recent community forum hosted by the Disproportionate Minority Contact (DMC) Task Force. The program was held at the Clarksville – Montgomery County Public Library and included a reception for speakers and guests. Ms. Debrah Stafford, Juvenile Justice Director for the Tennessee Commission on Children and Youth, opened the forum with a strong power point presentation titled What About the Children?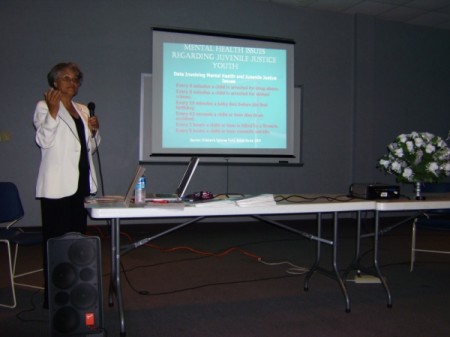 Every day in America, 540 children are arrested for various crimes, though in many cases there are mitigating situations that cause these children to come in contact with the system. Ms. Stafford suggests that we must not be "in such a hurry" to just lock up a child.
One major finding by juvenile justice professionals is that more attention should be paid to the mental heath of the child. Children in juvenile justice often have mental health and substance abuse problems, have a higher percentage of learning disabilities, have frequent histories of trauma abuse/neglect, violence in the home, and/or have parents with substance abuse problems.
We are not saying that detention is not needed, states Ms. Stafford. If a youth is deemed to be a threat to society, then detention might be needed, but children should not be locked up for status offences such as truancy, running away and being unruly. The present detention practices are contributing to overcrowding and an overrepresentation of minority youth in detention centers.
Minority youths make up about 23 percent of the population of Tennessee, yet they make up close to 53 percent of the detention population, according to a recent Juvenile Justice report. Montgomery County numbers are also very disturbing.
Ms. Stafford went on to say that "all is not lost" and we all can make difference in reversing this trend by doing our part. Check and see what a child needs first; a child should not have to be remanded to state custody to receive effective counseling. Early identification and intervention, positive advocacy, system accountably and culturally competent services are a must if we are to help today's youth.
The program was followed by an overview of the many community-based organizations , each with table displays for the eager crowd of parents, elected officials, law enforcement officers and educators packed with information and educational materials about services that are available locally to help keep our youth out of trouble, and keep them mentally and physically healthy, motivated and encouraged.
Dr. Merriel Bullock Neal, Esq. Chair of the local DMC Task Force reiterated the message and the mission of the local task force and that is "It is easier to build a child than repair an adult"