Sponsors sought for Drum and Bugle Corps Ensemble internship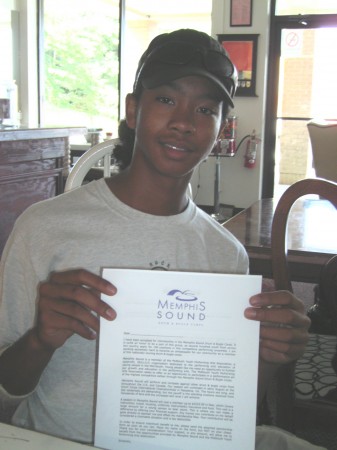 Jason Van Hodge is feeling pretty good about himself. The Kenwood High School student has been accepted for membership in the Memphis Sound Drum and Bugle Corps 2008 Summer Internship. He was selected from several hundred youth across the country for one of only 100 positions in this competitive performing ensemble. As a member of the Memphis Sound Drum and Bugle Corps he will serve as an ambassador for our community in this nationally touring ensemble.
The Memphis Sound Drum and Bugle Corps is a member of the Mid-South Youth Performing Arts Association, a 501(C)3 non-profit organization dedicated to the performing arts education of young people in the Mid-South. The mission of the Memphis Sound Drum & Bugle Corps is to release the full potential of today's youth by promoting self-awareness, acceptance, respect, dedication, and teamwork through the participation in the competitive marching arts.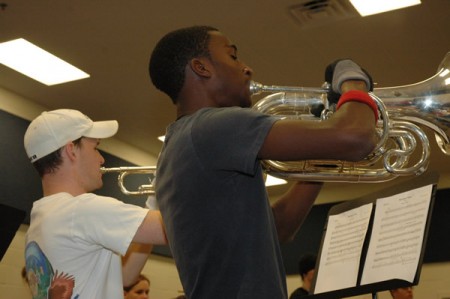 However, Jason is seeking his community's support in defraying the more than $2200 fee of attending this marching arts training and competition. The fees cover instruction, travel, housing, uniforms, instruments, insurance and food.
Each member is encouraged to solicit sponsors, individual as well as business, in their community to make charitable tax deductible donations in their name to the MidSouth Youth Performing Arts Association. Download a ".pdf" sponsor form, available at the Memphis Drum Corp Information web page at the "Sponsorship Request Letter" link. Every sponsorship contribution offsets the named member's fees and expenses. No contribution is too small.
Please remember to list Jason as your sponsored member in any donation correspondence you submit. Make your donation payable to MYPAA. Do not list Jason's name on your check or money order. Donations may be sent to: MidSouth Youth Performing Arts Association; 1779 Kirby Parkway, # 1-93; Memphis, TN 38138.