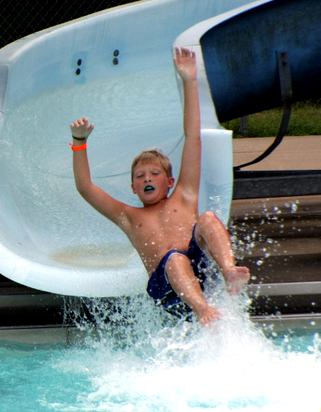 With the start of school just a week away, the city's pools close today, August 3, just as the Dog Days of August settle over the region. With temperatures in the upper 90s, and heat indexes at and expected to continue at over 100 degrees for at least the first part of the week, some families and youngsters opted to spend part of their tax-free weekend at the Swan Lake and Cunningham Pools rather than shopping in the crowds at local retailers.
By late morning the Cunningham Pool had light attendance in the already sweltering heat; by mid-afternoon, on a visit to the Swan lake Complex, the crowds were heavier, with youngsters sprinting up the stairs to the top of the water slide, or making some calculated plunges from the diving towers.
other children and teens simply paddled about, or clustered in small groups in the water, chatting, laughing and staying cool.
At the "kiddie" pool, the very young accompanied by their moms splashed about, taking shelter from time to time under the giant beach umbrellas at this site.
Here are some cooling images for a hot summer day:
Photos by Bill Larson