In the baking heat of the K-Mart parking lot on Wilma Rudolph Boulevard, with throngs of exhaust-spewing cars clogging the lot, stalwart members of the Clarksville Police Department, Montgomery County Sheriff's Department, Fort Campbell Military Police, and members of the Clarksville Citizen Police, gathered Saturday for a "Cops and Kids" day, an event designed to introduce local youngsters to those whose mission it is to 'serve and protect."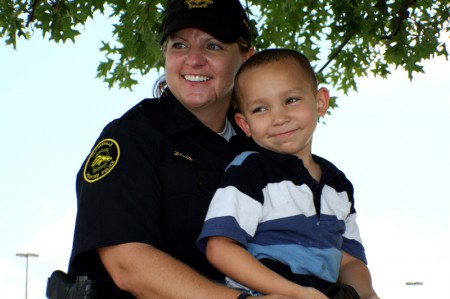 Kaye Jones, president of the Citizens Police said the program was designed "to introduce children to local law enforcement in a positive way. Too many times youngsters first encounter police in instances of domestic violence, of accidents or disasters, or some other negative instance. This is another view of our law enforcement officers and what they do." It is the second year this program has been held.
Jones noted that the choice of date and location was made to coincide with the tax-free weekend, maximizing the opportunity to interact with the largest possible numbers of families and children.
The Clarksville Tactical Response Team, garbed in black uniforms, was clustered about the response truck. "Bob," he CPD's bomb-sniffing robot was availabble for public inspection — something that appealed greatly to young children enamored of robots and movies like the recent "Wall-E." The Mounted Police were on hand, allowing youngsters to hop up for a quick picture taken with a mounted officer astride several of the department's magnificent horses. The canine division brought its dogs to meet and greet the public.
There was a steady line of cars and vans waiting for a car-seat check, making sure that the various kinds of car seats for infants and children were properly secured.
Photographer Bill Larson captured these images of the Cops and Kids Day on August 2.