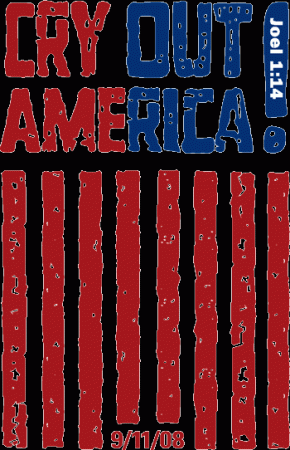 September 11. One of those seminal moments that scrolls a new signature in the pages of  American History.
This seventh anniversary of the 21st century "day of infamy" will be noted and memorialized Thursday by local officials and clergy from many of the city's churches, who will gather at the Montgomery County Courthouse lawn for a "Cry Out America" rally.
Numerous clergy and elected representatives will blend their voices to mark the anniversary of Sept. 11, 2001 with an interdenominational  "Cry Out America" prayer gathering on the Montgomery County Courthouse lawn from noon to 1 p.m.  The event will move to Madison Street Methodist Church in case of inclement weather. Similar gatherings, coordinated by the Awakening American Alliance, will be held across the country and are being publicized by Christian broadcasting networks nationwide.
Speakers for the event include 68th District state Rep. Curtis Johnson, 67th District state Rep. Joe Pitts, Kim McMillan, former state House majority leader, and representatives of local clergy, including Dennis Pulley, Cumberland Baptist Association director of missions; Hilldale United Methodist Pastor  Skip Armistead, New Light Missionary Baptist Church Pastor  Martin Alexander, Madison Street United Methodist Church Pastor Lenoir Culbertson, Mount Hermon Baptist Church Pastor Michael Madewell, Tabernacle Baptist Church Pastor Jimmy Terry, Clarksville Church of God Pastor Paul Nolan, and Iglesia Bautista La. Pastor Jorge Garcia.
The Awakening America Alliance, in promoting this event and their The Awakening America Alliance is a cooperative initiative within the body of Christ to increase awareness of the deep spiritual need in today's America and to pursue a new Christ awakening in our nation that will impact our world.
The Awakening America Alliance, in their website information, says they will:
Provide a broad umbrella under which the body of Christ in America can unite together in seeking a contemporary spiritual awakening.
Issue a wake-up call for revival in the church and a Christ awakening in the nation by utilizing unified activity, various forms of media, and highly visible events.
Collaborate together in prayer, fasting, and God inspired action to impact the nation's non-Christian population.
Challenge today's church in welcoming and discipling new generations of American youth.