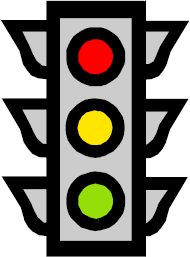 Clarksville wants to install red-light cameras at four to six Clarksville intersections in what is basically a dangerous revenue generating scheme. These cameras result in more accidents not less. The damage rear end accidents cause often costs more to repair. There is also an increased likelihood of injuries and even death to those who are involved in these red-light camera triggered rear-end accidents. Let's not even talk about the fact that city-wide insurance rates will likely end up going through the roof even if you never get one of these tickets.
The company our city is currently favoring is Redflex, an Australian company. They have been the vendor in charge of the City of Knoxville's red-light camera system that is until August 1st. Redflex missed a filing deadline to renew their contract. Reflex lays the blame for the missed deadline on the Federal Express package courier company.
The City of Knoxville has had mixed results with their experience with Redflex and could have opted to allow Redflex to file their bid late but chose specifically not to do so. This is a clear indication of their dissatisfaction with the company.
Clarksville frequently holds the city of Knoxville as an example the city of Clarksville should aspire to. So perhaps we should delay awarding a red-light camera enforcement contract to a company that they are in the process of dumping.
Tennessee: Redflex Misses Camera Contract Deadline
An Australian red light camera operator lost the ability to issue tickets in Knoxville, Tennessee because it failed to send the required documents to the city on time. The Knoxville News Sentinel reports that officials have flatly refused to consider renewing a multi-million dollar contract with Redflex because the company did not properly file paperwork by July 31.  "They busted the deadline," city purchasing agent Boyce Evans told the Knoxville News. "I was very surprised. … Redflex knew that was going to be due before anybody."
In May 2006 the Melbourne-based company first installed the red light camera network that now covers fifteen Knoxville intersections. The devices last year generated $2,599,732 in revenue, with Redflex pocketing over sixty percent of the annual take. Because the original contract will expire on November 8, the city gave Redflex until July 31 to submit a proposal for a three-year extension that included a few revisions that the city wanted to make.
Redflex blamed FedEx for delivering the package on August 1, while FedEx apologized for an unexpected problem in getting the package delivered. "Unfortunately, the FedEx vehicle transporting the shipment from our facility to our Los Angeles sort facility arrived later than scheduled and missed the outbound flight," a FedEx customer relations employee wrote to Redflex. "Regrettably, efforts to expedite the shipment have been unsuccessful." FedEx will refund the shipping cost of just over $30, which is scant consolation to the Australian company that lost the opportunity to take $5 million from Tennessee drivers.
Some of these drivers themselves have claimed to be unfairly treated by the Redflex cameras. In 2006, a judge tossed out a red light camera ticket issued to an innocent man because the Redflex camera misread his license plate. Although victorious, the motorist was not compensated after losing $160 in wages to defend himself against the $50 citation. An even more blatant error was uncovered when a man was ticketed for stopping at a red light by the camera in February 2007. Another ticket in May 2007 accused the owner of a BMW convertible of running a red light in a pickup truck that she had never seen in her life. Georgia-based Lasercraft and Germany's Traffipax both succeeded in ensuring their bids arrived on time and the city will choose which of the two it prefers to take over the program.
Source: Late delivery stops Redflex (Knoxville News Sentinel (TN), 9/4/2008)
About The Newspaper
The Newspaper is a journal covering motoring issues around the world from a political perspective.