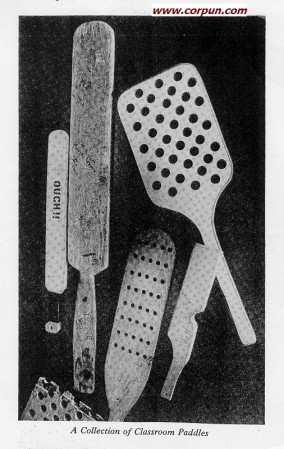 Spare the rod, spoil the child? It's an axiom many of us grew up with. It's in the news again, though, sparking controversy over the application of corporal discipline to children by school teachers and administrators.
Nearly half of our states, including Tennessee, still allow and use corporal punishment in schools. Tennessee is among thirteen states reportedly using corporal punishment "frequently," according to the Office for Civil Rights at the U.S. Department of Education. The group said Wednesday that some 200,000 children were subjected to this practice (spanking or paddling) in the 2007-08 school year.
Surprised? Many people were. Angry? Even more people were.
In the 125-page report, "A Violent Education: Corporal Punishment of Children in U.S. Public Schools," the ACLU and Human Rights Watch found that in Texas and Mississippi children ranging in age from 3 to 19 years old are routinely physically punished for minor infractions such as chewing gum, talking back to a teacher, or violating the dress code, as well as for more serious transgressions such as fighting. Corporal punishment, legal in 21 states, typically takes the form of "paddling," during which an administrator or teacher hits a child repeatedly on the buttocks with a long wooden board. The report shows that, as a result of paddling, many children are left injured, degraded, and disengaged from school.
The report found that in the 13 southern states where corporal punishment is most prevalent, African-American students are punished at 1.4 times the rate that would be expected given their numbers in the student population, and African-American girls are 2.1 times more likely to be paddled than might be expected. There is no evidence that these students commit disciplinary infractions at disproportionate rates. — – ACLU/Human Rights Watch
The 13 biggest offenders, according to this report, are Missouri, Kentucky, Texas, Oklahoma, Arkansas, Louisiana, Mississippi, Alabama, Georgia, South Carolina, North Carolina, Florida and Tennessee. Yes. Tennessee. Mississippi reportedly uses physical forms of discipline on 7.5% of its students, with Texas taking second spot with 48,197 students being subjected to this treatment in a single school year (06-07).
More numbers from the U.S. Department of Education:
223,190 students received corporal punishment in 2006-07
342,038 students received corporal punishment in 2000-01
This unconscionable act is called "discipline" by the teachers and the systems that condone it. School officials and teachers reportedly say it is faster, more effective and more economical than detentions, in- house suspensions. They cite overcrowded classrooms as one of the culprits behind behavior problems required such a physical response.
But it is more complex than that. The statistics in this report show that black students are far more likely to be subjected to physical forms of discipline. Black students comprise 17.1% of the U.S. student population, but garnered 35.6% of the paddling in 2006-07. Black girls received twice as many hits as white girls. Boys outnumber girls when it comes to receiving physical discipline, but again, blacks have a 50% greater chance of being by teachers and staff in school than Caucasian children.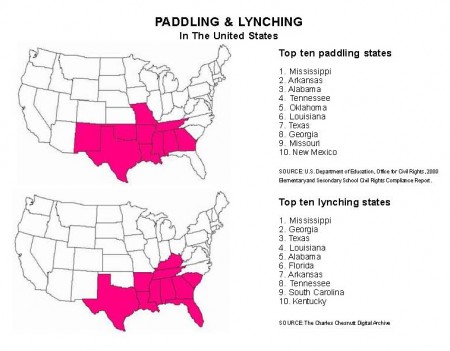 It gets worse. The ACLU and Human Rights Watch report that those "special needs" students with mental and physical disabilities are much more likely to sustain physical discipline than their counterparts.
Students with mental and physical disabilities are also punished at disproportionate rates, with potentially serious consequences for their development. In Texas, for instance, 18.4 percent of the total number of students who were physically punished were special education students, even though they make up only 10.7 percent of the student population. -– ACLU/Human Rights Watch

While Alice Farmer, author of a report from the ACLU and Human Rights Watch, agreed that schools need effective disciplinary strategies, "beating kids teaches violence" and does little stop bad behavior. Farmer noted that "corporal punishment discourages learning, fails to deter future misbehavior and at times even provokes it."
"Minority students in public schools already face barriers to success. By exposing these children to disproportionate rates of corporal punishment, schools create a hostile environment in which these students may struggle even more." — Alice Farmer
The Department of Education report links physical punishment to economic conditions in many schools, conditions that include shrinking budgets, overcrowded classrooms, lack of counseling assistance, and insufficient resources to deal with students who are disruptive or who need extra assistance in their learning environment. Translation: budget woes.
North Carolina's Enquirer-Journal, in a February 13, 2005, story, referred to Union County school paddles as the "Board of Education."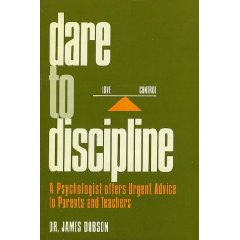 On his webpage, Evangelical leader James Dobson, of Focus on Family, writes:
"Corporal punishment is not effective at the junior and senior high school levels, and I do not recommend its application. It can be useful for elementary students, especially with amateur clowns (as opposed to hard-core troublemakers). For this reason, I am opposed to abolishing spanking in elementary schools because we have systematically eliminated the tools with which teachers have traditionally backed up their word. We're now down to a precious few. Let's not go any further in that direction."
Dobson refrains from supporting a complete ban on corporal punishment.
On his website, Focus on the Family.com, in the section of family/discipline, Dobson says:
"The spanking may be too gentle. If it doesn't hurt, it doesn't motivate a child to avoid the consequence next time. A slap with the hand on the bottom of a multi-diapered thirty-month-old is not a deterrent to anything. Be sure the child gets the message—while being careful not to go too far."
Some schools allow parents to "opt out" of corporal punishment for their children by signing a waiver. Some districts in the states most prone to use this practice, including the city of Memphis, Tennessee, one of the nation's largest school districts, have banned the practice.
Acknowledging that many states "still permit the use of corporal punishment with an instrument in schools"; the American Academy of Pediatrics has proposed that "striking a child with an object" is a type of physical punishment that "should never be used" and has recommended that corporal punishment be abolished in schools.
— American Academy of Pediatrics
"A Violent Education" is based on four weeks of on-the-ground research in Mississippi and Texas in late 2007 and early 2008, including more than 175 interviews with children, teachers, parents, administrators, superintendents, and school board members.
To read the American Civil Liberties Union and Human Rights Watch report, "A Violent Education: Corporal Punishment of Children in U.S. Public Schools," please click on the "Violent Education" link.