The Trail of Tears Commemorative Day will lead off the Native Cultural Circle's annual Inter-Tribal PowWow. The Port Royal site is the only remaining uncovered segment of the original trail in Tennessee.
October 11 and 12th. Mark your calendars. The second weekend of October is just around the corner. That means the Native Cultural Circle's Inter-Tribal PowWow is here. Every year the group hosts the annual two-day powwow as a means of educating the general public about Tennessee's native peoples traditions, culture and customs.
Clarksville is blessed, in that the powwow site has truly historic significance, because it is staged adjacent to last remaining uncovered segment of the Trail of Tears in Tennessee. The land is included in the Port Royal State Historic Park, where the quiet beauty of the area is well suited to the occasion.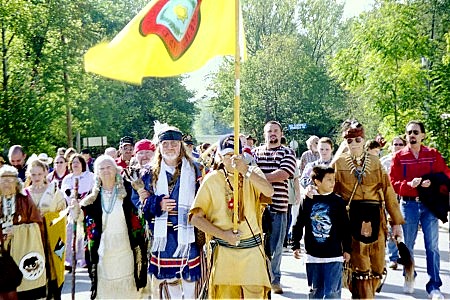 This year's PowWow will feature traditional songs and dance; host drum is the White Horse Singers, along with 18 vendors, a silent auction, and native grown organic popcorn. All drums and the general public are welcome.
Last year, a commemorative walk celebrated the National Parks Service designating the trail segment as an authentic Trail of Tears site. Over 100 native people turned out for the walk, many wearing native regalia. State and local government officials spoke at the observance acknowledging the solemnity of the occasion and its truthful place in American history. Park Ranger David Britton greeted Native American leaders and elders, exchanged flags and read a state proclamation. Representatives from the Tennessee Indian Commission and Montgomery County government also participated in the ceremony.
Park Ranger David Britton announced Wednesday that the National Parks Service has now designated Port Royal State Park as an official Trail of Tears Historic Park. For this year's powwow celebration, on Saturday, October 11th, at 10 AM, there will be a re-enactment of the march through the town of Port Royal. There will also be re-enactments of 1830's domestic skills and medicine. Visitors will be able to sample the foods the Native Americans were actually provided during their encampment. Additionally, guided historical tours throughout the park will be conducted and there will be exhibits on the Trail of Tears and the Town of Port Royal. When visitors have completed their tour of the park, they are encouraged to come over to the Inter-Tribal Powwow Grounds and continue their discovery of Tennessee's Native peoples culture.
For more information on the Trail of Tears Commemorative Day, contact Port Royal State Park Office, 931-358-9696. The park office is located at 3300 Old Clarksville-Springfield Road.