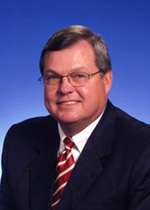 Representative Curtis Johnson has been appointed to Commerce, Finance, Ways and Means Committees, and Veterans Affairs Joint Committee.

NASHVILLE – Representative Curtis Johnson (R-Clarksville) has been appointed to the House Commerce Committee, and the Finance, Ways, and Means Committee for the 106th General Assembly.  The Speaker of the House announced the appointments today as the House continues to organize for the upcoming session, beginning February 9th.  In addition to these committee, Rep. Johnson was re-elected by his caucus to serve on the Fiscal Review Committee
The Commerce Committee considers legislation concerning insurance, state regulatory boards, taxes, corporations, banks and other financial institutions. The Finance, Ways and Means Committee is responsible for every piece of legislation that has a fiscal impact of $100,000 or more. Legislation is referred to this committee from other standing committees.
"I am honored to have been named to these committees," said Representative Johnson. "Although it will be a difficult year with regards to the state budget, we will manage through it and carefully consider the impact of every piece of legislation. I look forward to working with my colleagues on these matters—because it is certainly going to take everyone's input," he added.
In addition, Johnson was appointed to the Joint Committee on Veterans Affairs. Representative Johnson served in the United States Navy, and is the former President of the Tennessee-Kentucky Chapter of the Association of the United States Army. His district also includes Fort Campbell, home of the famous 101st Airborne Division.
"I am particularly honored to serve on the Joint Committee on Veterans Affairs," said Rep. Johnson. "Many of these brave men and women reside in my district, and I look forward to working on positive legislation that will benefit them," he concluded.