The upcoming April Job Fair is approaching fast! Over 50 employers have already signed up to be on hand.  All those seeking employment are urged to attend. Bring copies of your resume.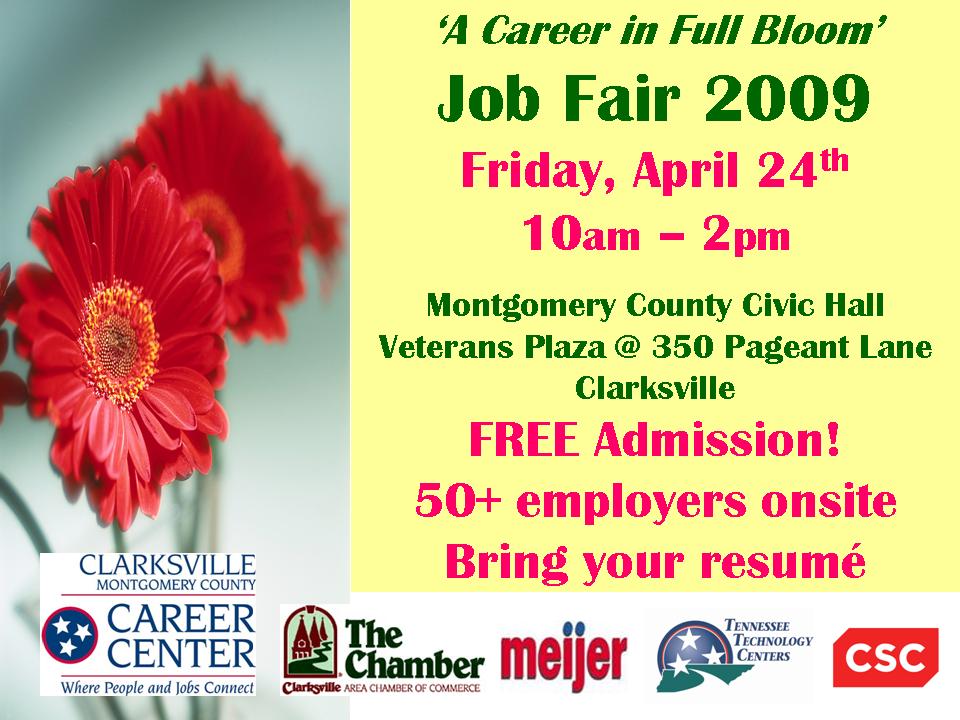 Below is a list of employers scheduled to be on site for the job fair.  Note: this list keeps growing as the day approaches.
5 Linx
AIG
Amsoil
Aramark Correctional Services
Army & Air Force Exchange Service
Austin Peay Personnel
Avon
Bethel College
Better Business Bureau
Bridgestone Metalpha
Brown Mackie College
Budweiser
Center for Independent Living
City of Clarksville Human Resource Department
Clarksville Police Department
Clarksville Transit System
Convergys – Silver Level Sponsor
CSC Applied Technology Division  – Gold Level Sponsor
Cubic Omega Training Group
Department of Human Services
Draughons Junior College   – Bronze Level Sponsor
Education Opportunity Center
Express Personnel
Federal Bureau of Investigations
Flying J
Fort Sill National Bank
Frontier Basement Systems
Goodwill Industries
Home Instead Senior Care
Hopkinsville Community College
Jenkins and Wynne – Bronze Level Sponsor
Job Corps
Liberty National
Matthew Walker Comprehensive Health Center
Meijer, Inc.  – Gold Level Sponsor
Montgomery County Election Commission
Montgomery County Personnel Dept.
National Council on Aging
Nia Association
North Central Institute – Silver Level Sponsor
Progressive Directions – Silver Level Sponsor
Randstad
Select Staffing
Servall
SHRM
Staff  Partners
Stanley and Associates
Tennessee Community Services Agency
Tennessee Department of Corrections
Tennessee Health Careers
Tennessee Higher Education Commission
Tennessee Technology Center – Gold Level Sponsor
Tennessee Vocational Rehabilitation
Trevecca Nazarene University – Silver Level Sponsor
Troy University
United Chiropractic
United First Financial
United States Army
United States Marines
United States Secret Service
University of Phoenix
University of Tenn , Center on Disability & Employment
Veterans Upward Bound
Wal-Mart
Workforce Essentials – Driver's Education
For further info, contact Pastor Tommy Vallejos, at 931-358-3010.