Legislation would strengthen current laws and increase penalties for offenders
"The most vulnerable Tennesseans are our children and they need to have every protection when it comes to our laws," said State Representative Joe Pitts (D-Clarksville).
This week House Democrats and Republicans came together in support of legislation designed to toughen Tennessee's current child abuse laws.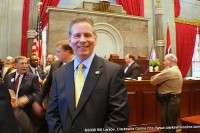 "People who would dare abuse a child deserve the harshest punishments possible and this new legislation helps strengthen our laws," said Pitts. "These bills make it clear that, whether it's a random stranger or a child's own parents, if you abuse a child you will be brought to justice."
The first bill, House Bill 1141, clarified the definition of dangerous instrumentality as "any item in its manner of use or intended use as applied to a child that is capable of producing serious bodily harm." Present law did not have specific definitions when dealing with abuse cases involving inanimate objects, providing serious abusers the opportunity to avoid more aggressive charges.
"With this bill, if any abuser uses any foreign object to inflict damage on a child, they could potentially be hit with stiffer charges resulting in more jail time," said Pitts.
The second bill, House Bill 1142, expands the charges of "inflicting serious bodily injury to children" to include second or third degree burns, bone fractures, concussions, subdural or subarachnoid bleeding, retinal hemorrhage, cerebral edema, brain contusion, severe bruising and or permanent or protracted disfigurement.
"A slap on the bottom by a parent is discipline, but beating a child until they bleed is abuse," said Pitts. "By implementing these changes to the code, we put greater pressure on abusers to think twice before they attack a helpless child as well as allow our justice system to put these monsters away for a very long time."
Both bills passed the House and Senate unanimously and will now go to Governor Phil Bredesen to sign into law.