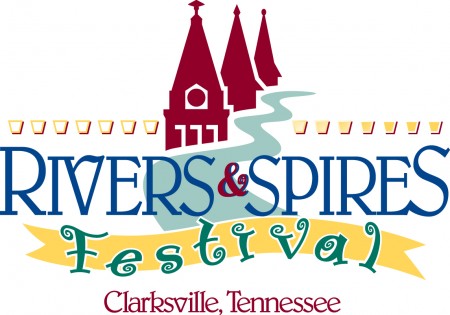 Rivers and Spires kicked off today with a wreath laying and symbolic re-lighting of the eternal flame. The flame honors our soldiers serving over seas and lights the path for them to return home. This annual remembrance kicks off three days of food, fun, entertainment, and shopping in historic downtown Clarksville, TN.
The award winning festival is organized by the City of Clarksville, Montgomery County Tennessee, and the Clarksville-Montgomery County Convention & Visitors Bureau, and is co-sponsored by many area businesses.
The evening's entertainment started with the Can Creation Challenge at 4:30p.m. This event challenges local teams to put together sculptures based on a theme with the winning team picking a local charity to benefit from their $500 prize. Afterwards the building materials were donated to a local food bank.
Following that at 5:15 p.m. ten faculty members from APSU got to perform in a talent competition which was judged by their students.
Josh LaCount Band
Afterward the Josh LaCount Band took the stage. The band projects solid vocals, and does great things with a guitar. The band is on MySpace, Their music is available on iTunes, and you can view their music videos on Youtube.
Check out the video to Josh's song Way down.
Andy Grammer
They were followed by Andy Grammer a young man with quite a vocal repertory. His warmth and personality draw you into the sphere that his music creates and you feel at once welcome and comfortable with his expressions and sound. He utilizes a music style that combines beat box, mouth trumpeting and vocals. His performance drew strongly from his album- "Andy Grammer Live- Soft lights on Bright Colors." As Andy tells it, "I think from the second I start beat boxing and mouth trumpeting its clear this is going to be done a little differently!" And he doesn't disappoint.
An iTunes reviewer had this to say:
"Andy takes pride in tackling the issues we all face in life and singing about them with "brutal honesty." His lyrics are deep, clean, and meaningful; his sound is positive and encouraging. If you liked John Mayer in his early career, then you will love Andy."
His EP album is available on iTunes, but to get his newest album "Soft lights on bright colors" like I just did you will have to go and visit his web site. You can also watch his videos on Youtube.
Here's his video Second Hand Smoke
Jason Reeves
Folk singer Jason Reeves closed out the night. When you listen to Jason sing you can tell he puts his heart and soul into his music. He draws you into his music and his world. Jason has four albums available for purchase on iTunes. Each of his songs is easily capable of standing alone, you can't say that for many artists. His MySpace page is exceptionally well designed.
In case you missed him, check out this Jason Reeves and Colbie Caillat video titled Permanent
All the acts on the opening night of the 2009 Rivers and Spires deserve a spot in your music collection, so go and check them out!
The festivities continue tomorrow at 5:30pm
Photo Gallery
Upcoming Schedule