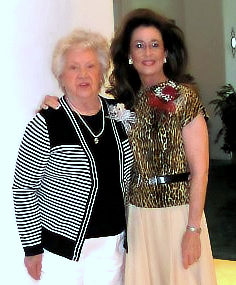 It's right around the corner! May 10th. That is 8 days from today! So, you have to get something in the mail by Wednesday to be sure that she will receive it by Saturday or better yet, mail it Monday or Tuesday!
Do you need ideas? Well, I have found a site dedicated to Mother's Day.
With this being said, I know that it might seem that it isn't that hard for the women to get something for their Mothers but what about the son? This might be a touchy subject for you men out there but you have to understand how important it is to the Mother, even if she doesn't show it, to receive something from her child. A lot of times men will leave it up to their wife to get something for their Mom and sign the card but us Mom's know. We raised you and saw the cards you made us in school. We know the verbiage you use to express your feelings, whether it be much or less. Sometimes a call is all it takes but I want you to picture something….
There is a woman who is older in years and lives in the same house she always has. She isn't much for the Internet or technology and wonders what happened to the old fashion hand written letters. Her son is now married and has a family of his own. She looks at their picture on the table next to her chair, next to her bed, in the hallway, every where you turn, his familiar face is there for her to see. They live in different states and where once she had a home bursting with excitement, music, yelling, noise, she is now in a home that is quiet. Where once all the lights were on and she would get onto him because the electric bill was high, she is sitting in her recliner with only one light on.
She keeps photos nearby and has her memories but those are soon fading as time ticks by, faster and faster every year. She has kept your notes, hand made cards, anything that has your signature and pulls out that box every week to have a piece of you there with her. To her, she is proud of the man, the woman you have become. You have spread your wings and soared!
We are all so very busy in our life. Our Mother's raised us to be independent and to make it on our own. Now that we are, we might find that our time is very rarely available to pick up the phone and call the one's who nurtured our bodies, encouraged us to be all that we could be, healed our wounds, let us drive the car even though her gut was saying NO, rushed home from work so you wouldn't be alone at the house, dropped you off at the movie theatre so you could be with friends, held you as you cried because your heart was broken, spanked your butt because you were disrespectful, told you she loved you everyday.
She might think that her job as a Mother is done because you have a family of your own now and you are doing what she did but better and she might wonder what can she do now? Our position as a child will live on until the day that we say, "See you soon." comes. Honor her with flowers, even when it isn't a special occasion. Don't save them for the funeral that she won't be able to enjoy their beauty and fragrance. Send her a hand written letter because that is what she will keep in her Bible and read every day, just to see how you are doing because she might not hear from you in a week.
Maybe you didn't have a Mother that expressed her feelings very well and you could say that in today's society she would have been put away for child abuse but look at you now. Are you a better person because of her? Did you learn how you weren't going to be or how you were going to be? Our Mothers were a product of their environment. They did the best that they knew how. Have you sat down and tried to ask her about her Mother? You would find out a lot about her from the Mother she had.
So, maybe soon, the tables will be turned. We will be nurturing their bodies, encouraging them to live another day and not give up, heal their wounds because they are tired and they think their doctors are quacks, letting them drive our car even though our gut is saying NO, rush home because they have fallen and broke a fragile bone, dropping them off at a friends house to play cards, hold them as they cry because they know time is so short, thanking them for spanking your butt because you didn't show them the respect they deserved and being able to tell them you love them everyday for the rest of their life.
It's a day that I will honor my Momma. Do something special for yours. Something that she won't expect from you! In your world of schedules, this Sunday put the time aside for your week to get this done for her!
Blessings to all Mothers!