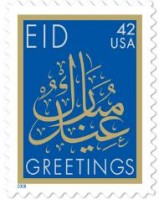 Clarksville Tennessee's Mayor, Johnny Piper has sent an inflammatory anti-Islamic email to employees of the city, encouraging them to boycott a stamp issued by the U.S. Postal Service.
According to the U.S. Postal Service, the stamp in question commemorates the two most important festivals—or eids—in the Islamic calendar: Eid al-Fitr and Eid al-Adha. On these days, Muslims wish each other "Eid mubarak," the phrase featured in Islamic calligraphy on the stamp. "Eid mubarak" translates literally as "blessed festival," and can be paraphrased as "May your religious holiday be blessed." This phrase can be applied to both Eid al-Fitr and Eid al-Adha.
The email in question is the equivalent of a chain letter, which according to the Snopes Urban Legends web site was first seen in 2002. The letter was modified in August 2009 to falsely accuse President Barack Obama of ordering the U.S. Postal Service to issue a 42 cent first class stamp in honor of these Islamic holidays. In fact the stamp was first issued on September 1st 2001, and has been re-release several times since then. Mayor Piper's email painted everyone of the Islamic faith with the same brush as those who carried out the various terrorist bombings over the years.
Several questions arise regarding the Mayor's actions in sending this email that must be answered….
Did the sending of this email by an elected official violate any local, state, or federal laws.
Did this email violate city policies.
What action would have been taken under current city personnel policies had another city employee sent the same email.
Did the sending of this politically oriented email using city computers, on city time, to city email addresses constitute misuse of city computing resources.
What was the cost to the city in time and resources from this incident, and will the Mayor reimburse the city for these costs.
How do we prevent this from happening again.
Mayor Piper has since attempted to defend his actions, but they are simply indefensible. Muslims are a integral part of this country. They serve honorably in our armed forces, defending our nation, and our freedoms. No one should be treated like a second class citizens based on their religious beliefs, or the actions of a radical fringe. This incident created by our Mayor  has been an embarrassment for our City, our State, and our Country.
It is time for the City of Clarksville to establish a clear policy of non-discrimination, and to prohibit the City of Clarksville, the municipality's elected officials, and city employees from engaging in activities or personal conduct which discriminates, or directly encourages discrimination by others on the basis of race, color, national origin, religion, sex, gender identity, pregnancy, disability, age, medical condition, ancestry, marital status,sexual orientation, citizenship, or status as a Vietnam-era veteran or special disabled veteran. The penalty for the violation of this policy this should be termination for employees; and removal from office for our elected officials, who should be held to a higher, not lower standard of behavior.