KHAYR KOT DISTRICT, Afghanistan — Before deploying with his battalion to Afghanistan, Lt. Col. David Fivecoat did something unusual to prepare his men.
He took his company commanders to a city council meeting in Clarksville, Tenn., across the border from their base at Fort Campbell, Ky., to "see the workings of small-town government."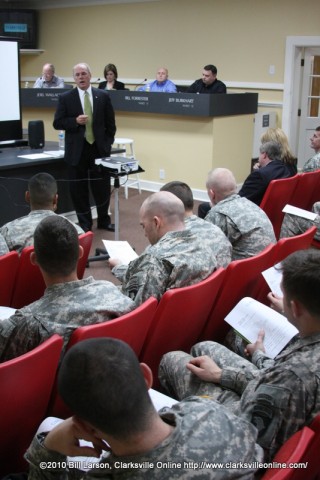 It might seem an odd way to ready men for war. But in a counterinsurgency that is increasingly about governance and development rather than beating combatants on the battlefield, Fivecoat, the battalion commander in western Paktika province, believes the lesson served them well.
"Everyone agreed that local government is more organized in the United States, but it's the same in Clarksville, Tennessee, or in [Khayr Kot], Paktika province, Afghanistan," said Fivecoat, who commands the 3rd Battalion, 187th Infantry Regiment, 3rd Brigade Combat Team, 101st Airborne Division. "It's a little more unruly, a little more disorganized, but it's the same."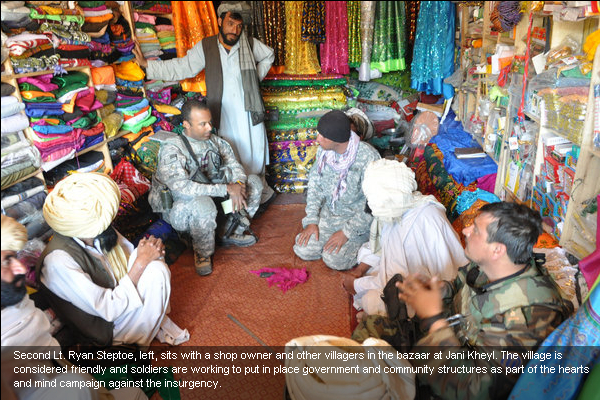 While all-out combat is far from over in this eight-year war, recent months have marked a dramatic shift in methodology by NATO forces, who are following a field manual on tactical counterinsurgency at the smaller-unit level that Fivecoat himself wrote.
Combat units now contain a squad-sized contingent of humanitarian teams focused on governance and development who have been deploying around the country in force since the start of the year.
"I told my guys before we got here that if we left Afghanistan without killing a single person and all we did was build areas, we've done our jobs," said Capt. Aaron Schwengler, commander of Company B in Khayr Kot and the more volatile Kushamond district farther south.
The soldiers here work closely with civil affairs specialists, human terrain team representatives, provincial reconstruction teams, a special military officer who handles smaller, military-funded projects and representatives from the U.S. Agency for International Development, which receives foreign policy guidance from the State Department.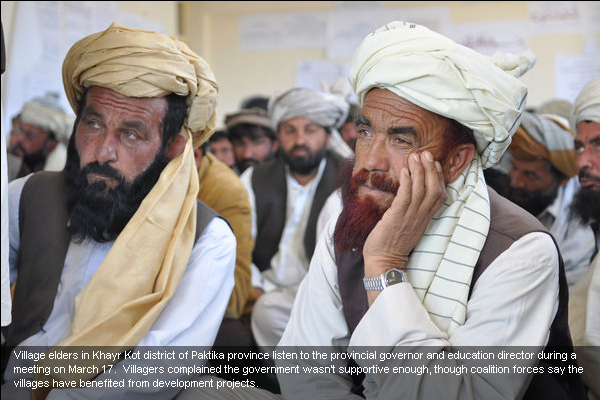 It's not unusual to see local government leaders fielding questions from three or four parties during a single meeting with coalition forces.
"We are drinking a lot of tea and trying to improve relationships with the key leaders in the Afghan districts and provinces and figuring out the way ahead between us and the Afghan government," Fivecoat said.
In the Kushamond area near the Pakistani border to the south, Schwengler's men face a conventional fight. But even in more peaceful areas, selling a government tainted by ineffectiveness and corruption is fraught with problems.
In the village of Jani Kheyl, considered friendly to coalition forces, a shop owner told soldiers that Afghan National Police officers in the area stop people along the road and extort money.
"[The people] are scared,""the man said quietly.
Up the road from Khayr Kot, a man in the village of Malizai told Schwengler: "The brother of [President Hamid] Karzai is the best smuggler in Afghanistan," referring to reports that the president's brother is a poppy smuggler. "If he's doing that, how can we get rid of crime here?"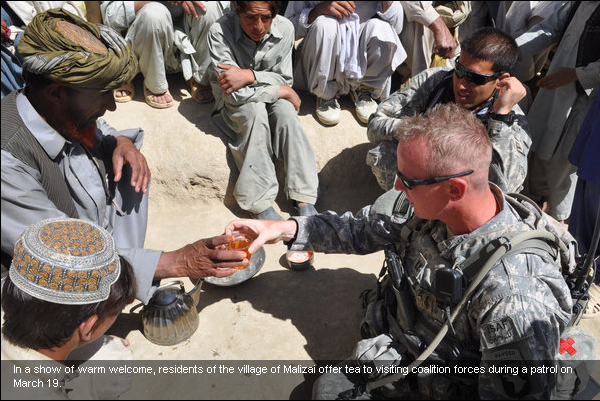 Malizai villagers came out of their homes and poured tea for the troops in warm welcome. They said that American forces had been driving through their village for years, but this was the first time anyone had stopped to talk with them.
On the curbs, most villagers said there was no insurgent presence, though one man said there was a known Taliban informer in their village. Many said their biggest concern was water for crops.
"The government is not working for us," said another man.
Schwengler pressed villagers repeatedly to send their elders to the weekly Khayr Kot district shura, so the subgovernor would hear their concerns.
Up the road, the young soldiers standing guard didn't complain. But back at the base, agitation was common among the young infantrymen who came over to fight and find themselves mostly guarding tea klatches.
Less than a month into their tour, their leaders organized a Friday evening boxing ring, giving the men a forum to vent pent-up frustrations.
Staff Sgt. Joseph Brown, 26, of Chattanooga, Tenn., said officers stay on the men to keep on their toes, and remind them that the job is important.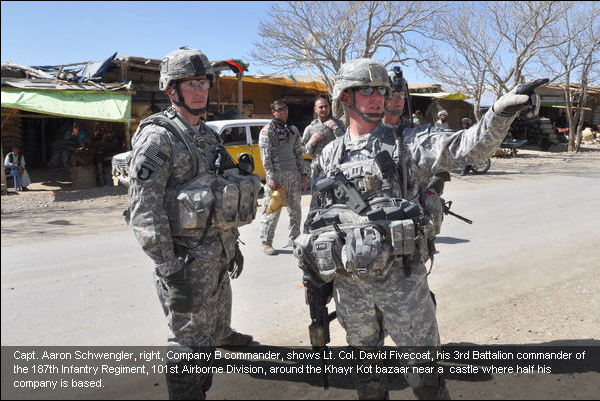 The goal is "to show the [Afghans] that we are not going to be here, hopefully, year upon year for them to rely on our support, for security, for projects," he said. "We can't be here forever. There has to be a better flow of information between the local government and the people."
At a recent education shura at the Khayr Kot district center, Paktika Gov. Abdul Qayum Katawazay urged villagers to send their children to school, a priority in a province with an estimated 10 percent literacy rate.
Village elders stood up to complain that their schools weren't being cared for and the local government was not coming through for them.
Schwengler, who sat off to the side, muttered that that wasn't true, several of the villages in question had benefited from development projects.
"When I sat down with them [the elders] the first time, I told them we won't always agree and it might get spirited, but that's good," he said. "It means we are passionate. They smiled. And it's been spirited."
This story was originally published by the Stars and Stripes and is used here with their generous permission. This story, and all photos not otherwise specified are by Dianna Cahn and are  ©2010 by Stars and Stripes.