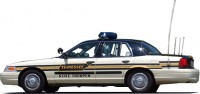 In observance of National Police Week, the Tennessee Highway Patrol today honored State Troopers and other law enforcement officers killed in the line of duty at its annual Memorial Service at the Tennessee Department of Safety Headquarters on Foster Avenue in Nashville. 
TDOS Commissioner Dave Mitchell welcomed Tennessee Bureau of Investigation Director Mark Gwyn as the event's keynote speaker, while Tennessee Highway Patrol Colonel Mike Walker, members of THP's Command Staff, current and former State Troopers, and family members of fallen officers were also on hand for the ceremony. 
"National Police Week, marked by our Trooper Memorial Service is always a special time of year," said Commissioner Mitchell.  "Those in law enforcement dedicate their lives to ensure the safety and security of others. Today and throughout the week, we have an opportunity to pay tribute to the men and women we have lost; to honor those who have made the ultimate sacrifice; and to remember those to whom we will forever be indebted for their service."
The ceremony featured a pair of time-honored traditions in the roll call of fallen officers and the laying of wreaths, where Commissioner Mitchell and Colonel Walker rested three wreaths in front of the Memorial Monument outside the Department of Safety Headquarters.  Other highlights included a 21-gun salute by THP's Special Operations Unit, a flyover from THP helicopters in a unique formation with one peeling off to represent "the missing man," T.A.P.S played by Sequatchie County deputy Chris Walker, "Amazing Grace" by Piper Todd Boswell, and a special appearance from the Tennessee National Guard's 129th Army Band.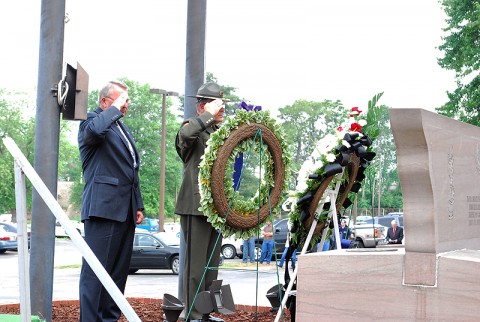 "I'm very honored to share in this day with the Tennessee Highway Patrol," Director Gwyn said. "Remembering those who have made a sacrifice with their lives reminds all of us in law enforcement how dangerous our jobs can be. It's those who continue to serve, despite the potential risks, that are truly dedicated to the safety of our communities." Since the establishment of the Tennessee Highway Patrol in 1929, 38 Troopers have died in the line of duty.  Sergeant Charles Hash was the first fatality on April 11th, 1930. He died after injuries sustained on motorcycle patrol in Shelby County.  Trooper Calvin Jenks was the most recent Trooper killed after suffering gunshot wounds during a traffic stop in Tipton County. He died on January 6th, 2007.
"Tomorrow marks the National Peace Officers Memorial Day," said Colonel Mike Walker. "Today, tomorrow, and forever, let us remember the 38 Tennessee State Troopers and over 19,000 law enforcement officers who have died in the line of duty.  They served and protected us all with tremendous courage and the utmost dedication, and they will never be forgotten." 
To view all of the Tennessee Highway Patrol members who have sacrificed their lives in the line of duty, visit the THP Memorial page at http://state.tn.us/safety/thpmemorial/memorialmain.htm.