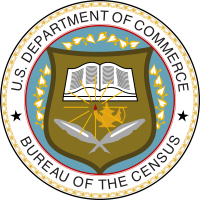 Washington, DC — The U.S. Census Bureau today released July 1st, 2009, population estimates for each of the nation's incorporated places, including cities, boroughs and villages and minor civil divisions, such as towns and townships. The new estimates are not 2010 Census population counts. They are, however, the last estimates to use 2000 Census results as a base.
The city estimates are based on 2000 Census data updated to reflect legal boundary changes, housing unit estimates updated to reflect inputs such as building permits, and county population estimates. The county population estimates are produced by using administrative records — namely births, deaths, and domestic and international migration. The resulting county population estimates are then distributed to the areas within each county by using the updated housing unit estimates.
Tables show annual estimates for all incorporated places covering the 2000 to 2009 period, as well as rankings by rate of population change from 2000 to 2009 and 2008 to 2009 for cities with populations of 100,000 or more in 2009.
In December, 2010, Census state population counts – used to apportion seats in the U.S. House of Representatives – will be delivered to the president. By April 1st, 2011, the Census Bureau will release 2010 Census counts for counties, places and smaller geographic areas.
The 2011 subcounty population estimates, to be released in 2012, will be the first in the estimates series based on the 2010 Census population counts.
Population Estimates
| | | | | |
| --- | --- | --- | --- | --- |
|   | July 1st, 2009 | July 1st, 2008 | July 1st 2007 | July 1st 2000 |
| Clarksville | 124,565 | 120,275 | 119,582 | 103,944 |
"Census numbers govern the distribution of more than $400 billion in federal funds each year and serve as the baseline for future post-census population estimates," Census Bureau Director Robert Groves said. "Local governments use census data to plan new roads, schools and emergency services. Businesses use the data to develop new economic opportunities."