"Poetry is the best method of understanding the human soul"–Beth Ann Fennelly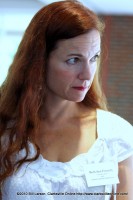 If there is a poet that understands the human soul it is Beth Ann Fennelly. As she read "3mths after having a baby" from her aptly named book Tender Hooks, she hooked all that were in attendance and tapped into the core of motherhood itself.
Fennelly is an Associate Professor of English at the University of Mississippi. Along with the 2004 publication of Tender Hooks, she is author of  A different kind of hunger (1997) Great with Child: Letters to a young mother and most recently the daring Unmentionables:Poems. Her 2002 book Open House: Poems won her the 2001 Kenyon Review Prize in Poetry for a 'First Book'.


With a piercing fire in her eyes and heavy words on her tongue Beth Ann Fennelly speaks to the deepest realm of a mother's heart. She delivers raw and unapologetic verse that is so honest that her words leave you feeling a bit uneasy as if she just stepped into your deepest feelings and insecurities then put them on paper for the world to read. Its that kind of passion that you will find when you read her poems. As for good writing  she advises to "Pay attention to your own anxieties" .  Autumn is approaching and that's the perfect time of year as the holidays approach to spend time in reflection with a book of poems. Fennelly's work will fill that niche.
Beth Ann resides in Oxford, Mississippi with her husband, fiction writer Tom Franklin. They have two children and one on the way.