Now the John and Renee Grisham Writer in Residence at Ole Miss (University of Mississippi), Tom Franklin is author of Poachers, a collection of short stories; and novels, Hell at the Breech, Smonk, and his forthcoming Crooked Letter, Crooked Letter. His short stories have appeared in anthologies like New Stories from the South; The Year's Best, 1999; Best American Mystery Stories, 1999 and 2000; Best Mystery Stories of the Century. He edited with his wife, poet Beth Ann Fennelly, The Alumni Grill: Anthology of Southern Writers Volume II.
Born in Dickinson, Alabama, Tom describes himself as a nonhunter in a hunting family and the first person in his family to be a college graduate. He said his work has been called "industrial Gothic." He had held jobs like being a heavy equipment operator at a sandblasting grit factory, being employed at hazardous chemical clean-up sites, and working as a clerk in a hospital morgue.
Tom insists, "I don't think anyone should be compared to William Faulkner. He is the best writer in the last century. He is God."
Tom's family was kicked out of the Baptist church when he was about 14 for speaking in tongues. A new church began in the Franklin living room; it was presided over by Brother Bob who said any book that was not "edifying" was evil and should be burned. Tom, who had a collection of 25 Tarzan books, most of which had women in seductive garments on the front, burned his beloved treasures and has never forgiven Brother Bob for his admonitions. Tom said he'd write about those days after his parents are gone because he doesn't want to hurt them.
About this time a preacher began to perform exorcisms on the members of the church to which Tom's family belonged. Tom said, "The way you were sure that you had been exorcised was that you barfed in a bag." My sin was lust and I certainly didn't want to barf so I escaped out the door before it was my turn. I decided to exorcise myself and it worked for a while, but the lust came back before long.  (Tom plans to write about those days after his parents are gone because he doesn't want them to feel hurt by his descriptions.)
Tom said that everyone has anecdotes that can eventually creep into one's writing.
For example, he talked about a girl named Carly with whom he was madly in love when he was in tenth grade. She was hooked up with Crazy Douglas, a basketball player, but her parents made her break up with him. Unbeknownst to Tom, because Carly went to the church in Tom's living room, Tom was considered an acceptable date. One day Carly passed a note to Tom that said, "Want to go out with me on a date?" He thought his ship had come in.
"Now my father could quit worrying about me," Tom said. He took Carly to see Alien but she talked all night about Crazy Douglas. At that time a drive-in where, on the back row, cars were steamed and rocking during the R rated movies that featured naked women. Tom asked Carly if she would go to the drive-in the next weekend with him and she said she would.
Tom was then secure in the belief that his sex life was about to begin so he equipped his car with a blanket for the date. His dad gave him $20 for the date so he was well prepared.
When he picked up Carly, she immediately told him, "I need a favor. I need you to take me over to see Crazy Douglas because I'm going to have a little bitty baby." Tom immediately agreed under the circumstances, but she told him then to come back in four hours.
This caused somewhat a dilemma for Tom because he couldn't go home and admit his date was over at her former boyfriend's house. He went to the drive-in alone. After all, he'd told all his friends about this date and he didn't want to be made a laughingstock by not showing up. Things went well in spite of his having to pay the $5 a carload with only himself in the car, but just as it began to get dark, Tommy Phillips, one of his friends, pulled up in a pickup truck and parked right behind him.
Quick thinking led Tom to arranging the blanket to his right as if a head were under it. He had to hold his hand in the same position circled to mock a head until he felt that his arm might fall off at any second. Tom finally left the drive-in and weeks later got up the nerve to ask Carly about the "little bitty baby." She nonchalantly replied, "False alarm" and went on down the hall.
Carly is now in prison for killing her husband (who turned out not to be Crazy Douglas) so Tom is glad things didn't work out between her and him.
"We all have these anecdotes," Tom instructed, "but when I tried to write this one funny, it just didn't work. It turned out to be very serious in my novel because sixteen-year-old Larry takes this girl to a drive in and she's never seen again. He's blamed but is never charged because no body is ever found. Larry has this hanging over his head for his whole life until many years later when another girl goes missing."
Tom admitted that when he was growing up, he always wanted to tell stories like his uncles did. He played with G. I. Joes and made up all kinds of adventures for them. Then he wrote 25 Percy the Possum comic books and later with his photographer brother, he wrote picture books with captions. He charged the film development at the drugstore to his father, of course. The next project was condensed books like War and Peace; "first there was war; then peace." ("At the time, I thought this was profound," Tom said with amusement.)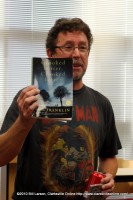 He received a portable typewriter for Christmas when he was in tenth grade and wrote "The Incredible Time Keeper," the first line of which is "I have many names." (He is still teased by his family with this momentous phrase.)
Tom then wrote horror stories followed by a poem about Karen Nettles, his girlfriend. He sent the poem to her with roses. She said it was a sign from God that she should marry another boy.
"We all have these anecdotes," Tom Franklin reminded his audience.
Obviously, it's what we do with them that counts.
Photo Gallery
About Sue Freeman Culverhouse
Author of Tennessee Literary Luminaries: From Cormac McCarthy to Robert Penn Warren (The History Press, 2013) Sue Freeman Culverhouse has been a freelance writer for the past 36 years. Beginning in 1976, she published magazines articles in Americana, Historic Preservation, American Horticulturist, Flower and Garden, The Albemarle Magazine, and many others. Sue is the winner of two Virginia Press Awards in writing.

She moved to Springfield, Tennessee in 2003 with her sculptor husband, Bill a retired attorney. Sue has one daughter,  Susan Leigh Miller who teaches poetry and creative writing at Rutgers University.

Sue teaches music and writing at Watauga Elementary School in Ridgetop, Tennessee to approximately 500 students in kindergarten through fifth grade. She also publishes a literary magazine each year; all work in the magazine is written and illustrated by the students.

Sue writes "Uncommon Sense," a column in the Robertson County Times, which also appears on Clarksville Online. She is the author of "Seven keys to a sucessful life", which is  available on amazon.com and pubishamerica.com; this is a self-help book for all ages.

Web Site: http://culverhouseart.com/
Email:
Sections
Arts and Leisure
Topics
2010 Clarksville Writer's Conference, Arts and Heritage Development Council, Austin Peay State University, Barry Kitterman, Beth Ann Fennelly, Clarksville Writer's Conference, Tom Franklin