Written by U.S. Army Sgt. Brent C. Powell 3rd Brigade, 101st Airborne Division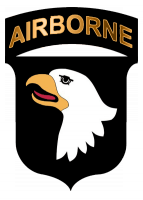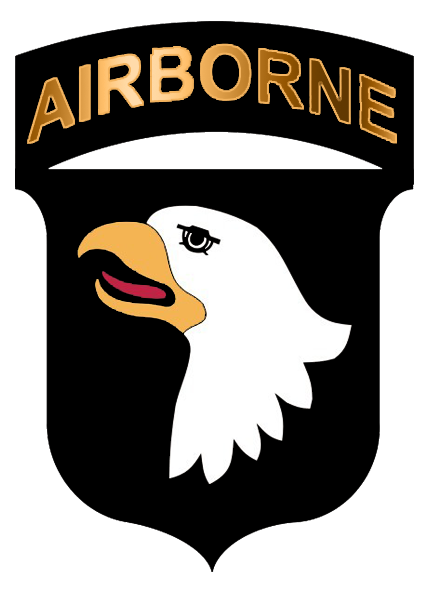 Khowst Province, Afghanistan – August 15th was an historic day, and what many see as a step in the right direction, when about 50 local elders and village leaders met with Afghan government officials at the remote Musa Kheyl Combat Outpost here for a peace shura.
The meeting was the first time members of the new Government of the Islamic Republic of Afghanistan had come to the remote area, mainly due to security concerns.
The shura was made possible largely due to area tribes unifying and taking a stand against insurgents.
"The people were begging for the governor to come out and meet with them," said U.S. Army Capt. Kyle Trottier, native of Los Alamos, NM, and assistant operations officer, 3rd Battalion, 320th Artillery Regiment, 3rd Brigade, 101st Airborne Division. "They have made a strong case that they are here, they are united and they want government assistance."
Soldiers from Task Force Red Knight assisted in getting Abdul Jabar Naeemi, the governor of Khowst Province, and Mujahed, the elected Musa Kheyl District provincial councilman, to the meeting. They also assisted the Afghan National Police with providing security for the high-profile gathering.
Once everyone had arrived, the shura began with introductions, followed by a short speech by the local ANP police chief for the Musa Kheyl District. After his speech, an Afghan tribesman led everyone in prayer.
Next, the tribal elders took turns addressing the governor with their concerns and needs.
"We need to have better coordination between coalition forces and the local village elders prior to military operations in our area," said one elderly local leader who did not give his name.
Another elder spoke about the needs of a local school. One spoke about needing doctors and supplies for the local medical clinic. Another topic addressed was the need for a road and bridge to help bring commerce and trade to the area.
After the elders had finished speaking, Mujahed stood and addressed the crowd. "You have asked a lot of the governor today. He will help with the clinic and the school, and he will help get a road and bridge built in your village. However, you need to work together and ensure these things will be taken care of and protected. Without your help we cannot achieve anything."
The governor was the last to speak. One of the first issues he discussed was providing the district with a voice that can be clearly heard.
"Dear elders, I can assure you that I am going to send a sub-governor to your district very soon," said Naeemi. "I am going to create a district tribunal elder leading shura in Musa Kheyl, as I have in other districts. Each shura member will have authority and responsibilities, and they will receive good income.  With your help, you will see your district active again in the very near future."
He also addressed the issue of needing teachers and supplies for the village's school.
"The issue of your children's education is very important to me," he said.  "It is one of my biggest concerns, and I am going to find out more about the specific issues and work on getting them fixed."
Another point Naeemi spoke on was supporting the Afghan National Police and Afghan National Army Soldiers.
"The police and the army in your area are the sons of your communities," he said. "These Afghan National Security Forces are your protectors and they are here to serve you. Support your security forces and inform them of anything suspicious in your area. Do not sit quietly by while the ANSF are coming under attack. If you do not actively support them, it is a disloyalty to the country and for our proud history.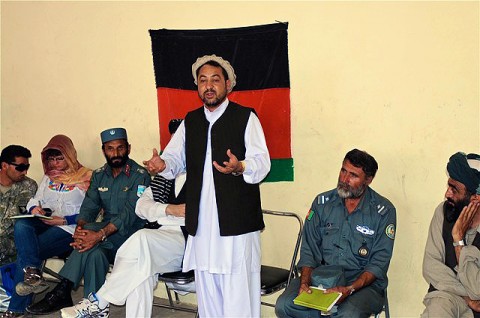 "I am very proud of these brave men who are working under an Afghan National flag," he said. "They have given many sacrifices. I call on you to support your ANSF as we work to build your district, provide you with healthcare, schools and roads, and help everyone have a safe and peaceful life."
At the conclusion of the shura, several of the tribal elders presented the governor with a traditional turban as a symbol of respect.
Overall, the meeting seemed to be a success and many of the local elders and tribal leaders left the shura with smiles on their faces.
"The elders made pretty reasonable requests today," said Trottier. "If the governor follows through on his promises, I think he can solidify a good relationship with the people in Musa Kheyl and set a good foundation for the future."