Written by Bagram Media Center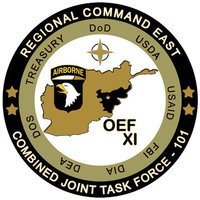 Logar, Afghanistan — Insurgents killed one boy and seriously injured another during an attack on Afghan National Army and ISAF Coalition Forces on August 23rd, in Pul-e Alam District, Logar Province.
ISAF Soldiers did not return fire on the insurgents based on the potential risk to Afghan citizens, opting to maneuver a tactical vehicle between the insurgents and the civilians.
Afghan National Army and ISAF Soldiers were attacked near a compound where they were conducting a search.  Insurgents fired small arms at the unit, but only hit the two boys.  The ISAF troops recognized the risk to the civilians in the area and moved an MRAP between the civilians and the attacking insurgents when the ISAF troops noticed two children fleeing the area fall to the ground.
A medic rushed to the children's aid and began to treat their injuries. The unit requested a MEDEVAC aircraft for the injured boys and support from armed helicopters in the fight against the insurgent element.  The two boys, both in their teens, were transported by coalition vehicles to a coalition hospital. One boy was shot in the face and the other boy was shot in the legs. 
Within ten minutes a MEDEVAC helicopter arrived.  Within 15 minutes, two Apache helicopter swept the area but found nothing. The older boy, who was shot in the face died from the attack; the younger boy received surgery for his wounds to his legs.
Leaders of the ISAF unit met with local leaders and informed them that the insurgents had attacked the Task Force Tiger Soldiers, disregarding the presence of civilians in the area, leading to the civilian casualties.
The father of the two boys hugged and thanked the Coalition Soldiers for coming to the aid and helping his sons.