Fast becoming one of Clarksville's most popular fundraisers, Comedy on the Cumberland is set to return to the Roxy Theatre on Tuesday October 12th at 7:00pm. The headliner will be Nashville comedian Keith Alberstadt. The October show will raise money and awareness for the Clarksville-Montgomery County Humane Society.
Alberstadt has appeared on David Letterman and is a former Nashville comic who has taken his career to New York. "We were fortunate to get Alberstadt who is in high demand, and was coming through Nashville on his way to South Carolina to do a show", said Bonecutter. Former Comedy on the Cumberland headliner Rik Roberts said "You don't want to miss Keith — I promise!"
In addition to Alberstadt, the October show will feature two of the funniest Nashville comedians; former police detective turned comedian Dan Whitehurst, and Xavier "X-man" King. "Whitehurst and King are personal friends of mine. They have always been very supportive of local comics like myself, and are both extremely funny".
Proceeds from this Comedy on the Cumberland show will benefit the Clarksville-Montgomery County Humane society, because a community without a humane society, is no laughing matter.
Tickets
Tickets are $40 each or $75 a pair. Get your tickets at the Roxy Theatre box office downtown, or at F&M bank on Public Square; they go on sale Monday, September 13th. Be sure to get your tickets early as Comedy on the Cumberland shows frequently sell out!
About Comedy on the Cumberland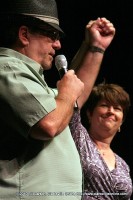 Comedy on the Cumberland was the brainchild of Clarksville talk show host and comedian Hank Bonecutter, who saw a demand for stand up comedy in the Clarksville/Ft Campbell community. "With the help of sponsors like F&M bank, Wendys, and Wyatt Johnson, we knew we could affect change in our community", said Bonecutter. " All of the proceeds generated through the show's ticket sales go directly to the charity, so people can make a tax deductible donation and enjoy a great show".
Comedy on the Cumberland is a combined effort of many sponsors like the Roxy Regional Theatre, CDE Lightband, Clarksville Online, Discover Clarksville, Clarksville's Best Buys, Ad One Advertising, and WJZM Clarksville's flagship radio station.
The first two Comedy on the Cumberland shows were sold out, and raised over $10,000 that went to support Project F.U.E.L, and the local chapter of the American Red Cross.
For photos and videos of past shows, Comedian Bio's, and much more; visit www.comedyonthecumberland.com, www.clarksvilleonline.com, www.wjzm.com, listen to WJZM 1400 AM, or catch us on Clarksville's Best Buys!