APSU Women's Volleyball

Richmond, KY – Austin Peay State University's volleyball team led after three sets but could not hold on, dropping a five-set Ohio Valley Conference decision (25-21, 23-25, 25-22, 21-25, 6-15) to Eastern Kentucky, Tuesday night, at McBrayer Arena.
The loss ended the Lady Govs six-match win streak against the Lady Colonels dating back to the 2006 season. It also pushed Austin Peay back into third place in the OVC regular-season race, one-half game behind Jacksonville State and two games behind league-leading Morehead State.
Austin Peay (14-4, 5-2 OVC) battled offensive inconsistency throughout the match. A first set victory saw the Lady Govs record just seven kills but they used 13 Lady Colonels errors to post a 25-21 victory. Austin Peay's offense bounced back with a 14-kill effort and led the set 23-22, but committed three errors to surrender the set.
The Lady Govs needed just 11 kills in their 25-22 third-set victory, but used three service aces and three blocks along with eight EKU errors to post the victory. After trailing 20-19, Austin Peay scored six of the final eight points, two coming on kills by senior Taylor Skinner and junior Ilyanna Hernandez plus another point courtesy a service ace by senior Sarah Alisaleh.
Trailing 2-1, Eastern Kentucky's offense found its mark in the final two sets. The Lady Colonels led the fourth set wire-to-wire, using a match-best 15 kills in the set and tacking on five service aces.
The Lady Colonels kept the pressure on in the fifth set, scoring eight kills. However, the Lady Govs hindered their own cause with six attack errors, including five during Eastern Kentucky's match-ending 7-1 run.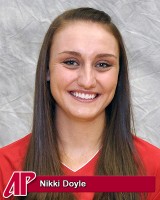 Sophomore Nikki Doyle led Austin Peay with 16 kills, but committed nine attack errors, finishing with a .143 attack percentage. Hernandez chipped in 11 kills and junior Kayla Grantham added nine kills.
Ashley Edmond and Lauren Snyder each recorded 17 kills to lead Eastern Kentucky's 58-kill effort.
The match also provided an display of formidable serving, Austin Peay recording 14 service aces while Eastern Kentucky scored 12 aces. Six Lady Govs recorded a service ace, senior Sarah Alisaleh leading the effort with four aces. Four Lady Colonels posted service aces, Kelsey Rose leading the team with a match-best five aces.
Austin Peay returns to action with a 7:00pm, Friday, OVC contest at Tennessee State.