October 9th, 2010 • 4:00pm CDT • Clarksville, TN • Governors Stadium (10,000)

Clarksville, TN – This will be Austin Peay's 66th homecoming–"Peay Paradise" the theme–with the Govs owning a 28-36-1 record in those events. After winning homecoming games in both 2007 and 2008, the Govs lost last season's homecoming encounter to Jacksonville State, 28-10. APSU has won just seven homecoming games in the past 23 years.
At 1-0 in the OVC, Austin Peay is seeking to start the league season 2-0 for the first time since 1977–the Govs' only OVC championship season.
This is both school's second game of the Sergeant York Trophy Series. The Govs are 1-0 this season, defeating Tennessee State, 26-23, September 18th, while Tennessee Tech is 0-1 after losing last Thursday, 27-24, to UT Martin.
Austin Peay is 5-5 all-time in Sergeant York Trophy Series, including this season's win. Tennessee Tech is 4-6 all-time, but they won last year's trophy with a 3-0 record.
Rick Christophel is 2-1 against his good friend and former coaching mentor, Watson Brown, who is 0-1 in Clarksville against APSU's fourth-year head coach. The former Austin Peay head coach, Brown has not won a game in Clarksville since he led the Governors to a 13-10 win against Tennessee Tech, November 15th, 1980.
Austin Peay enters Saturday's contest with a 93-161-2 OVC record (36.3 percent) compared to 181-205-3 by Tennessee Tech (46.9 percent).
Austin Peay has enjoyed only 18 winning seasons in 73 years of football and only two winning seasons since the turn of the century–a 7-5 mark in 2002 as a non-scholarship program and a 7-4 record in 2007 in Rick Christophel's first season.
Terrence Holt is Austin Peay's first preseason All-Ohio Valley Conference Player of the Year. He was named the league's preseason Offensive Player of the Year. The Govs had just four players earn postseason OVC Player of the Year honors. Carlton Flatt (1964) and Sonny Defilippis (1980) earned offensive honors while Bob Bible (1977) and Mike Betts (1978) earned defensive honors.
Golden Eagles to Watch
All-OVC wide receiver Tim Benford has 18 catches for 349 yards, including five touchdown receptions. He has caught passes in 25 of his 26 college games…Quarterback Tre Lamb has taken over for the graduated Lee Sweeney. He has completed 43 of 81 passes for 649 yards and seven TDs…All-purpose back Henry Sailes is averaging 16.8 yards per punt return…Running back Dontey Gay has 232 yards rushing on 33 carries, an average of 7.0 per game…Offensive guard Slade Adams was named preseason All-America by Consensus Draft.com…Safety Marty Jones leads the Golden Eagles with 41 stops…Linebacker Kelechi Ordu has 37 stops while rover Dustin Dillehay has 34 stops and one interception…Defensive end Marcus Edwards has three quarterback sacks.
Setting the Scene
The Series: APSU trails the series, 17-26
Last Meeting: October 3rd, 2009: Tennessee Tech 31, Austin Peay 23

The Govs rejoined the Ohio Valley Conference for football in 2007 after returning to scholarship football in 2006. The Govs finished sixth in the OVC a year ago with a 3-5 league mark and were 4-7 overall. The Govs are picked to finish tied for seventh in 2010… Meanwhile, Tennessee Tech was picked to finish fourth in the OVC race after going 6-5 a year ago, including tying for second place in league standings with a 5-3 record. In addtion, the Golden Eagles captured the Sgt. York Series Trophy in 2009 with a 3-0 record. The Golden Eagles not only are seeking their first OVC victory this weekend but their first 2010 road win as well.
Offensive Notes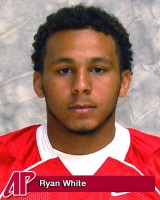 Running back Ryan White, the 2009 OVC rushing leader, was held to nine yards on seven carries against Wisconsin. The previous week, he finished with 112 yards on 17 carries against Tennessee State, including a career-best 63-yard second-quarter TD run. It was White's first 100-yard rushing performance of 2010 and eighth of his career.
After four weeks, the Govs remain efficient in the Red Zone. In 10 opportunities, the Governors have scored nine times, including four TDs and five field goals. The Governors failed to reach the Red Zone at Wisconsin.
After catching just one total pass in the season's first two games, Adrian Mines, the Govs' leading receiver the past two seasons, had 7 catches for 84 yards against Tennessee State, including the seven-yard snag and stretch for the game-winning TD with 40 seconds left. He failed to record a catch at Wisconsin.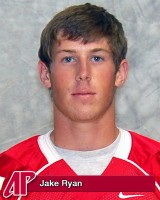 Sophomore quarterback Jake Ryan, after setting career highs for TD passes (2), yards (224), and completions (16) at Middle Tennessee, enjoyed another strong performance against Tennessee State. He completed 13 of 21 passes for 178 yards and one TD. He was a perfect 4-for-4 for 49 yards on the game-winning drive, including the TD pass to Mines. He was 9-of-19 for 115 yards against Wisconsin, although he had multiple passes dropped.
On Austin Peay's first scrimmage play against Wisconsin, Jake Ryan completed a 22-yard pass to H-Back Preston Rouse. It was APSU's first completion to an H-Back this season.
Defensive Notes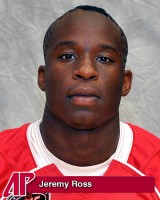 After forcing eight turnovers in the first two games, the Govs defense was unable to create a turnover at Tennessee State or Wisconsin.
In two games against FBS teams, the Governors permitted 654 yards to Middle Tennessee and 618 to Wisconsin.
Three separate secondary personnel-cornerback Tyreon Clark, safety Antwaun Majors and safety Amius Smith-tied for the team lead in tackles with eight against Wisconsin.
Safety Jeremy Ross, the OVC Co-Defensive Player of the Week for his three fumble-recovery performance at Middle Tennessee, had seven first-half stops, including being involved in a quarterback sack against Tennessee State. He finished with nine tackles. He had seven tackles, including the team's only sack, against Wisconsin.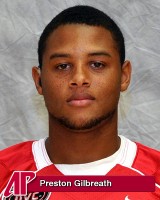 Freshman defensive end Preston Gilbreath, in his third college start, recorded his career's first quarterback sack late in third quarter against Tennessee State. He had four stops, including a tackle for loss against Wisconsin.
Sophomore linebacker Zac Burkhart, who suffered a torn ulnar collateral ligament against Cumberland, has returned to practice.
Junior weak safety Amius Smith was credited with eight tackles in each of the last three contests after tallying one stop against Cumberland.
Special Team Notes
Sophomore kicker Stephen Stansell is a perfect 10-of-10 on extra-point attempts and 8-of-9 on field goal attempts so far this season. Stansell's only missed field goal came as a result of a misstep he had on a 46-yard field goal at MTSU.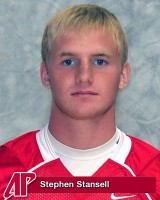 Sophomore placekicker Stephen Stansell was one of 32 kickers who received September recognition for the Fred Mitchell Award. The annual Fred Mitchell Outstanding Place-Kicker Award (also known as the Fred Mitchell Award) is provided to the nation's top collegiate place-kicker among more than 600 Football Championship Subdivision (FCS), Division II, III and NAIA football teams. Stansell was one of 11 FCS placekickers to be recognized along with eight Division II, 10 Division III and three from NAIA.
Kicker Stephen Stansell, who tied a school record with four field goals as the Govs rallied for a 26-23 win against Tennessee State, September 18th, was named FCS College Football Performance Awards (CFPA) Placekicker Co-Performer of the Week. The 5-11, 183-pound sophomore from Athens was a perfect 4-for-4 on the day against TSU at LP Field, scoring 14 of APSU's 26 points. The four field goals tied the school record originally set by Tom McMillan, September 5th, 1987, at Kansas State.
In four games Stansell has recorded five touchbacks on kickoffs. In 23 kickoffs, the opponents average field position after kick is the 27.4-yard line.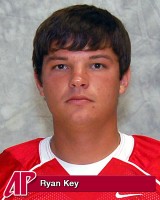 Senior punter Ryan Key has been nothing but consistent during 2010. Not only is he averaging the seventh best punting average (43.15 yards per punt) in FCS, he has averaged no less than 41.7 yards per punt in each of the Govs' first four games, including 42.7 yards per punt at Wisconsin. Earlier this season,his career-best 70-yard fourth-quarter punt at Middle Tennessee was the Govs' longest since Jaime Iracheta booted one 65 yards against Morehead State, September 4th, 1997.
College Football Performance Awards (CFPA) named Ryan Key honorable mention Punter Performer of the Week after he averaged 44.7 yards per punt, including a 70 yarder, at Middle Tennessee. September 11th. The 44.7 average was the second best of his career.